Ideas inspiration
Mostly pearls and pearltrees of art that are thought provoking , interesting and or unusual in some way . mirlen101 Feb 5
Child's Head Molded in Clay – Illusion - The Most Amazing Creations in Art, Photography, Design, Technology and Video.
ARTIST OF THE DAY - NAOTO HATTORI
Annual HI-FRUCTOSE Group Invitational Exhibit @ ROQ LA RUE | MonsterFresh.com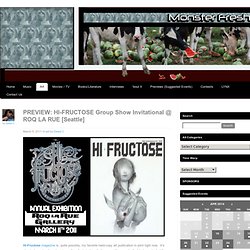 Hi-Fructose magazine is, quite possibly, my favorite hard-copy art publication in print right now. It's physical construction alone is worthy of admiration, feeling more like a work of art to be protected than a rag to toss carelessly in your bathroom.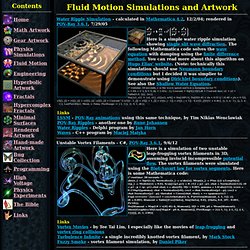 When a droplet falls into shallow water, it creates a crown or "coronet". This droplet simulation was calculated using Smoothed Particle Hydrodynamics (SPH). SPH is one of the most impressive-looking fluid simulation techniques.
Hallucination
Naoko Ito- installations picture on VisualizeUs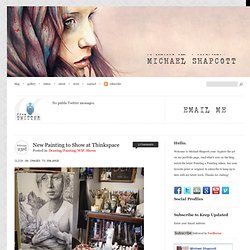 Work in Progress (Graphite)
Michael Shapcott - Part 2
026.JPG (JPEG Image, 1600x1200 pixels)
Paul Villinski artwork > birds and butterflies
birds and butterflies I am drawn to humble, yet evocative materials; in this case, crushed beer cans from the streets of New York - every one of them once raised to someone's lips.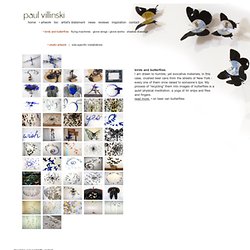 e - c l o u d
surface tessellation 01
Abstract Birds » Archive » Partitura
> Timo Maas "TANTRA" Machine that uses Arduino controlled ball dispensers, motorised rotating steel plates and LED lights to create a nexus between electronic music and a sound responsive mechanical object. > Kinematics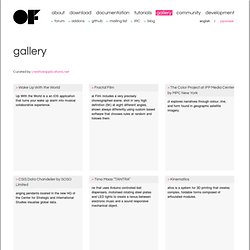 openframeworks/openFrameworks - GitHub
Present! - The Exploratorium
Zeichnung einer Hand" Time Lapse Drawing
Concept Drawing Part2
Newz On Fire
Yeah! The return of the ars electronica posts. To be honest with you, this is going to be a messy time on wmmna. There are still tons of stories to write about Conflux, my little trips to Chelsea, to Beijing and there are a few more reports in store.
Bernie Lubell´s talk at Ars Electronica