Ideas inspiration
Mostly pearls and pearltrees of art that are thought provoking , interesting and or unusual in some way . mirlen101 Feb 5
Child's Head Molded in Clay – Illusion - The Most Amazing Creations in Art, Photography, Design, Technology and Video.
ARTIST OF THE DAY - NAOTO HATTORI
Oct See more at - www.naotohattori.com Posted 15th October 2010 by Dustin Parker Add a comment PROTEUS MAG Art blog - Updated daily. Published by Dustin Parker Arts, LLC.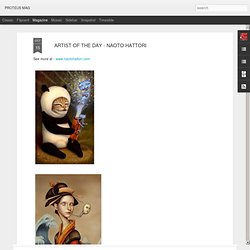 Annual HI-FRUCTOSE Group Invitational Exhibit @ ROQ LA RUE | MonsterFresh.com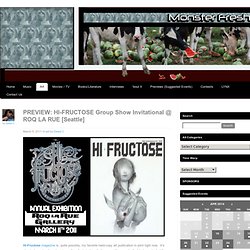 Hi-Fructose magazine is, quite possibly, my favorite hard-copy art publication in print right now. It's physical construction alone is worthy of admiration, feeling more like a work of art to be protected than a rag to toss carelessly in your bathroom. My last issue was actually delivered in a carefully packed box with a free CD and a viewmaster reel (feat. designer toy art by Sam Flores, Mark Ryden, Jeremy Fish, Luke Chueh, etc.). At first, I was a bit disappointed to discover that it was only a quarterly publication. However, after experiencing what they deliver, the infrequency of issues has actually proven itself to be a testament to their attention to quality, more than anything. Each issue is full of extensive spreads and/or interviews, showcasing the backstories and details of various artists.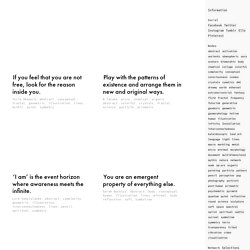 The earth is a medium with a message External Stimuli : Desert Breath - El Gouna, Egypt, Danae Stratou (artist), Vital Space : Nature & Humanity Related Stimuli : Jim Denevan Themes : Sculpture Nodes : earth, land art, pattern, spiral Every facet a mirror. Every mirror a reflection.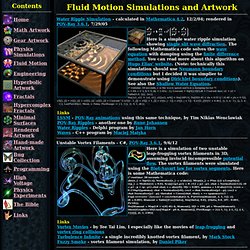 When a droplet falls into shallow water, it creates a crown or "coronet". This droplet simulation was calculated using Smoothed Particle Hydrodynamics (SPH). SPH is one of the most impressive-looking fluid simulation techniques.
Hallucination
Naoko Ito- installations picture on VisualizeUs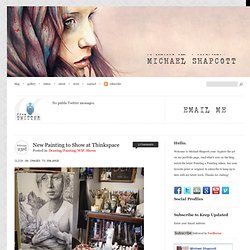 Work in Progress (Graphite) I've always been fascinated with the idea of seeing into the future. Ultimately I feel that we are the creators of our own destiny but also that there is this mystery and force that is greater than ourselves simultaneously at work. It's no doubt that our choices and actions help to create our future but how much is left to fate or to the great threads that link all of our lives into one? Perhaps most intriguing, is there a way to tap into and obtain a glimpse of what can or will happen to us?
Michael Shapcott - Part 2
026.JPG (JPEG Image, 1600x1200 pixels)
Paul Villinski artwork > birds and butterflies
birds and butterflies I am drawn to humble, yet evocative materials; in this case, crushed beer cans from the streets of New York - every one of them once raised to someone's lips. My process of "recycling" them into images of butterflies is a quiet physical meditation, a yoga of tin snips and files and fingers.read more: • on beer can butterflies As the butterflies alight on the walls of my studio, they lead into an exploration of formal, painterly issues. Often, they want to gather into a certain shape, or fly off on a particular tangent, and I let them.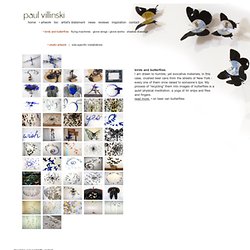 e - c l o u d
Parallel to the CTRL.SHIFT workshop, the Digital Architecture Symposium gathers interesting and significative research figures in their contribution and role within the wider field of computational design where it merges with architecture. rese-arch and 3D-Dreaming DIGITAL ARCHITECTURE symposium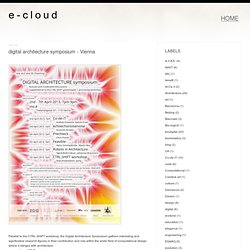 surface tessellation 01
Abstract Birds » Archive » Partitura
> Wake Up With the World Up With the World is a an iOS application that turns your wake up alarm into musical collaborative experience. > Fractal Film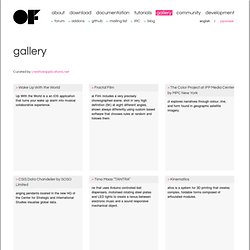 README.md openFrameworks openFrameworks is a C++ toolkit for creative coding.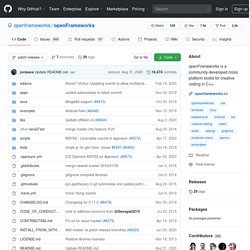 openframeworks/openFrameworks - GitHub
Present! - The Exploratorium
Zeichnung einer Hand" Time Lapse Drawing
Concept Drawing Part2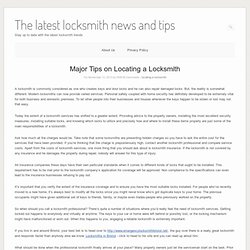 Newz On Fire
Who would want to be locked out of the house or car, especially during rush time? No one right? Statistics say that only few people have a spare key or know someone who's capable of addressing such problems. This is why professional locksmiths emerged in the circulation.
Yeah! The return of the ars electronica posts. To be honest with you, this is going to be a messy time on wmmna.
Bernie Lubell´s talk at Ars Electronica