Huricanes
Hurricane 2006! from AccuWeather.com - Hurricane Season Pictures, Forecasts, tracking maps, and
Weather Video - Rough Night, D.C. to Philly to NYC from Irene
Hurricane Tracking Map and Radar | 7online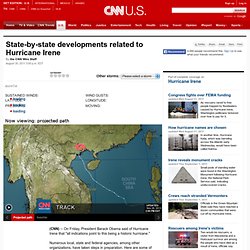 State-by-state developments related to Hurricane Irene
(CNN) -- On Friday, President Barack Obama said of Hurricane Irene that "all indications point to this being a historic hurricane."
Preparedness for Hurricane Irene
Governor Andrew M. Cuomo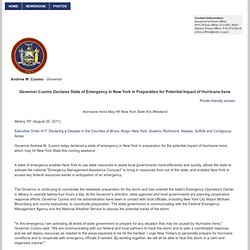 Printer-friendly version
Governor Cuomo Declares State of Emergency in New York in Preparation for Potential Impact of Hurricane Irene
Hurricane Irene track forecast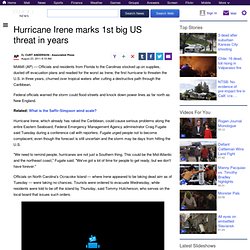 MIAMI (AP) — Officials and residents from Florida to the Carolinas stocked up on supplies, dusted off evacuation plans and readied for the worst as Irene, the first hurricane to threaten the U.S. in three years, churned over tropical waters after cutting a destructive path through the Caribbean. Federal officials warned the storm could flood streets and knock down power lines as far north as New England. Related: What is the Saffir-Simpson wind scale?
Hurricane Irene marks 1st big US threat in years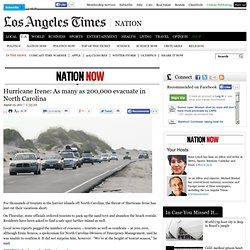 Hurricane Irene: As many as 200,000 evacuate in North Carolina
For thousands of tourists in the barrier islands off North Carolina, the threat of Hurricane Irene has just cut their vacations short.
OEM: Hurricane Evacuation Zone Finder
January issue of the Q&A with NHC series highlights TSB branch chief
National Hurricane Center