Huricanes
NOAA Home Page. Hurricane 2006! from AccuWeather.com - Hurricane Season Pictures, Forecasts, tracking maps, and. Weather Video - Rough Night, D.C. to Philly to NYC from Irene. Hurricane Tracking Map and Radar | 7online. State-by-state developments related to Hurricane Irene. (CNN) -- On Friday, President Barack Obama said of Hurricane Irene that "all indications point to this being a historic hurricane.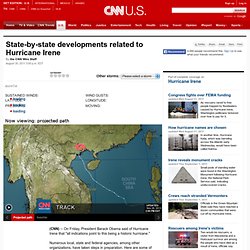 " Numerous local, state and federal agencies, among other organizations, have taken steps in preparation. Here are some of those measures, for states most affected by Hurricane Irene: Irene was off the South Carolina coast on Friday, with its outer bands bringing gusty winds, heavy rain and dangerous surf.
Katrina. Governor Andrew M. Cuomo. Governor Cuomo Declares State of Emergency in New York in Preparation for Potential Impact of Hurricane Irene. Printer-friendly version Hurricane Irene May Hit New York State this Weekend Albany, NY (August 25, 2011) Executive Order #17: Declaring a Disaster in the Counties of Bronx, Kings, New York, Queens, Richmond, Nassau, Suffolk and Contiguous Areas Governor Andrew M.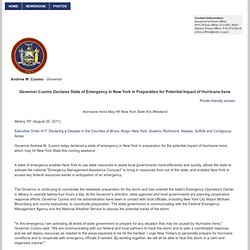 Hurricane Irene track forecast. Hurricane Irene marks 1st big US threat in years. MIAMI (AP) — Officials and residents from Florida to the Carolinas stocked up on supplies, dusted off evacuation plans and readied for the worst as Irene, the first hurricane to threaten the U.S. in three years, churned over tropical waters after cutting a destructive path through the Caribbean.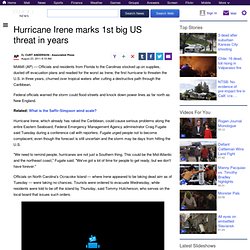 Federal officials warned the storm could flood streets and knock down power lines as far north as New England. Related: What is the Saffir-Simpson wind scale? Hurricane Irene: As many as 200,000 evacuate in North Carolina. For thousands of tourists in the barrier islands off North Carolina, the threat of Hurricane Irene has just cut their vacations short.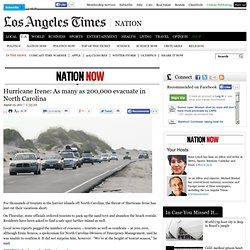 On Thursday, state officials ordered tourists to pack up the sand toys and abandon the beach rentals. Residents have been asked to find a safe spot farther inland as well. Local news reports pegged the number of evacuees -- tourists as well as residents -- at 200,000, although Ernie Seneca, a spokesman for North Carolina Division of Emergency Management, said he was unable to confirm it.
OEM: Hurricane Evacuation Zone Finder. National Hurricane Center.
---