Creativity
David Byrne on How Music and Creativity Work. By Maria Popova "Presuming that there is such a thing as 'progress' when it comes to music is typical of the high self-regard of those who live in the present.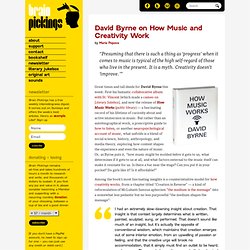 It is a myth. Behavioral Economist Dan Ariely on the Relationship Between Creativity and Dishonesty. By Maria Popova "Creativity can help us tell better stories — stories that allow us to be even more dishonest but still think of ourselves as wonderfully honest people."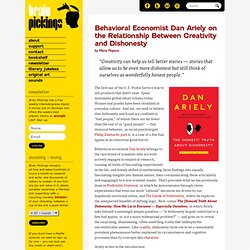 The first use of the U.S. Postal Service was to sell products that didn't exist. Spam dominates global email volume today. How We Measure the Universe, Animated. Donating = loving Brain Pickings remains ad-free and takes hundreds of hours a month to research and write, and thousands of dollars to sustain.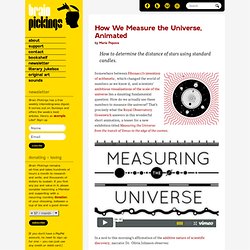 If you find any joy and value in it, please consider becoming a Member and supporting with a recurring monthly donation of your choosing, between a cup of tea and a good dinner: (If you don't have a PayPal account, no need to sign up for one – you can just use any credit or debit card.) You can also become a one-time patron with a single donation in any amount: John Cleese on the 5 Factors to Make Your Life More Creative. By Maria Popova "Creativity is not a talent.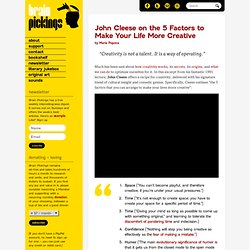 It is a way of operating." The Importance of Frustration in the Creative Process, Animated. By Maria Popova "Before we can find the answer — before we can even know the question — we must be immersed in disappointment."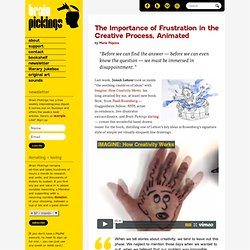 Last week, Jonah Lehrer took us inside "the seething cauldron of ideas" with Imagine: How Creativity Works, his long-awaited (by me, at least) new book. The Social Network for Creatives, by Creatives. The Creative Finder is a site from the creators of popular daily creativity and innovation news site, designtaxi.com.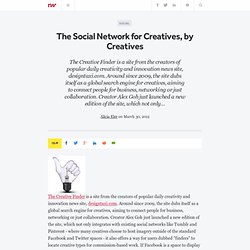 Around since 2009, the site dubs itself as a global search engine for creatives, aiming to connect people for business, networking or just collaboration. Creator Alex Goh just launched a new edition of the site, which not only integrates with existing social networks like Tumblr and Pinterest - where many creatives choose to host imagery outside of the standard Facebook and Twitter spaces - it also offers a way for users dubbed "finders" to locate creative types for commission-based work.
If Facebook is a space to display the finished product in front of a willing audience, then the Creative Finder is a network for discovering the people who will help you make that product. Jonah Leher On The Three Types Of Creativity And How Brainstorming Doesn't Work. Six Vintage-Inspired Animations on Critical Thinking. By Maria Popova A field guide to the art and science of the solid argument.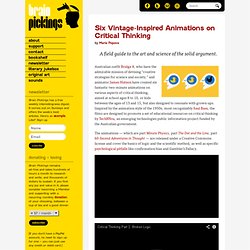 Australian outfit Bridge 8, who have the admirable mission of devising "creative strategies for science and society," and animator James Hutson have created six fantastic two-minute animations on various aspects of critical thinking, aimed at school ages 8 to 10, or kids between the ages of 13 and 15, but also designed to resonate with grown-ups. Inspired by the animation style of the 1950s, most recognizably Saul Bass, the films are designed to promote a set of educational resources on critical thinking by TechNYou, an emerging technologies public information project funded by the Australian government.
Infographic Of The Day: 13 Rules For Realizing Your Creative Vision | Co. Design. Bre Pettis knows a thing or two about getting things done rather than getting them perfect: He's the founder of Makerbot, a company that turns out cheap rapid prototyping machines.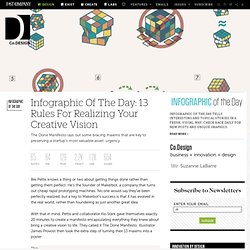 No one would say they've been perfectly realized, but a key to Makerbot's success is that it has evolved in the real world, rather than foundering as just another great idea. With that in mind, Pettis and collaborator Kio Stark gave themselves exactly 20 minutes to create a manifesto encapsulating everything they knew about bring a creative vision to life.
They called it The Done Manifesto. Illustrator James Provost then took the extra step of turning their 13 maxims into a poster: They are:
---