Cherry
Suede - Stay Together
Pulp -- Common People
Suede - Trash
Suede - The Beautiful Ones
Girl from Ipanema Tom Jobim and Joao Gilberto Reunited
AirPlay Speakers
With Apple's unrelenting dominance of the consumer marketplace for mobile devices, most high-tech electronics companies are making the push to join in and offer AirPlay-enabled devices capable of wireless streaming directly from iTunes on an iOS device or OSX computer. The following are seven of the newest AirPlay-compatible speakers pushing the limits of technology and design. Audyssey The Lower East Side Audio Dock Air, which launches today, 19 October 2011, is a bass-heavy, single-unit system compatible with all iPod and iPad models. Sharing the same advanced engineering and similarly inspired by the same New York neighborhood as the LES Speakers, this new wireless system delivers pure, distortion-free sound with plenty of power. The compact design favors two one-inch tweeters and two three-inch mid-range woofers, giving it its deep bass.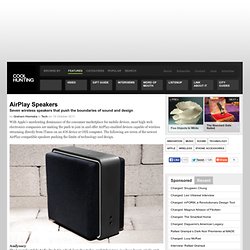 Roots of the eyes - Elisa Hernandez Arias | Tum bhi
mwqcrj - Uploaded by teganandsara
TJerE
Egypt not trending in China - Asia-Pacific
Mormolyke Press - Sheet Music by Melissa Dunphy
Los Tres - Quien Es la Que Viene Alli- Unplugged.
Los Tres - He Barrido el Sol - Unplugged.
La Torre De Babel
Los Tres - Olor a gas
Los Tres - Me rompio el corazon
Los Tres - Primera Vez
Pedro Aznar - Qué He Sacado Con Quererte (vivo)
Soneto de Fidelidade
Insensatez - Tom Jobim
Vinícius de Moraes, Tom Jobim, Toquinho e Miúcha - música: B
Roberto Menescal e Wanda Sa - Programa Ensaio - "O Barquinho"
Rita lee - All My Loving (Bossa 'n Beatles).wmv
Gustavo Cordera - Aprendio a Volar (Video Oficial en Alta Definicion - 2010)
Adiós - Gustavo Cerati
Salí para Ver - Gustavo Cerati
Gustavo Cerati - Crimen
Fito Paez Naturaleza sangre 6 Ojos rojos
Gustavo Cerati - Es sólo una ilusión - +bien
paracaidas - Gustavo Cerati - + Bien
Engaña-Gustavo Cerati
TRATAME SUAVEMENTE - VIRUS.wmv
Virus - Dame una Señal