HTML5
A vocabulary and associated APIs for HTML and XHTML W3C Working Draft 29 March 2012 This Version: http://www.w3.org/TR/2012/WD-html5-20120329/ Latest Published Version:
HTML5 W3C Specification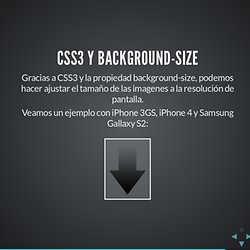 HTML5 Mobile
...apps multiplataforma Unos datos que marean mas de 152 millones de smartphones en todo el mundo 59% son Android 23% son iOS Symbian y Blackberry han caido al 6%
HTML5 History
This editor is a free online tool which lets you design html pages and even a full website with an interface very close to illustrator, dreamweaver or powerpoint. But we've put a special touch in it ;) It has a simple way to import medias, design pages, make navigation menus and more.. If you have no technical knowledge or if you are a designer, you can easily produce templates, animated layouts and more... Since 2009, Silex is maintained by Silex Labs, a non profit organization which has its headquarters in Paris. Silex Labs federates Silex community and provide the tools we need to share and collaborate.
HTML5 EDITOR
Alltop - Top HTML5 News
Save time. Create with confidence. ★ Analytics, icons, and more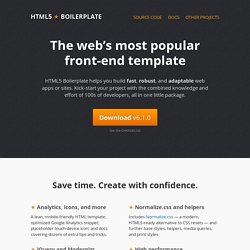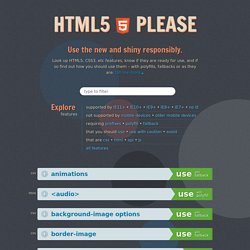 Making your app real-time is a huge boost and WebSockets give you the ability to add bi-directional communication over a persistent connection to your application to increase interactivity and user engagement. web-socket-js is a natural polyfill for the JavaScript WebSocket API transferring data through Flash Sockets when WebSockets aren't available. To use native WebSockets in versions of Firefox before 11, the prefixed MozWebSocket should be used.