HTML5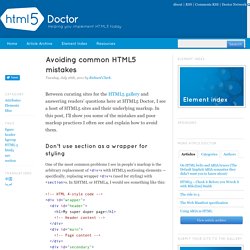 Between curating sites for the HTML5 gallery and answering readers' questions here at HTML5 Doctor, I see a host of HTML5 sites and their underlying markup. In this post, I'll show you some of the mistakes and poor markup practices I often see and explain how to avoid them. Don't use section as a wrapper for styling One of the most common problems I see in people's markup is the arbitrary replacement of <div>s with HTML5 sectioning elements — specifically, replacing wrapper <div>s (used for styling) with <section>s. In XHTML or HTML4, I would see something like this:
HTML5 Specifics & Methods
html5 games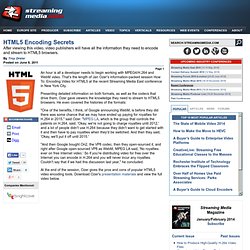 HTML5 Encoding Secrets
HTML5 Encoding Secrets After viewing this video, video publishers will have all the information they need to encode and stream to HTML5 browsers. Companies Mentioned: An hour is all a developer needs to begin working with MPEG4/H.264 and WebM video. That's the length of Jan Ozer's information-packed session How To: Encoding Video for HTML5 at the recent Streaming Media East conference in New York City. Presenting detailed information on both formats, as well as the codecs that drive them, Ozer gave viewers the knowledge they need to stream to HTML5 browsers.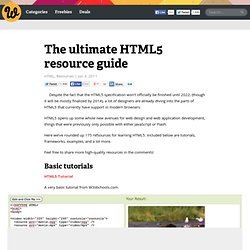 Despite the fact that the HTML5 specification won't officially be finished until 2022, (though it will be mostly finalized by 2014), a lot of designers are already diving into the parts of HTML5 that currently have support in modern browsers. HTML5 opens up some whole new avenues for web design and web application development, things that were previously only possible with either JavaScript or Flash. Here we've rounded up 175 refsources for learning HTML5. Included below are tutorials, frameworks, examples, and a lot more.
By Bruce Lawsonbrucelawson. Wednesday, April 6, 2011 7:30:35 AM accessiiblity, HTML5, internationalisation At Opera HQ, we're implementing the HTML5 <details> element.
s Developer Relations Team - Implementing HTML5 <details>
Seriously, What is HTML5?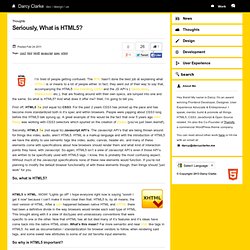 I'm tired of people getting confused. The W3C hasn't done the best job at explaining what HTML5 is or means to a lot of people either. In fact, they went out of their way to say that, accompanying the HTML5 new branding, CSS3 and the JS API's ( Geolocation, Websockets etc.), that are floating around with their own specs, are lumped into one and the same. So what is HTML5?
JavaScript and HTML5 Forms Testing for Support If you intended to write JavaScript to mimic the functionality of HTML5 forms, you may want to first test the current browsers capability and write the JavaScript as a fallback. On the right is how you might test for attribute support.