FASHION
Constellation Jar. I asked Amy of This Heart of Mine for a project that would be fun for kids or adults.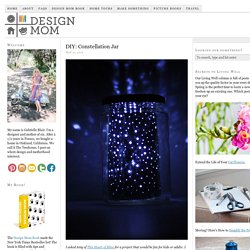 I love that she thought of star-gazing! We're so far into the countryside, that the stars here are outrageously bright. It's awesome! ASOS Embroidered Fabric Bib Style Necklace. August 13th, 2012 by aclazaro One of this season's hottest trends are bib style necklaces.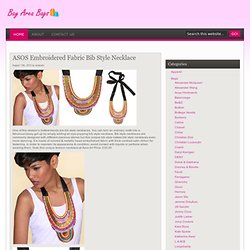 You can turn an ordinary outfit into a fabulous/classy get up by simply adding an eye-popping bib style necklace. Bib style necklaces are commonly designed with different precious stones but this unique bib style makes bib style necklaces even more stunning. It is made of colored & metallic bead-embellished fabric with thick contrast satin ribbon for fastening. In order to maintain its appearance & condition, avoid contact with liquids or perfume when wearing them. Turn Your T-Shirts Into Tote Bags - Brit & Co. - Style. If you're still busy spring cleaning, we're guessing you've come across a lot of t-shirts that you can't quite get rid of but don't really need.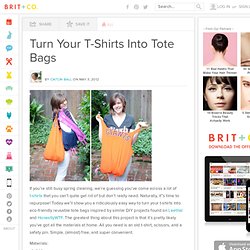 Naturally, it"s time to repurpose! Today we'll show you a ridiculously easy way to turn your t-shirts into eco-friendly reusable tote bags inspired by similar DIY projects found on Leethal and HonestlyWTF. The greatest thing about this project is that it's pretty likely you've got all the materials at home. All you need is an old t-shirt, scissors, and a safety pin.
Simple, (almost) free, and super convenient. DIY Custom Makeup Palette - Hello Brit - Style. There are two reasons you need to make a custom makeup palette.
One, you've got a dozen eyeshadow compacts and a handful of brushes and can never find the ones you need when you need them. You likely got some of these from your mom, for free with your latest makeup counter purchase, or for a specific event. Or two, you're a masterful makeup maven and need access to the whole color wheel every time you get your face on. DIY Ombre Tights - Hello Brit - Style. It's no secret that we love adding color to anything and everything, and our clothes are no exception.
We've color blocked our heels, our jeans, and ombre'd our nails, and today we're pumped to introduce DIY Ombre Tights. Best of all, this project takes under 30 minutes with just a few simple materials! Materials: - white tights (tights, not hose!) How to Turn Shower Curtains into Produce Totes - Hello Brit - Living. You can never get enough reusable totes, but sometimes the fabric ones get dirty quickly and just don't cut it for fresh produce.
So, what to do? Grab an inexpensive shower curtain and get sewing! How To Turn Your T-Shirts Into Nautical Necklaces - Hello Brit - Style. So we might be stretching the definition of nautical, but we couldn't help but dream of summers spent on the water while making our sweet braided t-shirt necklaces.
And you know, they'd be pretty perfect for sporting if you happen to be hangin' with T-Pain and the boys of Lonely Island. If you're thinking to yourself, "all my t-shirts are way too awesome to get rid of or re-purpose" (that Bush t-shirt from the mid 90s is still awesome), stock up on a few of our favorite new t-shirts out there and get creative with some of your old ones. Materials: - t-shirts (we used men's M-XL) - electrical tape (green, yellow, blue) - 2 pairs of scissors (1 for the tape, 1 for the fabric) Lesson one: If you're an aspiring crafter, the first thing to know is that you always need a pair of scissors dedicated to fabric.
First thing to do is to cut out all the seams of the t-shirt. Disco Ball Helmet. You will need: Mirror tiles: I used mirror tiles that come backed with fabric.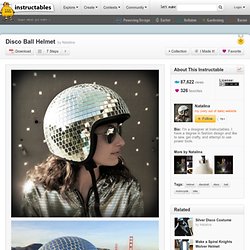 This makes the whole process MUCH faster. You can purchase it from Kit Kraft. I had quite a bit left over, I probably used one half to two thirds of it. Felt Flowers by Will You To I Do.
Recycled jeans organizer. How to Make a recycled jeans organizer and play mat Do you have an old pair of jeans that you don't want to throw away but aren't sure what to do with?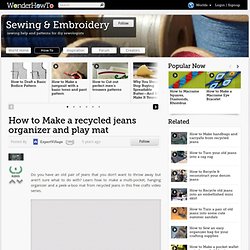 Learn how to make a multi-pocket, hanging organizer and a peek-a-boo mat from recycled jeans in this free crafts video series. Make a recycled jeans organizer and play mat - Part 2 of 15 Click through to watch this video on expertvillage.com. Customize your jeans six different ways. Buttons from Shrink Plastic. This tutorial is an old one of mine that's too good not to share again.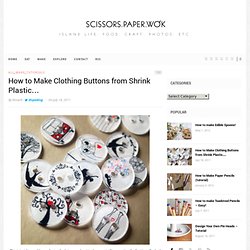 Since posting the first time, I've had lots of questions about these buttons which will hopefully be answered in this revised post. Equipment Some handy notes: Anthro Necklace. This fun necklace is part of my first Anthro Necklace Week – A whole week of fun tutorial sharing Anthro Knockoffs! Disclaimer: I am not a jewelry-making expert by any means! I've tried to show you the way I do these – but believe me when I say that if I can do these – anyone can! :) Today we're doing the Potentilla Bib Necklace – which I just love. I don't get the price though. Stencil with freezer paper. Yes, I am a nerd.
I came up with a brilliant idea for a Harry Potter t-shirt and I couldn't resist. "Expecto Patronum! " However, you can make whatever kind of design you want with a freezer paper stencil. Old flip-flops + bath towel = spa slippers. When I told my brother about this week's project, the first thing he said was, "You know you can buy those, right?" Halfway into the project, I started to wish I did. My old shower slippers fell apart recently. I examined the shreds and decided that I could make my own—only better. I bought a thrift-store bath towel for $1, grabbed an old pair of flip-flops, and went to work.
---