Avec tissu
Get flash to fully experience Pearltrees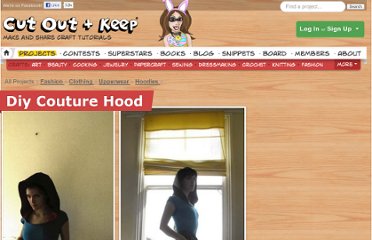 You need to join your hood pieces together in pairs. Join your two outer hood pieces together first. Lay one piece out flat with the right side of the fabric facing upwards towards you, then lay the other piece face down on top of it. Pin all the way along the long curved edge that will form the 'backbone' of your hood.
Difficulty: Intermediate. It's based on the Drapedrape dress no 7, and it has the same 'what am I looking at here' feel to it. At one point you'll think, 'what a mess' and then it just clicks and you have a beautiful skirt. This click does not seem to happen with everyone, showing from the comments. If you're not sure about it: I'll do a complete revision of this tutorial in the near future! Fabric: One meter/yard is more than enough.
Il était temps que je le fasse, voici enfin le tuto promis de la "jupe-sarouel asymétrique" que je vous avais présentée précédemment ( voir ici ) : Pour me faire pardonner de l'attente, je vous livre les mesures de la taille 12-18 mois à la taille adulte ;o) Pour l'occasion, j'ai cousu à ma fille quasiment la même que la mienne! Edit / Photos du 27 Août 2012 :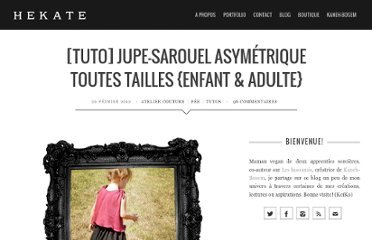 Two facts about me: I'm cheap. I love dresses. I wear dresses probably 6 days out of the week. It's not that I one day just decided to wear dresses to feel cute and girly. Far from it.
As you burrow back into your cold-weather clothes, you're probably taking stock of your sweater supply. Here's an option for the ones that are too shrunken or moth-eaten to donate: Turn them into fingerless mittens. They're cozy, chic, and (we promise!) much easier than you think.