My Fav Hotels
Hôtel Rocco Forte The Augustine, Prague, République tchèque - 14 Commentaires Clients. Réservez votre hôtel ! Hôtel Chambres Présentation | Hotel 14. Skip to Content Skip to Navigation Présentation Luxe moderne, design contemporain et confort élégant. 14 chambres dont deux suites, quatre chambres Executive dont une chambre PMR, quatre chambres Deluxe et quatre chambres Luxe.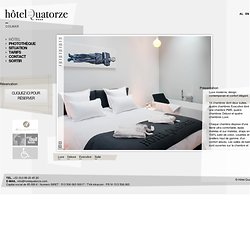 Chaque chambre dispose d'une literie ultra confortable, épais matelas et sur-matelas, draps en 100% satin de coton, couettes et oreillers haut de gamme, d'un confort absolu. Les salles de bains sont ouvertes sur la chambre et toutes les toilettes sont séparées. The Standard Spa – Luxury Miami Beach Florida Boutique Hotels. Lydmar Hotel - Stockholm - 08-22 31 60. Avalon Hotel - Göteborg. Hotel & Igloo Village Kakslauttanen. Koh Jum Lodge, Krabi, Thaïlande - Unique et charmant éco-lodge tropical isolé sur une longue plage de l'île de Ko Jum.
Le Koh Jum Lodge est composé de dix-neuf cottages en bois tropical conçu dans une architecture locale traditionnelle, situés au milieu d'une plantation de cocotiers et d'un jardin tropical.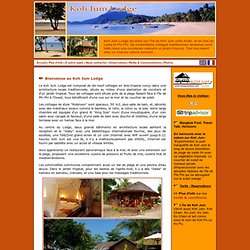 Tous les cottages sont situés près de la plage faisant face à l'île de Phi Phi à l'Ouest, tous bénéficient d'une vue sur la mer et du coucher de soleil. Les cottages de style "Robinson" sont spacieux, 50 m2, plus salle de bain, et, décorés avec des matériaux locaux comme le bambou, le rotin, le coton ou la soie. Votre large chambre est équipée d'un grand lit "King Size" muni d'une moustiquaire, d'un coin salon avec canapé et fauteuil, d'une salle de bain avec douche et toilettes, d'une large terrasse avec un hamac face à la mer. Bangkok Luxury Hotel | Official Site Shangri-La Hotel Bangkok. Costantinopoli 104 - Naples. B Hotel Barcelone.
The Dominican Bruxelles. It is the kind of place you know you want to come back to, the kind of place that makes you feel nostalgic for it as soon as you've left.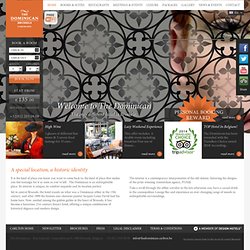 The Dominican is an unforgettable place. Its interior is unique, its comfort exquisite and its location perfect. Set in central Brussels, the hotel stands on what was a Dominican abbey in the 15th century, and after 1800 the famous neo-classicist painter Jacques-Louis David had his home here. Now, nestled among the golden gables in the heart of Brussels, it has become a luxurious 21st-century luxury hotel, offering a unique combination of historical elegance and modern design.
Vintage Hotel. Hi Nice. Bourghteroulde Rouen. The Standard NYC. Gansevoort NYC. Mercer NYC. The Mercer Kitchen, located on two levels of The Mercer, is an open, inviting and informal 200 seat restaurant with world renowned chef Jean-Georges Vongerichten at the helm.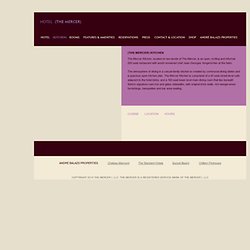 The atmosphere of dining in a casual family kitchen is created by communal dining tables and a spacious open kitchen plan. The Mercer Kitchen is comprised of a 40 seat street-level cafe adjacent to the hotel lobby, and a 160 seat lower level main dining room that lies beneath Soho's signature cast iron and glass sidewalks, with original brick walls, rich wenge-wood furnishings, banquettes and bar area seating. Delano Miami Beach. The Raleigh Miami Beach. Bar du Park Hyatt. Le Bar Hemingway : Ritz Paris, restaurant et bar pour brunch et cocktail ritz. Radisson Blu Berlin.
---
oyezbravesgens Oct 11 2010

Seulement des hôtels que j'ai testés (au moins le bar).
---