Horses
National Steeplechase Association
Horse Diseases
Equine Chronicle » Genetic Diseases in Quarter Horses and Related Breeds
EC July/August 2009 During the past two decades, research has shed light on a number of important genetic diseases in horses, including several defects that appear in Quarter Horses and other breeds that have utilized Quarter Horse bloodlines.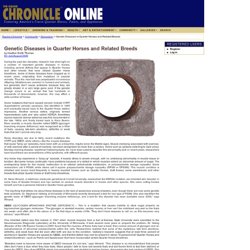 Horse First Aid, Equine First Aid
Basic First Aid for Horses plus - Extra Care for Horses in the Summer Heat - Including Suggestions to Make Your Horse First Aid Kit More Information and First Aid Products for Horses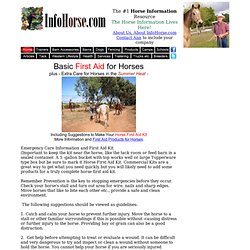 Equine virus outbreak: Outbreak of equine virus spooks horse owners across Western U.S.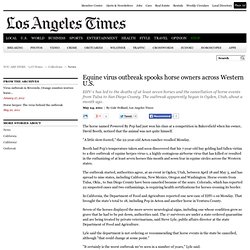 The horse named Powered By Pep had just won his class at a competition in Bakersfield when his owner, David Booth, noticed that the animal was not quite himself.
http://www.aphis.usda.gov/publications/animal_health/content/printable_version/faq_cem2010
http://www.aphis.usda.gov/publications/animal_health/content/printable_version/fs_CEMrev09
Treating Founder (Chronic Laminitis) Without Shoes--Home Page
Equine Colic Basics: What are signs, symtoms and remedies for horses
One of the problems associated with this situation is that the sand and gravel and to a lesser degree the silt can produce irritation within the digestive system.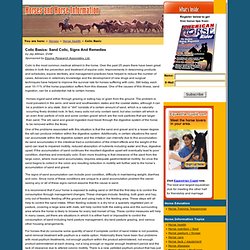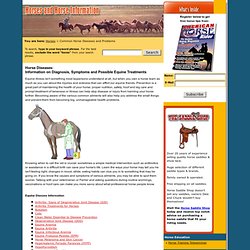 Educate yourself about common horse diseases relating to the skin, the hoof, and other areas.
Horse Tack & Riding Equipment Maintenance Tack needs to be maintained religiously.
Alternative Therapies for Colic
Equine Medical Center of Ocala - Coggins and Health Certificates
In February 2013, the USDA's National Veterinary Services Laboratories (NVSL) confirmed that a Lusitano mare in south-central California was positive for Taylorella equigenitalis, the bacterium that causes contagious equine metritis (CEM). The NVSL also determined that the strain of the bacterium does not match any T. equigenitalis strains ever found in the United States, indicating this case is not related to any previous U.S. cases of CEM.
APHIS - Newsroom - Contagious Equine Metritis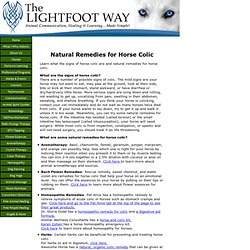 Learn what the signs of horse colic are and natural remedies for horse colic. What are the signs of horse colic? There are a number of possible signs of colic.
Natural Remedies for Horse Colic
This article describes laminitis and founder, with the following topics:
Laminitis & Founder in Horses
http://www.cfsph.iastate.edu/Factsheets/pdfs/contagious_equine_metritis.pdf
DISEASES OF THE HORSE'S FOOT
Spotlight on "Quarter Horse disease" - Horse health problems and articles - Horsetalk -- get horse advice, and find answers to your equine health problems
Impressive was not merely his name, but his genetic legacy.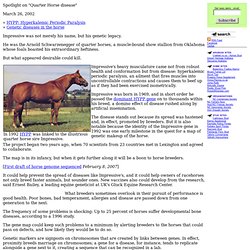 Western saddle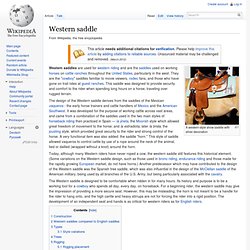 A western-style show saddle with silver decoration Western saddles are used for western riding and are the saddles used on working horses on cattle ranches throughout the United States , particularly in the west.
American Quarter Horse
The American Quarter Horse is an American breed of horse that excels at sprinting short distances. Its name came from its ability to outdistance other horse breeds in races of a quarter mile or less; some individuals have been clocked at speeds up to 55 mph (88.5 km/h).
American Quarter Horse Hall of Fame & Museum: George Tyler
Company - Thoroughbred Racing Information
Previous Inductees
Texas Cowboy Hall of Fame and Green Mountain Energy Company "Flip Switch" for Museum's New Solar Array -- And First for Stockyards Local dignitaries dedication for first solar system to help power a National Historical District Building and Texas Hall of Fame non-profit organization The Texas Cowboy Hall of Fame is now being powered partly by the sun, thanks to Green Mountain Energy Company and its customers. Green Mountain, Texas' first competitive retail electric provider to offer cleaner energy, donated $50,000 to our Fort Worth landmark – through its Big Texas Sun Club® - to fund the 19.44 kilowatt (kW) solar power system.
The Story of Three Bars by Bob Gray - Circle D Horses
Two decades later, Snedigar could recall clearly what made him like the horse so well:
Busy San Quarter Horse
Virgil Vengeful Quarter Horse
Horse Owner's Veterinary Handbook (9780470126790): Thomas Gore DVM, Paula Gore, James M. Giffin MD, Beth Adelman
Bruce Cheaney Handmade Custom Saddles Gainesville, Texas
The Everywhereist - TIME's 25 Best Blogs of 2011
Geraldine DeRuiter's husband Rand has a job that takes him around the world. After she was laid off from her job, she started tagging along with him and blogging their experiences at the Everywhereist . It's hardly your average travel blog: DeRuiter is as likely to write about confusing bathroom fixtures , inexplicable foreign TV shows and obnoxious airplane passengers as she is about picturesque towns and exquisite restaurants.
Affiliate | PDF Barn Plans
Equestrian Ventures Training and Instruction
Horse Boarding Farms in Houston, Texas. Horse Ranches in Houston, TX. Riding Stables in Harris County, TX. - Page 1
Breeding and Genetics [Archive] - Student Doctor Network Forums
Inbreeding
Quarter horse as a breed being ruined
Making a Vet Kit
http://www.dogforums.com/general-dog-forum/99377-pedigree-dogs-being-ruined-2.html
Inbreeding - from the Forthcoming book: Bloodlines N Pedigrees,  by Larry Thornton
Bred to death
Inbreeding
Top-10 Free Reports
Horse Tack and Saddle
Stirrup
Article: How the Stirrup Changed Our World, by Dan Derby
Horse Trailer Loading Tips – America's Horse Daily
Horse Trailer Hauling Tips - Horse Trailering Safety - Trailer Safety
New 16-19 Fancy hand tooled leather Horse saddle- Western Horse Saddles - Saddle Online
Horse Care & Grooming Tips (15 of 15) - Horse Trailer & Travel (2)
Understanding the Importance and Popularity of the American Quarter Horse
Horse Motels International. Worldwide horse motel directory for the traveling equestrian. We find horse motels, horse hotels, overnight stabling, overnight boarding, horse hostels, ranches, bed and breakfasts, and hurricane shelter.
Horse breeding
Buy A Horse | Horse Shopping | Horse Buying Questions
Medi-vet.com Review | All Online Pharmacies Reviews And Ratings | Online Pharmacies Reviews & Ratings & Scam Reports
HorseCity.com | Keeping the Horse World Connected - Waldo Haythorn, breeder of American Quarter horses passes away at home