Holidays
Kwanzaa. Hanukkah. Spelling. Unfortune Cookie powered by Footnote.com. Halloween Interactive Games. Here are some Halloween themed interactive games that you can use in your classroom for learning and for fun: Candy Corn Math: Find the matching pairs.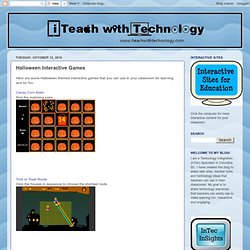 Trick or Treat Route: Click the houses in sequence to choose the shortest route. Candy Cards: Try to clear all of the cards. Click a card that has a matching picture next to it and the set will disappear and reveal the new cards below. Halloween Worksheets and Activities. Lanternfish has a variety of different activities for Halloween.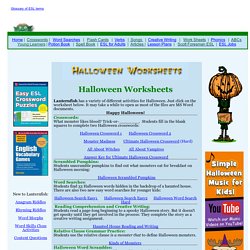 Just click on the worksheet below. It may take a while to open as most of the files are MS Word documents. Happy Halloween! Crosswords: What monster likes blood? Bitesize KS2 - Games - Viral Vinnie. Word Drop Game - Halloween. Halloween - The New York Times > N.Y. / Region > Slide Show > Slide 1 of 13. Justice For None - Santa And His Singing Reindeer. Santa's Deer - Greetings. Sprint - Sprint Sweets. Snowflake Designer - 6 Sides (Advanced Options) ! Make-a-Flake - A snowflake maker by Barkley Interactive. §. Make a Snowman! Petoneclusterwiki / Christmas Links.
Christmas Crackers. Christmas Around the World. Christmas. Santa Claus Facts, Origins, Christmas celebration in different countries, and fun Tidbits. In the United States and Canada, his name is Santa Claus.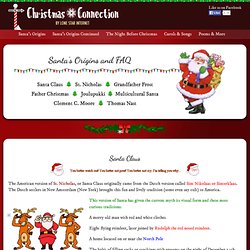 In China, he is called Shengdan Laoren. In England, his name is Father Christmas, where he has a longer coat and a longer beard. In France, he's known as Pere Noel. In Germany, children get presents from Christindl, the Christ Child. Celebrate Christmas with Santa Claus at Santa.com. English Christmas Traditions - Lovely Christmas (UK) Author: Jan De Ryck - Updated: 19 October 2011| Comment Christmas traditions in England stem from the many and varied parts or our history.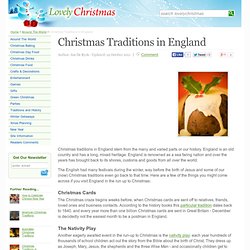 England is an old country and has a long, mixed heritage. England is renowned as a sea faring nation and over the years has brought back to its shores, customs and goods from all over the world. The English had many festivals during the winter, way before the birth of Jesus and some of our (now) Christmas traditions even go back to that time. TheHolidaySpot: Holidays and Festivals Celebrations, Greeting Cards, Activities, Crafts, Recipes Wallpapers, and more. Crew's Nest Holidays & Celebrations. Holiday Index. Santa Claus and Christmas at the Northpole. Christmas Traditions in France and in Canada : Home page.
Christmas Traditions. Find information about customs for the Christmas season, including trees, Santa Claus, holly, mistletoe, and more by David Johnson Christmas Tree The practice of tree worship has been found in many ancient cultures.
Often, trees were brought indoors and decorated to ensure a good crop for the coming year. SANTA CLAUS OF THE NORTH POLE. Father Christmas. California Mall - Holiday Traditions. All Things Christmas: For those who share the spirit of Xmas throughout the year. Hauntedhouse. The Haunted House - Stories - British Council - LearnEnglish Kids. Kidspace: The Tortoise and the Hare. Easter Silly Sentences. Bunny Count. Playground_player. Word Hunt. Popular Front SnowDays.
---