Archives
The origins of the Internet in Europe By Freer Gallery of Art and Arthur M. Sackler Gallery
Cultural Institute
The Archive's ever-expanding collection of genealogy resources includes items from the Allen County Public Library Genealogy Center in Fort Wayne, Indiana; Robarts Library at the University of Toronto ; the University of Illinois Urbana-Champaign Library ; , the National Library of Scotland , the Indianapolis City Library's Indianapolis City Directory and Yearbooks Collection , The Leo Baeck Institute Archives of German-speaking Jewry Leo Baeck Institute Archives , and the Boston Public Library . Resources include among many things books on surname origins, vital statistics, parish records, census records, passenger lists of vessels, and other historical and biographical documents.
Internet Archive: Genealogy Resources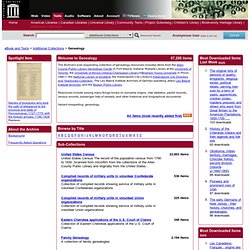 Internet Archive: United States Census's from 1790 to 1930
Population schedules of the second census of the United States, 1800, Maine [microform] (Volume Reel 0008 - 1800 Maine Federal Population Census Schedules - Washington and York Counties) Average rating: 14th census of population, 1920. [microform] (Volume Reel 1989 - 1920 Wisconsin Federal Population Schedules - iowa Co.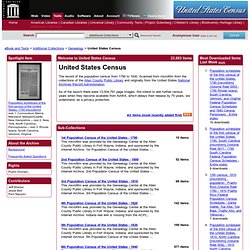 Internet Archive: 1930 United States Census
1930 Census:
Fascinating records of more than 67,000 19th century criminals published online for the first time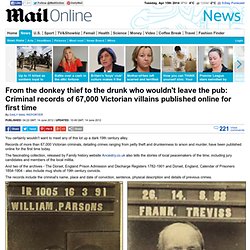 By Daily Mail Reporter
DocumentsOnline | Southwell workhouse correspondence
This series consists of correspondence of the Poor Law Commission, the Poor Law Board and the Local Government Board with Poor Law Unions and other Local Authorities. It covers the years 1834 to 1900.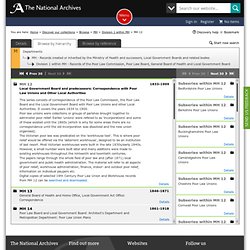 Highlights of the vast collection include gems such as vivid accounts of General Garibaldi's UK visit to a "magnificent reception at Crystal Palace", published in the Dundee Courier on April 18 1864, and the creation of the phonograph by Thomas Edison, in the North Wales Chronicle on December 1, 1877. The archive also features hundreds of letters from soldiers in varying war zones, which were published in local papers as a way of bringing attention to their needs and informing people about life at war. One such letter, published in The Reading Mercury on January 27, 1855, was from a soldier fighting in the Crimean War begging for food to be sent to him as the British army's supplies had dwindled to record lows.
British Library newspaper archive puts 300 years of history online