Ancient History & Archaeology
How Eclipses Destroyed Empires, Enabled Columbus, and Inspired the Birth of Science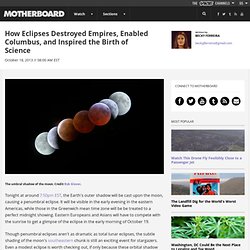 The umbral shadow of the moon. Credit Rob Glover. Tonight at around 7:50pm EST, the Earth's outer shadow will be cast upon the moon, causing a penumbral eclipse. It will be visible in the early evening in the eastern Americas, while those in the Greenwich mean time zone will be be treated to a perfect midnight showing. Eastern Europeans and Asians will have to compete with the sunrise to get a glimpse of the eclipse in the early morning of October 19. Though penumbral eclipses aren't as dramatic as total lunar eclipses, the subtle shading of the moon's southeastern chunk is still an exciting event for stargazers.
Archeological Discoveries in Europe
Archeological Discoveries in the Americas
Archeological Discoveries in Africa & the Middle East
Archeological Discoveries in Asia
The Ancient Wall as a Cultural Barrier The great wall of china is the most monumental barrier ever created in the ancient world. It is easily the most popular image we associate with the ancient Chinese Empire itself, but it has become so mythologized by in our imagination that we don't realize it was actually the most extreme cultural barrier ever created.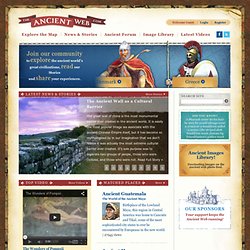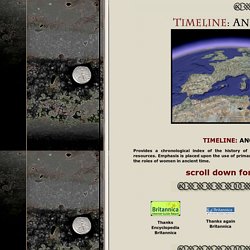 Provides a chronological index of the history of Ancient Rome with extensive links to internet resources. Emphasis is placed upon the use of primary source material, numismatics, and a focus upon the roles of women in ancient time. scroll down for the timeline Thank you for visiting!
Digging Up the Past
Archaeology, or archeology[1] (from Greek ἀρχαιολογία, archaiologia – ἀρχαῖος, arkhaios, "ancient"; and -λογία, -logia, "-logy[2]"), is the study of human activity in the past, primarily through the recovery and analysis of the material culture and environmental data that they have left behind, which includes artifacts, architecture, biofacts and cultural landscapes (the archaeological record). Because archaeology employs a wide range of different procedures, it can be considered to be both a science and a humanity,[3] and in the United States it is thought of as a branch of anthropology,[4] although in Europe it is viewed as a separate discipline. Archaeology studies human history from the development of the first stone tools in eastern Africa 3.4 million years ago up until recent decades.[5] (Archaeology does not include the discipline of paleontology.)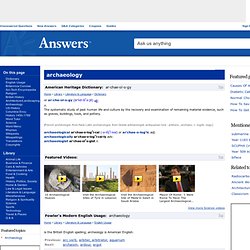 What is Archaeology? - Definitions