Histoire des arts en ligne
iPad Tablettes numériques : créer un cahier d'histoire des arts. Objectifs Créer un cahier numérique d'histoire des arts. Produire des notes écrites et audio pour commenter des œuvres artistiques. Themes and Special Projects. Art Home | ARTH Courses | ARTH Links Themes and Special Projects This page is organized to provides links to the various webpages I have constructed for my courses that share common themes.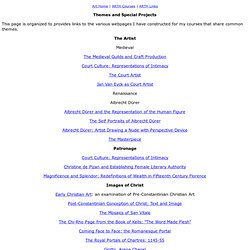 The Artist Medieval. Photos | Picture This!, Photo of the Day. Editors' Picks, Photo Contest, Download & Puzzles, Videos. Closeup.
Ruptures et continuités. Nombre d'or. Regards sur le monde contemporain. Diego Rivera. Architecture contemporaine. Cinéma.
Ressources pédagogiques. Analyses artistiques. Dire la guerre.
---