Para videoconferencias
MeetCheap - Video Conference Software for Webinars, Online Meetings, Desktop Sharing & Web Conferencing
Video Conferencing | Lync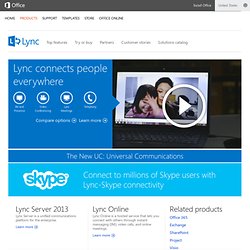 What customers are saying
eLecta Live - Virtual Classroom Software | Online Training Software | Web Conferencing | Online Teaching Software
Sala de Videoconferencias
Sala de Videoconferencias de RedDOLAC RedDOLAC cuenta con un servicio de sala de videoconferencias la cual puede utilizar como administrador por un donativo de $ 25 dólares por dos horas. Seguir los siguientes pasos: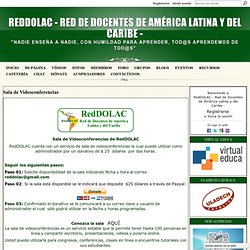 Meet.fm is a service that allows you to host webinars that can be accessed from any laptop, desktop, or tablet (including iPad) that has a web browser.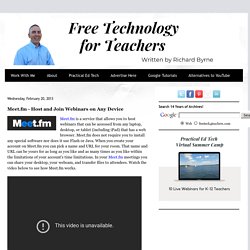 Meet.fm - Host and Join Webinars on Any Device
En los tiempos que corren hacer una entrevista de trabajo vía Internet es una realidad, especialmente si las partes se encuentran separadas entre sí por kilómetros de distancia.
Cómo grabar videollamadas de Skype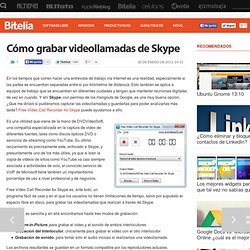 Recientemente estuve revisando un complemento a Evernote, que en principio me resultó atractivo. Es el caso de Liveminutes, sitio en el que se pueden realizar conferencias y compartir documentos, lo que resulta útil para la educación a distancia. La inscripción al sitio es sencilla, si lo hace de modo directo, basta con su nombre de usuario, correo y clave, aunque como es de esperar también se puede inscribir desde su cuenta en Facebook.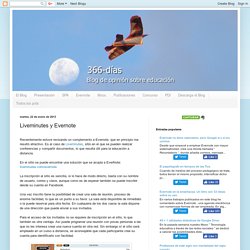 Liveminutes y Evernote
Con Zoom puede hablar y ver a sus amigos en alta definición - 23.08.2012 - lanacion.com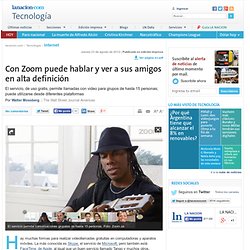 Hay muchas formas para realizar videollamadas gratuitas en computadoras y aparatos móviles. La más conocida es Skype, el servicio de Microsoft, pero también está FaceTime, de Apple, al igual que un buen servicio llamado Tango y muchos otros. Pero ¿qué pasa si los consumidores quieren realizar un a videollamada en grupo, con varias personas en lugares diferentes con diferentes tipos de aparatos?
Estimados amigos de Profeland:
CONFERENCIAS Y ENCUENTROS ONLINE GRATUITOS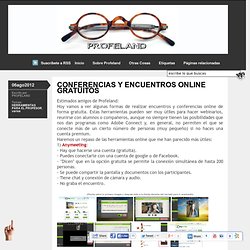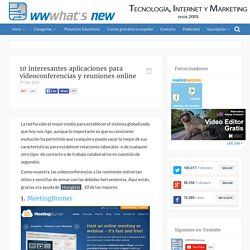 La red ha sido el mejor medio para establecer el sistema globalizado que hoy nos rige, aunque lo importante es que su constante evolución ha permitido que cualquiera pueda sacar lo mejor de sus características para establecer relaciones laborales -o de cualquier otro tipo- de contacto o de trabajo colaborativo en cuestión de segundos. Como muestra, las videoconferencias y las reuniones online tan útiles y sencillas de armar con las debidas herramientas.
10 interesantes aplicaciones para videoconferencias y reuniones online
Video Conferencing, Web Conferencing & Online Meetings: WebEx Communications Inc.
keeptherecord – Realiza conferencias en la web que se graban en mp3 de forma automática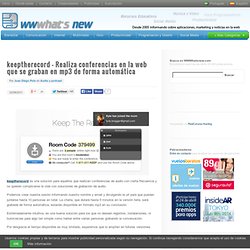 keeptherecord es una solución para aquéllos que realizan conferencias de audio con cierta frecuencia y no quieren complicarse la vida con soluciones de grabación de audio. Podemos crear nuestra sesión informando nuestro nombre y email y divulgando la url para que puedan juntarse hasta 10 personas en total.