Para videoconferencias
MeetCheap - Video Conference Software for Webinars, Online Meetings, Desktop Sharing & Web Conferencing
Our unbeatable price point has made it affordable for any country in the world with an Internet connection. It is no longer a service for deep pockets and large companies. We have made it affordable for everyone. Many other web conferencing providers charge huge dollars because a third party exists. A third party meaning that the online conference provider may not own such things as: Lines of code – Hardware – Servers - Fiber optics - Location (such as a data center)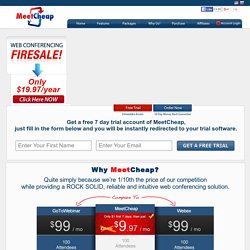 Video Conferencing | Lync
eLecta Live - Virtual Classroom Software | Online Training Software | Web Conferencing | Online Teaching Software
Sala de Videoconferencias
Sala de Videoconferencias de RedDOLAC RedDOLAC cuenta con un servicio de sala de videoconferencias la cual puede utilizar como administrador por un donativo de $ 25 dólares por dos horas. Seguir los siguientes pasos: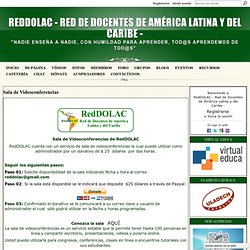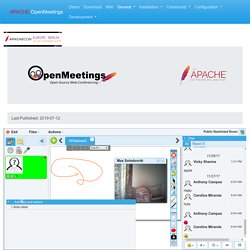 Multi-Whiteboard, you can add new whiteboard instances, each white board can have the full range of tools and documents inside. Save white boards. You can save each whiteboard instance as a file. The file is located in the File-Explorer and can be drag n' drop'ed to the white board again and organized like any other document, image or folder. White board with drawing, writing, Drag n' Drop, Resizing, Images (Drag n' Drop from File-Explorer), Symbol(s)/Cliparts .
Meet.fm is a service that allows you to host webinars that can be accessed from any laptop, desktop, or tablet (including iPad) that has a web browser. Meet.fm does not require you to install any special software nor does it use Flash or Java. When you create your account on Meet.fm you can pick a name and URL for your room. That name and URL can be yours for as long as you like and as many times as you like within the limitations of your account's time limitations.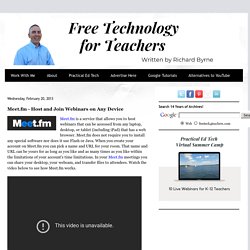 Meet.fm - Host and Join Webinars on Any Device
En los tiempos que corren hacer una entrevista de trabajo vía Internet es una realidad, especialmente si las partes se encuentran separadas entre sí por kilómetros de distancia. Esto también se aplica a equipos de trabajo que se encuentren en diferentes ciudades y tengan que mantener reuniones digitales de vez en cuando. Y ahí Skype, con permiso de los Hangouts de Google, es una muy buena opción. ¿Que me diríais si pudiéramos capturar las videollamadas y guardarlas para poder analizarlas más tarde? Free Video Call Recorder for Skype puede ayudarnos a ello.
Cómo grabar videollamadas de Skype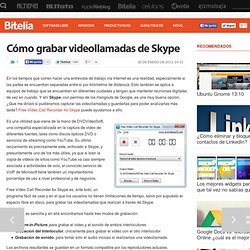 Recientemente estuve revisando un complemento a Evernote, que en principio me resultó atractivo. Es el caso de Liveminutes, sitio en el que se pueden realizar conferencias y compartir documentos, lo que resulta útil para la educación a distancia. La inscripción al sitio es sencilla, si lo hace de modo directo, basta con su nombre de usuario, correo y clave, aunque como es de esperar también se puede inscribir desde su cuenta en Facebook.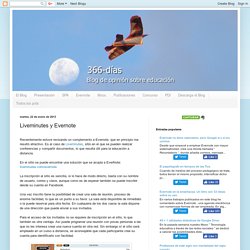 Liveminutes y Evernote
Con Zoom puede hablar y ver a sus amigos en alta definición - 23.08.2012 - lanacion.com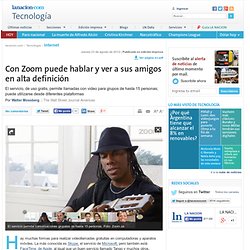 Hay muchas formas para realizar videollamadas gratuitas en computadoras y aparatos móviles. La más conocida es Skype, el servicio de Microsoft, pero también está FaceTime, de Apple, al igual que un buen servicio llamado Tango y muchos otros. Pero ¿qué pasa si los consumidores quieren realizar un a videollamada en grupo, con varias personas en lugares diferentes con diferentes tipos de aparatos?
Estimados amigos de Profeland: Hoy vamos a ver algunas formas de realizar encuentros y conferencias online de forma gratuita. Estas herramientas pueden ser muy útiles para hacer webinarios, reunirse con alumnos o compañeros, aunque no siempre tienen las posibilidades que nos dan programas como Adobe Connect y, en general, no permiten el que se conecte más de un cierto número de personas (muy pequeño) si no haces una cuenta premium. Haremos un repaso de las herramientas online que me han parecido más útiles: - Hay que hacerse una cuenta (gratuita).
CONFERENCIAS Y ENCUENTROS ONLINE GRATUITOS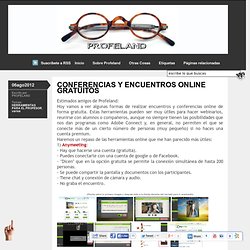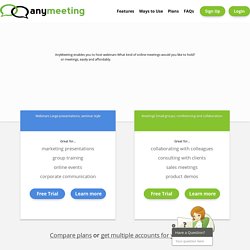 Hold Large or Small Meetings With meeting sizes of up to 200 participants, you can host a large webinar or a small collaborative online meeting. Share Your Screen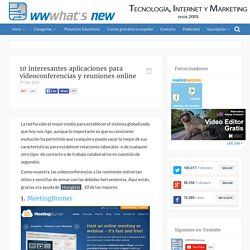 La red ha sido el mejor medio para establecer el sistema globalizado que hoy nos rige, aunque lo importante es que su constante evolución ha permitido que cualquiera pueda sacar lo mejor de sus características para establecer relaciones laborales -o de cualquier otro tipo- de contacto o de trabajo colaborativo en cuestión de segundos. Como muestra, las videoconferencias y las reuniones online tan útiles y sencillas de armar con las debidas herramientas. Aquí están, gracias a la ayuda de Hongkiat, 10 de las mejores: 1. MeetingBurner Un servicio online sin necesidad de descargas adicionales que incluye integración con Skype, grabación de archivos de audio para compartirlos luego instantáneamente, transmisión en vivo de la pantalla del anfitrión y hasta estadísticas para registrar la interacción de los usuarios presentes en la charla.
10 interesantes aplicaciones para videoconferencias y reuniones online
Full name must be at least 4 characters You forgot to enter your full name Only use letters, numbers, or '_' This doesn't look like a valid email You forgot to enter an email Sorry, this email is already in use, did you already sign up? Password must be at least 6 characters You forgot to enter a password Your password cannot contain spaces The activation code is not correct Sign up for freecreating accountORConnect with Google Ouch!
Recorrido rápido de 3 min Olvídese de la frustración de conferencias telefónicas.Vea cómo ser más eficiente con simples reuniones en línea. Reproducir ahora Obtenga WebEx para iPhone
Video Conferencing, Web Conferencing & Online Meetings: WebEx Communications Inc.
keeptherecord – Realiza conferencias en la web que se graban en mp3 de forma automática
keeptherecord es una solución para aquéllos que realizan conferencias de audio con cierta frecuencia y no quieren complicarse la vida con soluciones de grabación de audio. Podemos crear nuestra sesión informando nuestro nombre y email y divulgando la url para que puedan juntarse hasta 10 personas en total. La charla, que durará hasta 5 minutos en la versión beta, será grabada de forma automática, estando disponible en formato mp3 en su conclusión. Extremadamente intuitiva, es una buena solución para los que no desean registros, instalaciones, ni burocracias para algo tan simple como hablar entre varias personas grabando la conversación. Por desgracia el tiempo disponible es muy limitado, esperemos que lo amplíen en futuras versiones.
Screen sharing has never been so easy! Have an online meeting, give a presentation, or provide remote support. All features. Unlimited meetings.