Hemp / Cannabis
Cannabis Science, Inc. - The Patient's Voice for Alternative Medicine. The Psychiatrist: Pot luck and the cannabis conundrum. The supposed link between cannabis and schizophrenia seems to be a major plank in the argument against decriminalising drugs Can drugs induce psychosis?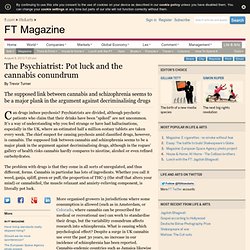 Psychiatrists are divided, although psychotic patients who claim that their drinks have been "spiked" are not uncommon. It's a way of understanding why you feel strange or have had hallucinations, especially in the UK, where an estimated half a million ecstasy tablets are taken every week. The chief suspect for causing psychosis amid classified drugs, however, is cannabis. Cannabinoids and the immune system: pot - PubMed Mobile. Low doses of THC (cannabis) can halt brain damage, study suggests. May 30, 2013 — hough marijuana is a well-known recreational drug, extensive scientific research has been conducted on the therapeutic properties of marijuana in the last decade.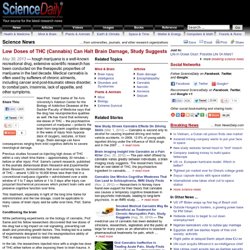 Medical cannabis is often used by sufferers of chronic ailments, including cancer and post-traumatic stress disorder, to combat pain, insomnia, lack of appetite, and other symptoms. Now Prof. Yosef Sarne of Tel Aviv University's Adelson Center for the Biology of Addictive Diseases at the Sackler Faculty of Medicine says that the drug has neuroprotective qualities as well.
He has found that extremely low doses of THC -- the psychoactive component of marijuana -- protects the brain from long-term cognitive damage in the wake of injury from hypoxia (lack of oxygen), seizures, or toxic drugs. Brain damage can have consequences ranging from mild cognitive deficits to severe neurological damage. Professor David Nutt - The Inconvenient Truth About Drugs. New York: 600 Physicians Call On Legislature To Pass Medical Marijuana Bill. Doctors Say They Should be Able to Recommend Marijuana as an Effective Medication By Steve Elliott Hemp News More than 600 New York physicians on Thursday will announce their support for a carefully regulated medical marijuana program for seriously ill state residents.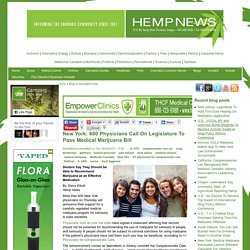 Cannabinoids Improve Efficiency Of Mitochondria And Remove Damaged Brain Cells. A recent study conducted by Andras Biokei-Gorzo at the Institute of Molecular Psychiatry at the University of Bonn in Germany is suggesting that marijuana(or the activation of the brain's cannabinoid system) triggers the release of antioxidants, which act as a cleansing mechanism.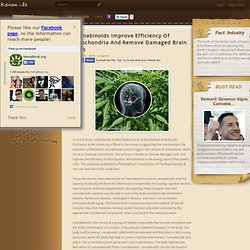 This process is known to remove damaged cells and improve the efficiency of mitochondria. Mitochondria is the energy source that powers cells. The study was published in Philosophical Transactions Of The Royal Society, B. You can read the entire study here. Cannabis and the Need for a Paradigm Shift. By Ed Bliss Introduction Cannabis is illegal because it is stuck in an artificially created paradigm designed by many different prohibitionists with equally varied motivations for maintaining this status quo.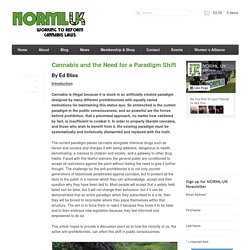 Time to overturn the 1971 drugs law. The UK government spends around 3 billion a year on its current drugs policy.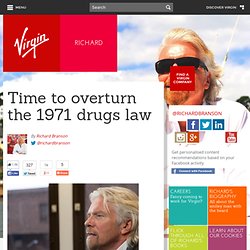 We know from research, such as the recent report from the UK Drugs Policy Commission, that the war on drugs isnt working. Imagine if we spent this money on rehabilitation and prevention. Cannabis linked to prevention of diabetes - Health News - Health & Families. If the link is proved, it could lead to the development of treatments based on the active ingredient of cannabis, tetrahydrocannabinol (THC), without its intoxicating effects.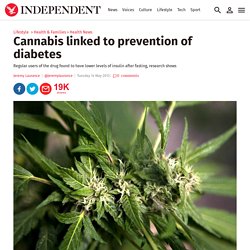 Researchers have found that regular users of the drug had lower levels of the hormone insulin after fasting – a signal that they are protected against diabetes. They also had reduced insulin resistance. Russ Belville: Denver Rehab Businessman Fears Kids Will Inject Marijuana. When you battle drug prohibitionists long enough you're bound to read some crazy things.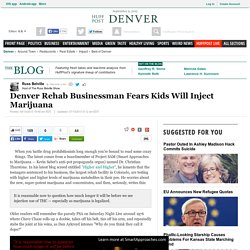 The latest comes from a boardmember of Project SAM (Smart Approaches to Marijuana -- Kevin Sabet's anti-pot propaganda organ) named Dr. Christian Thurstone. In his latest blog screed entitled "Higher and Higher" , he laments that the teenagers sentenced to his business, the largest rehab facility in Colorado, are testing with higher and higher levels of marijuana metabolites in their pee. He worries about the new, super-potent marijuana and concentrates, and then, seriously, writes this: Cannabis Induces a Clinical Respo... [Clin Gastroenterol Hepatol. 2013. USA TODAY. British press misrepresents research on cannabis liberalisation experiments. A few weeks ago, several sections of the British Press (e.g. [1]) reported results from 'two major research studies', which supposedly found that cannabis reclassification (from Class B to C) under Labour had led to an increase in drug use and crime.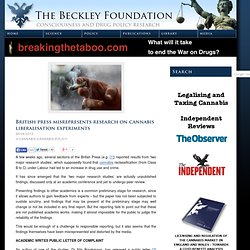 It has since emerged that the 'two major research studies' are actually unpublished findings, discussed only at an academic conference and yet to undergo peer review. Presenting findings to other academics is a common preliminary stage for research, since it allows authors to gain feedback from experts – but the paper has not been subjected to oustide scrutiny, and findings that may be present at the preliminary stage may well change or not be included in any final report. Large Study Finds No Link between Marijuana and Lung Cancer. The smoke from burning marijuana leaves contains several known carcinogens and the tar it creates contains 50 percent more of some of the chemicals linked to lung cancer than tobacco smoke.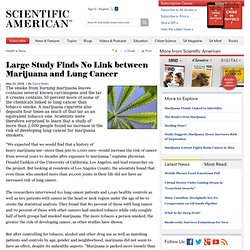 A marijuana cigarette also deposits four times as much of that tar as an equivalent tobacco one. Scientists were therefore surprised to learn that a study of more than 2,000 people found no increase in the risk of developing lung cancer for marijuana smokers. "We expected that we would find that a history of heavy marijuana use--more than 500 to 1,000 uses--would increase the risk of cancer from several years to decades after exposure to marijuana," explains physician Donald Tashkin of the University of California, Los Angeles, and lead researcher on the project. But looking at residents of Los Angeles County, the scientists found that even those who smoked more than 20,000 joints in their life did not have an increased risk of lung cancer.
UKCSC » United Kingdom Cannabis Social ClubsUKCSC » United Kingdom Cannabis Social Clubs. Over 10,000 people at London 420 cannabis smoke out in Hyde Park. By Deej Sulivan APRIL the 20th has for years meant only one thing for the cannabis community – a chance to protest. All over the world tokers of all shapes and sizes come together to protest against the unjust laws which criminalise them for partaking in their favourite herb. In the UK the focal point of our 4/20 protests has for a number of years been Hyde Park in London, and this year was no exception.
With the continued rise of the UKCSCs in the last 12 months, coupled with the great weather and the fact that 4/20 fell on a Saturday; expectations were high for this year's event. Understanding the science of cannabis is integral to appropriate regulation and use. (NaturalNews) Cannabis is a plant with demonstrable antioxidant and anti-inflammatory properties, both aspects that point to its potential to be used as an anti-cancer drug.
Cannabinoids have been used in tentative studies, demonstrating their ability to greatly reduce tumours, and cure cancer, in mice. A controlled substance The medical establishment continues to reinvent their justification for the demonization of marijuana as more and more of the claims made against cannabis are disproven. The justification currently holding the most ground is that cannabis is a plant, and cannot be carefully regulated because of the great chemical variability that is found between individual plants. Of course, medications have to be carefully monitored when the substance being used is also a poison at a slightly higher dose, as the overwhelming majority of pharmaceuticals are.
UK Medical Marijuana Community.
Problems of Prohibition
Cannabis Seeds 4 Free. Sunil Kumar Aggarwal: Adequate and Well-Controlled Studies Proving Medical Efficacy of Cannabis Exist but Are Ignored by Marijuana Schedulers. After a 40-year battle over the placement of marijuana in Schedule I, the U.S. Court of Appeals, DC Circuit, ruled in January on the most recent petition to reschedule marijuana in the case of AMERICANS FOR SAFE ACCESS (ASA) v. DRUG ENFORCEMENT ADMINISTRATION (DEA). The court ruled that the DEA had not acted arbitrarily and capriciously when it denied ASA's petition filed 9 years earlier to remove marijuana from Schedule I.
Schedule I drugs have "no currently accepted medical use in treatment in the United States" and "a lack of accepted safety for use under medical supervision" -- a classification that holds marijuana more dangerous than cocaine, morphine, or methamphetamine, all listed in Schedule II with accepted medical uses. The court ruled that the research needed to move marijuana out of Schedule I does not exist. Kristina Marie. Runner Anna races for cancer cannabis campaign | Bedfordshire Local News, Local News Headlines in Bedford | Bedfordshire Newspaper Online. A KEEN runner is set to take on a challenging race in order to raise cash for more research to be done into the use of cannabis oil to treat cancer patients.
Anna Bragga, 47, of Conduit Road, Bedford, signed up for the Sandy 10 run, a 10 mile run organised by Biggleswade Athletic Club, in February but wasn't sure which charity she wanted to run for. After undertaking research of her own she discovered Hertfordshire based Dr Hadwen Trust which has agreed to support her campaign 'Running for Oil' so that scientists can learn more about the effect cannabis has on helping cancer patients and people with brain tumours. However as cannabis is an illegal substance in the UK, Anna decided to raise money so that experts can provide enough evidence of its benefits to allow it to be prescribed to sufferers. Anna, who runs her own public relations firm, said: "I have always been a very physically active person, finding it unnatural to spend hours each day sitting at a desk staring at screen. Brain imaging insight into cannabis as a pain killer. Public release date: 20-Dec-2012 [ Print | E-mail Share ] [ Close Window ] Contact: Press Officepress.office@admin.ox.ac.uk 44-186-528-0530University of Oxford The pain relief offered by cannabis varies greatly between individuals, a brain imaging study carried out at the University of Oxford suggests.
The researchers found that an oral tablet of THC, the psychoactive ingredient in cannabis, tended to make the experience of pain more bearable, rather than actually reduce the intensity of the pain. MRI brain imaging showed reduced activity in key areas of the brain that substantiated the pain relief the study participants experienced. Video - Cancer survivor says medical marijuana saved her - Kansas City Political Buzz. Cannabis Can Cure Cancer | NORML UK. The Data is Very Strong: Marijuana Plant Extract Stops Cancers From Spreading. What are the real risks of taking cannabis? Marijuana Found to Kill Cancer Cells – The Marijuana and Cancer Relationship. Medical marijuana goes on sale in Czech pharmacies. Anticancer Activity of Cannabinoids Dr Donald Tashkin MD. Official Clinical Findings of Fact on Cannabis (Marijuana). Project CBD | CANNABIDIOL SCIENCE | FOR DOCTORS | FOR PATIENTS. Tommy Chong Reveals Prostate Cancer Diagnosis, Treating with Hemp Oil.
Cannabis Can Kick Cancer's Ass. What if we "Run from the Cure" instead of using it? | News Truth, The Simple Truth. Phoenix Tears. Hemp Oil Dosage Information - Written by Rick Simpson. Local cannabis company announces success with cancer treatment. Dad saves his sons life with Cannabinoid Oil.flv. Montana Father Gives Medical Marijuana to Cancer-Stricken Toddler Son. Health | Cannabis compound 'halts cancer' Study: Symptoms of MS may be relieved with Marijuana. Medical cannabis Testimoies. Respected Study Finds DEA Should Re-Classify Marijuana. Oaksterdam Unionizes, Boosts Legitimacy of Tax Cannabis 2010 | Legalization Nation. (1) Cannabis Oil Success Stories. Marijuana And Cancer: Scientists Find Cannabis Compound Stops Metastasis In Aggressive Cancers.
Medical & Scientific Studies Further Links. Cannabidiol Oil. Marijuana and IQ: The Latest Reefer Madness. Jason Reed: Cannabis Use Can Lower Teenage IQs? - It's High Time We Take This Seriously. Breaking The Taboo - View Documentary - #warondrugs #fail. Decriminalise drug use, say experts after six-year study | Politics. Want to Protect Kids From Potent Pot? Legalize It | Paul Armentano. Uruguay To Sell Legal Marijuana At Low Price Of $2.5 Per Gram To Compete With Black Market. Marijuana legalization support at record high. 56 Percent Of Americans Favor Legal Marijuana In New Poll. Copenhagen votes to legalise marijuana.
Drugs war is lost, says Nick Clegg in direct challenge to Cameron. Could legalising marijuana save the US economy? Cartoonists Portfolios. BBC Snub Release Call To Stop Arresting Home Cannabis Growers Over 'Cancer' Quip | Cannabis Cure UK. Councillor calls for cannabis cafes in Brighton. Cannabinoid Testing, Analysis & Analytical Profiling | AZ Med Testing. Study: No lung danger from casual pot smoking. Adults See Alcohol, Cigarettes Riskier Than Marijuana. Five Scientific Conclusions About Cannabis That The Mainstream Media Doesn't Want You To Know. Science Says: Lungs Love Weed. Netherlands to close prisons for lack of criminals. The Top Five Special Interest Groups Lobbying To Keep Marijuana Illegal. Big Alcohol Donates Money To Fight Legalization Of Pot. Uruguay to sell marijuana to take profits from dealers. Marijuana legalization does not increase probability of use, according to researchers.
Sen. Ron Wyden Calls on Congress to Repeal Ban on Industrial Hemp. Medical marijuana registry numbers still on the rise after five months. Irresponsible And Misleading Reefer Madness From The British Lung Foundation. How to make Cannabis Ghee | Marijuana Cooking, Recipes, Tutorials, Cannabutter, more. Cop's Marijuana Legalization Question Gets First Place in White House Video Contest.
A new high at parliament: pot protest on MPs' doorstep - UK Politics - UK. Carl Sagan on marijuana. Science Weekly podcast: David Nutt reveals the truth about drugs | Science.
Dangers of Legal / Synthetic Highs
Documentaries. News. Production. Reform / Legalisation. The relaxation of cannabis laws shows the failure of the war on drugs | Lisa Sánchez and Steve Rolles. Crimestoppers Scratch & Sniff endagers patients growing own medicine. The Flower.
---
econologie May 11 2014

hello i'm french ; can you class in 3 more categories : Cancer // Tech // Questions
Thanks :)

scottrbe Mar 15 2013

Hey welcome to the team mikerinos. All I ask is please don't delete any information. You're welcome to add. Thanks.
---