Workout
Do you want to see more effective workout routines? Go to http://WorkoutPass.com/fitnessvip What is WorkoutPass exactly? Members will gain access to 43 different fitness websites ranging from sport specific training, to fat loss, to building strength, power, and explosion, all the way to injury prevention if you?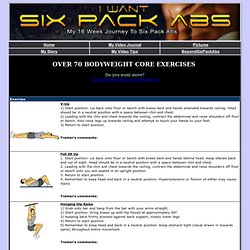 5 Minute Office Workout
Army Fit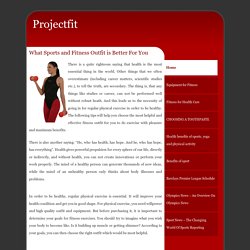 What Sports and Fitness Outfit is Better For You There is a quite righteous saying that health is the most essential thing in the world. Other things that we often overestimate (including career matters, scientific studies etc.), to tell the truth, are secondary. The thing is, that any things like studies or career, can not be performed well without robust heath.
Project Fit - Free Workouts for Home or Gym. All Levels. International Trainer, Camps and Coach Network.
Willkommen bei ELIXIA. Ihr Partner für einen gesunden Lebensstil. ELIXIA hat es sich zur Aufgabe gemacht, Menschen auf dem Weg zu einem gesunden Lebensstil zu begleiten. Für seine Mitglieder entwickelt ELIXIA individuelle Programme, bei denen besonders auf ein ausgewogenes Zusammenspiel von bewusster Bewegung, gesunder Ernährung und wohltuender Entspannung Wert gelegt wird.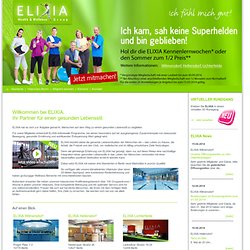 ELIXIA. Vitalität erleben. ELIXIA Fitness & Wellness GmbH - Sport, Wellness und Gesundheit.
Fitness Company - Wellness - Fitnesscenter - Home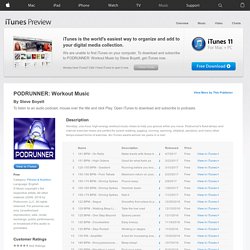 Description Nonstop, one-hour, high-energy workout music mixes to help you groove while you move. Podrunner's fixed-tempo and interval exercise mixes are perfect for power walking, jogging, running, spinning, elliptical, aerobics, and many other tempo-based forms of exercise. An iTunes award-winner six years in a row, and the world's most-downloaded exercise music mixes. === PODRUNNER SHIFT APP for iPhone/iTouch lets you play any Podrunner mix at *your* preferred BPM * Skip intros * Download, sort, search, view info, and play Podrunner mixes in one convenient place. Customer Reviews Thanks for remembering the walkers!
Fitness exercises and fitness advice from professionals : NetFit.co.uk
Written by eFITology Staff on Mon, Apr 19th 2010 at 12:05 am Gym memberships can be costly, you often have to commit to a contract, and just getting in and out of the gym can take as long as your actual workout. But for quick, inexpensive, and effective workouts, you really only need to walk as far as your own living room. Wall Push-Ups Target muscle group: chest/biceps 8-12 reps/3 sets Find a blank space on your wall. Place your hands on the wall at about armpits distance. Plant your feet firmly far away from the wall so that your body is comfortably angled away from the wall.
13 Easy Workouts That Don't Require a Gym - eFITology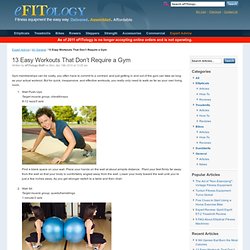 Einfach gut aussehen
MenuMcFIT - Einfach gut aussehen McFIT - Einfach gut aussehen zum News-Archiv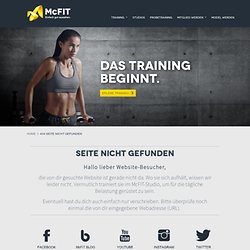 Fitness & exercise tips & advice - netfit.co.uk
5 gute Gründe für Aspria Kudamm! Sie wollen sich diesen Frühling bewegen, entspannen und Spaß haben? Allein, zu zweit oder mit der ganzen Familie? Dann kommen Sie jetzt zu Aspria. 5 gute Gründe finden Sie hier. Attraktiver Fußball in den unteren Klassen!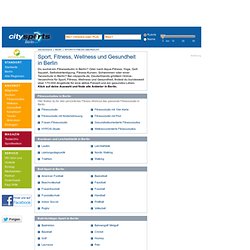 Berlin - Fitness Berlin Suche: Sportart, Fitness Studio Berlin Berlin, Potsdam
If you're serious about increasing your strength, follow this six week training program and you'll soon be on your way to completing 100 consecutive push ups! Think there's no way you could do this? I think you can! All you need is a good plan, plenty of discipline and about 30 minutes a week to achieve this goal! No doubt some of you can already do 50 consecutive push ups, but let's face it, you're in a big minority. Most of you reading this won't even be able to manage 20 pushups.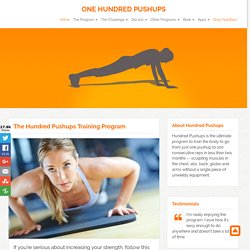 Back in the olden days when dinosaurs roamed the earth, I did some very intricate strength training workouts. Some were split routines, doing upper body one day, for example, and lower body the next. Sometimes I would really detail it out - Chest, shoulders and triceps on day one, back and biceps on day two and lower body on day three, later, rinse and repeat. There's no doubt that split routines can serve us well, especially if we're short on time and/or our goal is to put on muscle. But, if you're goal is overall fitness and weight loss, total body circuit workouts may be just what you need to build strength, endurance and burn calories. What I like about these types of workouts is, first, they reflect how we use our bodies in real life.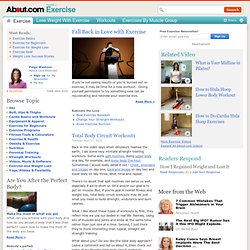 Hi BodyRockers, Did you sign up to the NEW 30 Day Challenge ? Day 2 is here … Are you ready … ??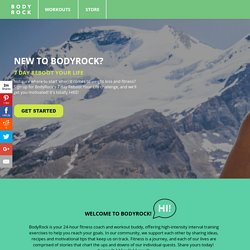 Fun Online Aerobic Workout
Get the facts on popular health and fitness topics in a concise, one-page format. Our ACE Fit Facts contain valuable information on a wide range of subjects, from nutrition to exercising outdoors, strength training, exercising with diabetes, weight management, workplace wellness and more. Educate your co-workers or members at your health club with trusted, unbiased facts.
Health and Fitness Information - ACE Fitness Videos, Articles, Workouts
If you're serious about increasing your strength, follow this six week training program and you'll soon be on your way to completing 100 consecutive push ups! Think there's no way you could do this? I think you can! All you need is a good plan, plenty of discipline and about 30 minutes a week to achieve this goal!
FitnessMagazine.com
You do not have permission to view this directory or page using the credentials that you supplied because your Web browser is sending a WWW-Authenticate header field that the Web server is not configured to accept. Please try the following: Contact the Web site administrator if you believe you should be able to view this directory or page. Click the Refresh button to try again with different credentials.
All-round Strength Training — gubernatrix - weight training, strength, fitness, weights, losing fat, women's weight training, bodyweight, free weights, powerlifting, dumbbells, barbells, kettlebells, bodybuilding, olympic weightlifting
January 9th, 2014 at 10:11 am The power clean is one of the best movements you can do for power, strength and explosiveness. It's a bit of a challenge to learn – but it's no fun if everything comes easy, right? The difference between a power clean and a clean is that in the power clean the bar is caught with the hips above parallel – in other words, in a high squat position rather than a low squat position. Some people, including trainers, shy away from teaching movements like the power clean as they think they take too long to learn, but if you've got a clear, systematic teaching method, it's possible to learn the movement much quicker than you think. In fact, in this video I cover it all in less than 5 minutes!