Recipies
Recipes - Cooking Tips - WannaLearn. Free Instructional Sites: 1,001 Tips from Great Cooks - isolated cooking tips from a variety of cooks and chefs, covering baking, blanching, boiling, broiling, chopping, cleanup, convenience food, coring, cutting fat and calories, equipment, flavor enhancers, food storage, freezing, frying, general cooking, grains, grating, grilling, grinding, herbs and spices, homemade, leftovers, making food ahead of time, microwaving, pasta, peeling, pinching pennies, poaching, presentation, prevention & cure of disasters, rice, roasting, seeding, serving, slicing, steaming, stewing, time-savers and more (Rating: 7.01 Votes: 3742)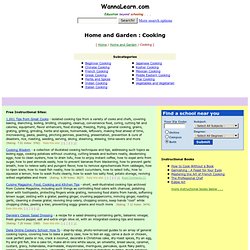 Gluttonforum: Articles on Food, Drinks, Cooking Supplies, and General Face Stuffing! Noble Pig. Cooks.com - Recipe Search and More. Recipe sources. Cast Iron Dutch Oven Recipes. Cast iron Dutch oven recipes, along with a cast iron Dutch oven, are essentials to have on hand should the power go off, if you are moving toward an off-the-grid lifestyle, or if you are simply looking for ways to keep your house cooler in the summer.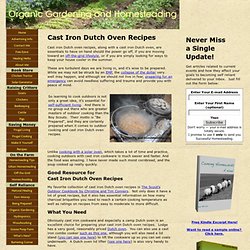 These are turbulent days we are living in, and it's wise to be prepared. While we may not be struck by an EMP, the collapse of the dollar very well may happen, and although we should not live in fear, preparing for an emergency can avoid needless suffering and trauma and provide you with peace of mind. Olive Garden Chicken and Gnocchi Soup. This soup is known for being hearty.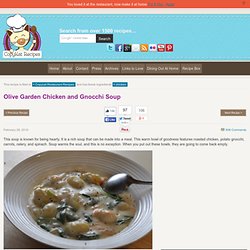 It is a rich soup that can be made into a meal. This warm bowl of goodness features roasted chicken, potato gnocchi, carrots, celery, and spinach. Soup warms the soul, and this is no exception. Great Depression Cooking - Dandelion Salad. Cinnamon Roll Wickedness | Heard the prophetic statement, "Wickedness never was happiness?"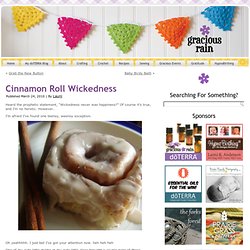 Of course it's true, and I'm no heretic. However… I'm afraid I've found one teensy, weensy exception. Oh yeahhhhh. I just bet I've got your attention now. heh heh heh. Queso Recipe - Food.com - 243587. Sweet Potato Biscuits with Honey Cinnamon Butter. Have you given up on making biscuits?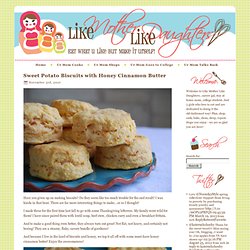 Do they seem like too much trouble for the end result? I was kinda in that boat. There are far more interesting things to make…or so I thought! I made these for the first time last fall to go with some Thanksgiving leftovers. 20 Most Inventive Cupcakes Known To Man | The Sixth Wall - KoldCast Media. Seeds of Change Homepage. Cinnamon Roll Sugar Cookies? Yes! Have I got a treat for you today right before Valentines day!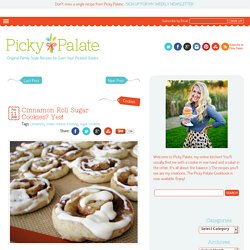 I was getting ready to cut my traditional sugar cookies in the shape of hearts for this post and a little light bulb went off! I don't know if I was craving cinnamon rolls or what, but I thought to myself….I am soooo making these sugar cookies into cinnamon rolls! Culinary Arts College » 100 Famous Restaurant Recipes You Can Replicate at Home. Eating out is becoming a more and more popular phenomenon.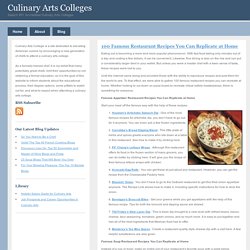 With fast food taking only minutes out of a day and costing a few dollars, it can be convenient. Likewise, fine dining is also on the rise and can put a considerably larger dent in your wallet. But unless you were a master chef with a keen sense of taste, these recipes were lost to you. Until the internet came along and provided those with the ability to reproduce recipes and post them for the world to see. To that effect, we were able to gather 100 famous restaurant recipes you can recreate at home. Episode 10 - Arugula Salad with Wisconsin Blue Cheese | Favorite Foods with Chef Michael Symon. Servings: 4-6 Ingredients: 2 shallots, minced (about 2 tablespoons)Salt6 tablespoons champagne vinegar2 tablespoons honey2 tablespoons Dijon mustard3/4 cup extra virgin olive oil2 cups radish slices2 Granny Smith apples, cored and diced4 cups arugula 2 cups (10-12 ounces) Wisconsin Blue Cheese, crumbled Cooking Directions: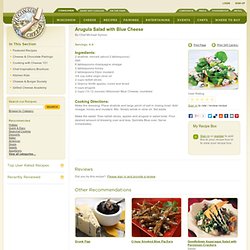 All recipes – complete resource for recipes and cooking tips. The Hazel Bloom: The Best Macaroni and Cheese Recipe Ever. I can say this is the best macaroni and cheese recipe ever because it's not really my recipe.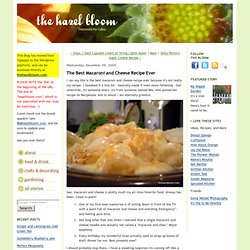 I tweaked it a tiny bit - basically made it even more fattening - but otherwise, it's someone else's. It's from someone named Bev, who posted her recipe on Recipezaar and to whom I am eternally grateful. See, macaroni and cheese is pretty much my all-time favorite food. Always has been. Cookie Dough Dip. Go put on your stretchy pants.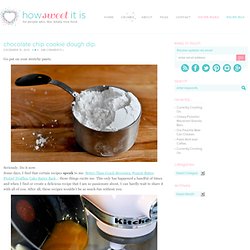 Seriously. Do it now. Some days, I find that certain recipes speak to me. Black Bean Vegetable Soup Recipe. Japanese Steakhouse Ginger Salad Dressing CopyCat Shogun Steak Recipe - Food.com - 111829. Recipes. Miscellaneous.