HBGary
Martian Sunset. Garrybrandrick. LulzSec: You know why they got owne...
Pearltrees tips
LulzSec: You know what else he used... AnonymousIRC: Breaking into #HBGary is a... Spy games: Inside the convoluted plot to bring down WikiLeaks. When Aaron Barr was finalizing a recent computer security presentation for the US Transportation Security Administration, a colleague had a bit of good-natured advice for him: "Scare the sh*t out of them!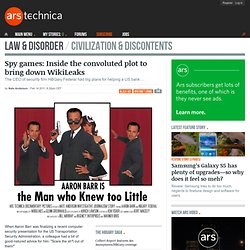 " In retrospect, this may not have been the advice Barr needed. As CEO of the government-focused infosec company HBGary Federal, Barr had to bring in big clients—and quickly—as the startup business hemorrhaged cash. Anonymous vs. HBGary: the aftermath. The RSA security conference took place February 14-18 in San Francisco, and malware response company HBGary planned on a big announcement.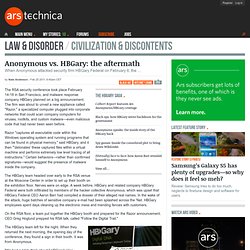 The firm was about to unveil a new appliance called "Razor," a specialized computer plugged into corporate networks that could scan company computers for viruses, rootkits, and custom malware—even malicious code that had never been seen before. Razor "captures all executable code within the Windows operating system and running programs that can be found in physical memory," said HBGary, and it then "'detonates' these captured files within a virtual machine and performs extremely low level tracing of all instructions. " Lookup - Domain Names Search, Registration, & Availability | Whois.net. PLEASE READ: Financial Times Article on HBGary Federal CEO AaronBarr's Research on Anonymous Group - Sat, 5 Feb 2011 09:30:22 -0800. Anonymous Hacks Security Company HBGary, Dumps 50,000 Emails Online.
A security company that's been working with the government to track down the cyber-activists involved with Anonymous has now become the target of that very group.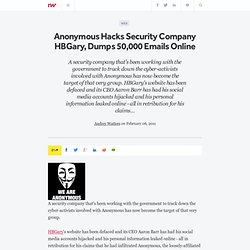 HBGary's website has been defaced and its CEO Aaron Barr has had his social media accounts hijacked and his personal information leaked online - all in retribution for his claims that he had infiltrated Anonymous, the loosely-affiliated collective of hacktivists. The actions by Anonymous follow a recent story in The Financial Times in which Barr claimed that he had "penetrated Anonymous as part of a project to demonstrate the security risks to organisations from social media and networking. " In the article, Barr identified people he said were key members of the Anonymous "hierarchy," including a co-founder in the U.S. and leaders in Britain, Germany, the Netherlands, Italy and Australia.
Barr claimed he had discovered these individuals' identities via Facebook and Internet Relay Chat (IRC). Anonymous Hackers Release Stuxnet Worm Online ! Internetsanon.jpg (1583×1546) Forever-the-game.gif (439×500) Anonymous Claims Possession of Stuxnet Worm. Anonymous speaks: the inside story of the HBGary hack. It has been an embarrassing week for security firm HBGary and its HBGary Federal offshoot.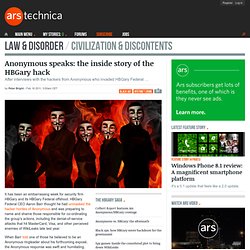 HBGary Federal CEO Aaron Barr thought he had unmasked the hacker hordes of Anonymous and was preparing to name and shame those responsible for co-ordinating the group's actions, including the denial-of-service attacks that hit MasterCard, Visa, and other perceived enemies of WikiLeaks late last year. When Barr told one of those he believed to be an Anonymous ringleader about his forthcoming exposé, the Anonymous response was swift and humiliating.
HBGary's servers were broken into, its e-mails pillaged and published to the world, its data destroyed, and its website defaced. As an added bonus, a second site owned and operated by Greg Hoglund, owner of HBGary, was taken offline and the user registration database published. Lessons from Anonymous on cyberwar. "Cyberwar" is a heavily loaded term, which conjures up Hollywood inspired images of hackers causing oil refineries to explode.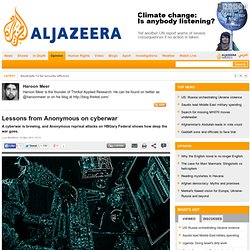 Some security celebrities came out very strongly against the thought of it, claiming that cyberwar was less science, and more science fiction. Last year on May 21, the United States Cyber Command (USCYBERCOM) reported reaching initial operational capability, and news stories abound of US soldiers undergoing basic cyber training, which all point to the idea that traditional super powers are starting to explore this arena. Anonymous Takes Revenge On Security Firm For Trying To Sell Supporters' Details To FBI - Parmy Olson - Disruptors. Anonymous: US security firms 'planned to attack WikiLeaks' | Media. The hacker collective Anonymous claims to have unearthed proposals by a consortium of US security firms to attack WikiLeaks, ahead of reportedly planned disclosures about the Bank of America.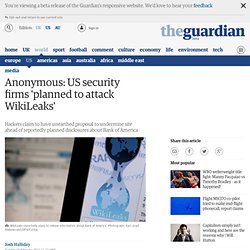 Leaked emails apparently suggest that three private security firms – HBGary Federal, Palantir Technologies and Berico Technologies – pitched a plan to undermine the whistleblowers' site to a law firm which has represented the Bank of America. BoA, the largest US bank, is thought to be the next target of WikiLeaks releases. Anonymous began releasing tens of thousands of emails sent by HBGary Federal late last week, after the loose-knit "hacktivist" group attacked the security firm's computer systems.
How one man tracked down Anonymous—and paid a heavy price. Aaron Barr believed he had penetrated Anonymous.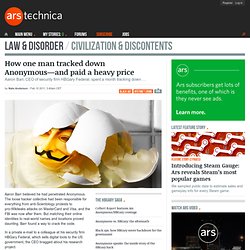 The loose hacker collective had been responsible for everything from anti-Scientology protests to pro-Wikileaks attacks on MasterCard and Visa, and the FBI was now after them. But matching their online identities to real-world names and locations proved daunting. Barr found a way to crack the code. In a private e-mail to a colleague at his security firm HBGary Federal, which sells digital tools to the US government, the CEO bragged about his research project. "They think I have nothing but a heirarchy based on IRC [Internet Relay Chat] aliases!
" HBGary Federal quits RSA over Anonymous WikiLeaks email. By Richi Jennings.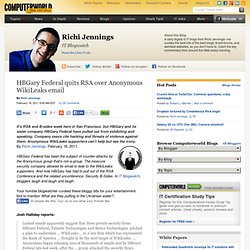 February 16, 2011. HBGary Federal has been the subject of counter-attacks by the Anonymous group-that's-not-a-group. The insecure security company allowed its email to leak to the WikiLeaks supporters. And now HBGary has had to pull out of the RSA Conference and the related unconference, Security B-Sides. Anonymous on Colbert Report. (Virtually) face to face: how Aaron Barr revealed himself to Anonymous. Aaron Barr, CEO of security company HBGary Federal, spent the month of January trying to uncover the real identities of the hacker collective Anonymous—only to end with his company website knocked offline, his e-mails stolen, 1TB of backups deleted, and his personal iPad wiped when Anonymous found out.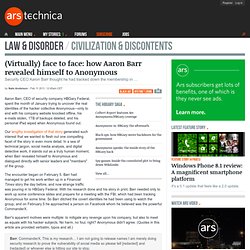 Our lengthy investigation of that story generated such interest that we wanted to flesh out one compelling facet of the story in even more detail. In a sea of technical jargon, social media analysis, and digital detective work, it stands out as a truly human moment, when Barr revealed himself to Anonymous and dialogued directly with senior leaders and "members" of the group. The encounter began on February 5.
Barr had managed to get his work written up in a Financial Times story the day before, and now strange traffic was pouring in to HBGary Federal. HBGary: Online Smear Campaigns. Owning rootkit.com. HBGary Emails A Sweet Valentine For Social Engineers. 'Anonymous' Hacker Group Teaches Shady Cyber-Security Companies a Lesson They'll Never Forget | Media. February 16, 2011 | Like this article?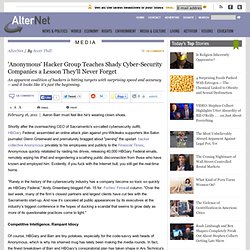 Join our email list: Stay up to date with the latest headlines via email. HBGary's open letter: full of denials that don't hold water. HBGary, the security firm that saw its servers hacked and its e-mails released after its HBGary Federal offshoot angered the Anonymous hive, published a rather peculiar open letter this past Friday in an effort to address the "large amount of misinformation reported in the press. " But the letter makes some questionable claims of its own. The unsigned letter outlines the basics of the attack and asserts that HBGary's internal systems remained safe and uncompromised.
To ward off future attacks, the letter also claimed that HBGary's website, which was hacked using a basic security flaw, and its e-mail system, which fell victim to weak, re-used passwords, were now back in operation with "even stronger cyber defense mechanisms. " HBGary says that the company's concern in the immediate aftermath was to determine if customers had been affected by the intrusion. Aaron Barr's New Look. Archives of all of HBGary's conversations with the FBi, NSA, CIA, US Army, House and Senate. : netsec. HBGary Email Viewer: Portal - AnonLeaks. UPDATED: The HB Gary Email That Should Concern Us All. As I wrote yesterday , there is a leaked email that has gotten surprisingly little attention around here. It's the one where Aaron Barr discusses his intention to post at Daily Kos - presumably something negative about Anonymous, the hacking group.
But that's not the email I'm talking about here. As I also mentioned yesterday, in some of the emails, HBGary people are talking about creating "personas", what we would call sockpuppets. This is not new. Nmap Development: HBGary planned to BLOW THE BALLS OFF OF NMAP! Nmap Development mailing list archives HBGary planned to BLOW THE BALLS OFF OF NMAP! From: Fyodor <fyodor () insecure org> Date: Fri, 11 Mar 2011 13:45:31 -0800 Fellow Nmap Developers: A serious competitive threat to Nmap's has emerged :). You may recall the leaked HB Gary emails which received a lot of press lately due to alleged plots to attack and subvert unions, Wikileaks, journalists, etc.
Well, I've just been alerted to a leaked email showing that Nmap was in their crosshairs too! HBGary search Emails. Anonymous on the ropes. This blog set to diaplay 20 days of posts. Sorry Blogspot only shows 3 days, waiting for a Google fix, G Prologue:
Pearltrees videos
---