Environment Haiti
Congreso Forestal Mundial
Sustainable Haiti -- Help Haiti
Sun Ovens Solar Cooking - Sun Oven, Solar Cooking | SunOven.com
SOIL | sustaining the environment by supporting the grassroots
PNUD - Ha?ti - Programme des Nations Unies pour le D?veloppement
of the Americas - Home
PAPDA: Plateforme Haïtienne de Plaidoyer pour un Développement Alternatif
ORE development projects in Haiti. ORE's mission is to improve environmental, agricultural and economic conditions in rural Haiti with high revenue tree crops, improved seeds and marketing programs.
OGLHaiti | Plant trees in Haiti | Operation Green Leaves
The eight Millennium Development Goals (MDGs) – which range from halving extreme poverty rates to halting the spread of HIV/AIDS and providing universal primary education, all by the target date of 2015 – form a blueprint agreed to by all the world's countries and all the world's leading development institutions. They have galvanized unprecedented efforts to meet the needs of the world's poorest.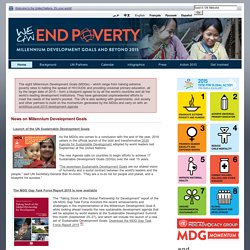 Latin America & the Caribbean | Mennonite Central Committee - Latin America
Legacy Foundation
Lambi Fund of Haiti - Home
| Konpay
Jubilee USA: Resources On Haiti's Debt
Inter-Faith Ministries - Home
H?pital Albert Schweitzer Haiti | Saving lives, changing lives for more than 50 years
CHARCOAL BRIQUETTES
Wood charcoal has always been the primary fuel for cooking in Haiti because it's cheaper, burns cleanly and easy to find. As the price of kerosene and propane gas tank is higher 90% of homes depend traditionally on charcoal while others exploit wood, thus leaving the country with a little less than 3% of its forest. Given that issue, which has left Haiti lacking of wood supplies, some engineers were able to create a charcoal that could be produced easily, cost-effective and plentiful in Haiti.
Haiti Reborn
Haiti Innovation | Choice, Partnership, Community
Fonkoze | What's New
Lambi Fund of Haiti - Home
Plant With Purpose
EpiphanyNowFoundation
Colorado Haiti Project - Home
CODEP - HFI Home
Community Coalition for Haiti - Blog
Bienvenue sur Caritas Haïti
BEL SOLEY INC.
Arbo de Vivo Haiti - Home
AMURT HAITI
Give a Gift in Honor of Someone - Alternative Gifts International
AIDG - Home
ActionAid
Haiti and the Dominican Republic :: ActionAid UK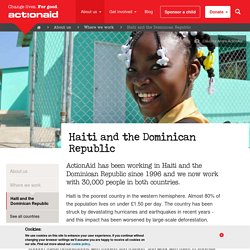 ActionAid has been operating in Haiti and the Dominican Republic since 1996 and we now work with 30,000 people in both countries. Haiti is the poorest country in the western hemisphere, with 80 per cent of the population living below the poverty line. The country has been struck by devastating hurricanes and earthquakes in recent years, whose impact has been worsened by large-scale deforestation.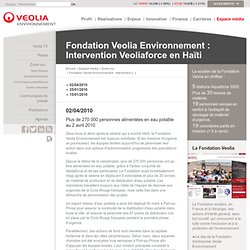 A la suite des évaluations conduites par les experts de Veoliaforce et l'équipe de réponse aux urgences de la Croix Rouge française, l'alimentation en eau potable a pu être organisée dans deux quartiers de la capitale, Delmas et Cité militaire, rassemblant près de 37 000 sinistrés. 24 points de distribution sont mis en place avec des réservoirs et des rampes de distribution, alimentés par camions citernes avec de l'eau en provenance d'un forage encore en fonctionnement. Les unités mobiles Aquaforce 5000 ont été déployées pour alimenter l'hôpital haïtien Ofatma dans le quartier Cité militaire ainsi qu'un centre de santé primaire de la Croix Rouge allemande.
Environnement | Intervention de Veoliaforce en Haïti
Suez Environnement To Support Haiti's Port-Au-Prince Water System - FoxBusiness.com
La dégradation de l'environnement constitue un problème grave qui a des impacts négatifs sur l'avenir ce pays.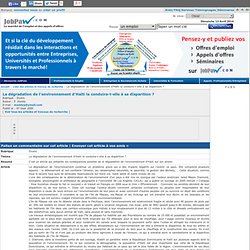 La dégradation de l'environnement d'Haïti la conduira-t-elle à sa disparition ? de P. mondy | JobPaw.com
Centre Wallon de Biologie Industrielle
Contacts en Haïti
#La gestion des déchets ménagers en Haïti #L'hydrologie en Haïti et les décharges. #Autres remarques #Remerciements #Sources bibliographiques Personnes contactées en Haïti La gestion des déchets ménagers en Haïti
Ha?ti
Haïti - Environnement : 20 millions pour protéger la bio-diversité et les bassins versants 13/04/2011 08:36:04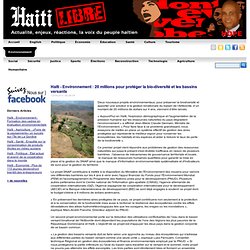 Environnement : 20 millions pour protéger la bio-diversité et les bassins versants
On January 12, 2010, everything about life in Haiti was forever changed by a devastating 7.0-magnitude earthquake.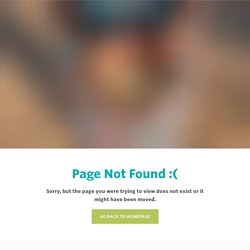 Haiti Earthquake Rebuilding | World Concern
Le 17/10/2008 à 09h07. | Par Jean Goldoni
Dégradation de l'environnement en Haiti - A qui la faute ?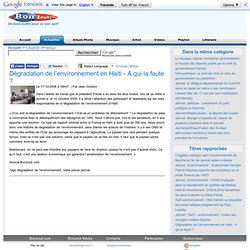 Haiti - Environnement - Rapport Final
The environmental crisis in Haiti is in an extremely advanced state. At this point in time, Haiti is almost entirely deforested. Forest cover in 1923 was estimated at 60%.
Haiti: Environment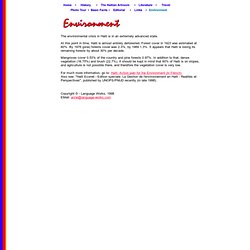 La page web du Ministère de l'Environnement