Environment Haiti
Congreso Forestal Mundial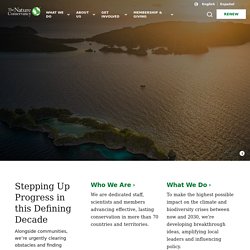 A young panda scaling a tree in China. Photograph entered in the 2008 Green Olympic Photo Contest. ©Yong Yange A First for China
Sustainable Haiti -- Help Haiti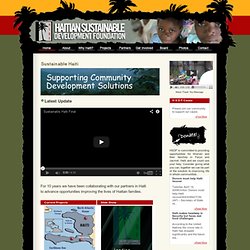 For 10 years we have been collaborating with our partners in Haiti to advance opportunities improving the lives of Haitian families. Our Board of Directors have taken an inescapable interest in Haiti after bearing witness first hand to the many challenges Haitians face every day. Haiti is a country rich in culture and ingenuity. It has survived in relative isolation and remained the most underdeveloped country in the western hemisphere although surrounded by the wealthiest countries in the world. >>learn more
Sun Ovens Solar Cooking - Sun Oven, Solar Cooking | SunOven.com
EcoSan Currently, only 10% of rural Haitians and less than 25% of those in cities have access to adequate sanitation facilities, by far the lowest coverage in the Western Hemisphere.
SOIL | sustaining the environment by supporting the grassroots
PNUD - Ha?ti - Programme des Nations Unies pour le D?veloppement
PAPDA: Plateforme Haïtienne de Plaidoyer pour un Développement Alternatif
ORE development projects in Haiti. ORE's mission is to improve environmental, agricultural and economic conditions in rural Haiti with high revenue tree crops, improved seeds and marketing programs.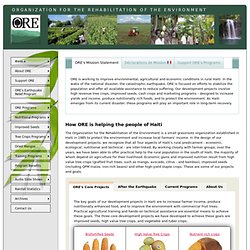 Support for the humanitarian relief program following the 2010 earthquake made it possible to evacuate over 700 people from Port-au-Prince to Camp-Perrin immediately after the earthquake, to feed an average of over 1,200 people for 8 months – primarily in Port-au-Prince and some displaced families in Camp-Perrin, to keep 55 displaced kids in school from February to July and to sponsor 100 more children for the new school year, to cover the cost of health-care for over 120 patients, provide tents and cots to improve the conditions for about 20 families in Port-au-Prince, and to cover the cost of the annual rental of houses for six displaced families in Camp-Perrin. We would like to give our heart-felt thanks to all the volunteers who gave so generously of their time, and all the donors who personally contributed their gifts to make this all possible. God bless you all.
OGLHaiti | Plant trees in Haiti | Operation Green Leaves
The eight Millennium Development Goals (MDGs) – which range from halving extreme poverty rates to halting the spread of HIV/AIDS and providing universal primary education, all by the target date of 2015 – form a blueprint agreed to by all the world's countries and all the world's leading development institutions. They have galvanized unprecedented efforts to meet the needs of the world's poorest. The UN is also working with governments, civil society and other partners to build on the momentum generated by the MDGs and carry on with an ambitious post-2015 development agenda. From this site, explore the efforts of the UN and its partners for building a better world. ... more News on Millennium Development Goals Investing in health speeds economic progress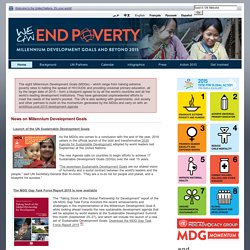 Latin America & the Caribbean | Mennonite Central Committee - Latin America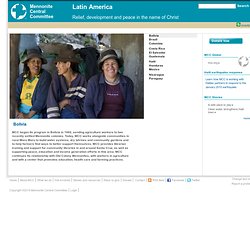 MCC focuses on community development in Nicaragua in areas such as renewable energy and solar projects, environmentally sustainable agriculture and income generation. MCC began work in Nicaragua to respond to a 1972 earthquake in Managua and continues to meet urgent needs after disasters. A growing priority, though, is supporting efforts to help prepare for storms, lessen their damage and empower local church organizations to quickly respond. MCC works alongside Anabaptist organizations in education, income generation, agroecology, water and peace. Each year, learning tours, work-and-learn teams and other exchanges help build relationships across cultures.
Legacy Foundation provides training, technology and media services for biomass fuel briquette production, environmental conservation and income generation throughout the world. The Mission of the Legacy Foundation is to promote sustainable human development and preserve our environment through the integration of technology innovation, media, and management. The Legacy Foundation has ongoing partnerships with individuals, groups and institutions in over 30 nations world wide.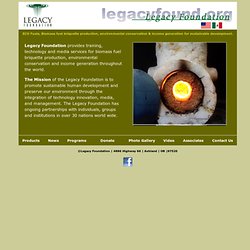 Legacy Foundation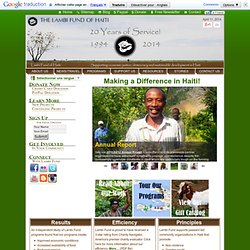 Lambi Fund of Haiti - Home
Results An independent study of Lambi Fund programs found that our programs create: Improved economic conditions Increased availability of food Reduced erosion Improved environment Increased availability of potable water Increased democratic functioning More… Efficiency Lambi Fund is proud to have received a 3-star rating from Charity Navigator, America's premier charity evaluator.
Inter-Faith Ministries - Home
H?pital Albert Schweitzer Haiti | Saving lives, changing lives for more than 50 years
CHARCOAL BRIQUETTES
Wood charcoal has always been the primary fuel for cooking in Haiti because it's cheaper, burns cleanly and easy to find. As the price of kerosene and propane gas tank is higher 90% of homes depend traditionally on charcoal while others exploit wood, thus leaving the country with a little less than 3% of its forest. Given that issue, which has left Haiti lacking of wood supplies, some engineers were able to create a charcoal that could be produced easily, cost-effective and plentiful in Haiti.
Haiti Reborn
It is imperative to have a professional website to maintain a successful business. Your website can inspire trust, attract new business, and even forge relationships with customers. Silentium Designs specializes in professional web development with customer convenience in mind. We know you want to be able to make changes yourself, so we offer our own Content Management System (CMS) to make simple changes easy. Add/remove photos, change text, prices, etc. in just seconds, saving you time and money. Contact Silentium Designs today for a free quote — Click Here.
Haiti Innovation | Choice, Partnership, Community
Fonkoze | What's New
Lambi Fund of Haiti - Home
EpiphanyNowFoundation
The mission of this foundation Build a partnership with the people of Haiti—a people in crisis, who are today's environmental refugees — empowering them to prepare for and live through the crises of climate change (i.e. global warming) in the 21st century, by means of environmental protection and energy renewal, establishing well-being, abundance and peace for every Haitian citizen living in its ten departments (states). Basic Mission Principles 1 .
Colorado Haiti Project - Home
CODEP - HFI Home
Development buzz words like low-carbon forests, bio-solutions, sustainability, green energy aside… let's get to the straight talk. When people are first exposed to Haiti, they see poverty, filth, exposed sewage, millions of tossed plastic bottles, lack of infrastructure, government instability, etc… and wonder "How did things get this way?" For more-experienced Haiti watchers, the question becomes, "What can possibly make a lasting difference for this country?" Some have called Haiti a relief republic, meaning they are sustained through the relief efforts of other countries – in response to such disasters as hurricanes, droughts, political unrest, famine, flooding, mudslides, and of course earthquakes. But, when the aid stops, Haiti remains dependent.
Community Coalition for Haiti - Blog
Bienvenue sur Caritas Haïti
Bel Soley produces Haiti Is Hot! pepper sauce – the first world class pepper sauce from Haiti. Haiti is Hot! Is called Nap Boule! in Haiti, which is a Creole phrase meaning…We Are On Fire!
BEL SOLEY INC.
Arbo de Vivo Haiti - Home
AMURT together with LOCAL-Haiti (Local Capacities Alliance), the Agriculture Ministry, and other emerging new partners has begun Phase II of its integrated strategy targeting the reduction of Iodine Deficiency Disorder while improving the socio-economic balance in the region. . . . → Read More: Community-Owned Modernized Salt Production and Iodization The Urban Ecology Program is based at the integrated learning center, Sant Felisite Sineyas, at the IDP camp on Delmas 33. Sant Felisite Sineyas consists of 11 pavilions housing 22 classrooms in addition to 10 composting toilets, 8 rainwater catchment systems, a reservoir, a composting site, a tree nursery, a permaculture demonstration site and organic garden. Two agronomists and three technicians give around the clock support, classes and demonstrations on permaculture design.
AMURT HAITI
Give a Gift in Honor of Someone - Alternative Gifts International
AIDG - Home
ActionAid
Haiti and the Dominican Republic :: ActionAid UK
Environnement | Intervention de Veoliaforce en Haïti
La dégradation de l'environnement d'Haïti la conduira-t-elle à sa disparition ? de P. mondy | JobPaw.com
Centre Wallon de Biologie Industrielle
Contacts en Haïti
Ha?ti
Environnement : 20 millions pour protéger la bio-diversité et les bassins versants
Dégradation de l'environnement en Haiti - A qui la faute ?
Haiti - Environnement - Rapport Final
Haiti: Environment
La page web du Ministère de l'Environnement