Hackspaces global
Blog, zine hacking. Open source hardware. MAKE. Hackability - What it means, why it's important. Graffiti Research Lab. The United States of America is going out of business!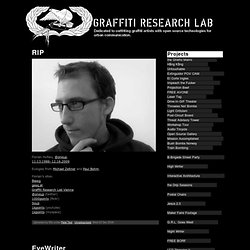 But here at the U.S. Department of Homeland Graffiti, we want to turn this moment of national embarrassment and hard times into real savings for you and your family. From June 4th through the 28th, the U.S.D.H.G and the Graffiti Research Lab are liquidating all confiscated, high-tech graffiti artifacts and tools, expunged evidence, court exhibits, redacted documents and office furnishings, priced to sell. So grab a handful of Euros or Mao Bucks (U.S. currency still accepted while supplies last) and head on down to Gallery Anno Domini located between U.S.
Routes 101 and 280 in Silicon Valley, California. Graffiti Research Lab Brasil. Extreme activities in cyberspace. » Hackerspaces, members and involvement (survey study) HackerspaceWiki. Hackerspaces are community-operated physical places, where people can meet and work on their projects.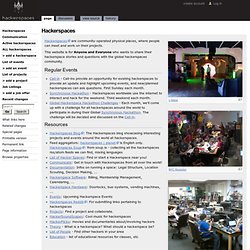 This website is for Anyone and Everyone who wants to share their hackerspace stories and questions with the global hackerspaces community. Regular Events Call-in - Call-ins provide an opportunity for existing hackerspaces to provide an update and highlight upcoming events, and new/planned hackerspaces can ask questions. First Sunday each month. Hackerspace Infos. Metalab. Graffiti Research Lab Archive. London Hackspace. NASA Hack Space. London Hackspace. NYC Resistor » Electronics, Hacking, Classes, and Workspace.
C-base. Wikipedians from Berlin meet at the c-base c-base e.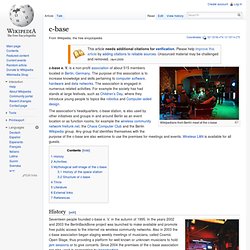 V. is a non-profit association of about 515 members located in Berlin, Germany. The purpose of this association is to increase knowledge and skills pertaining to computer software, hardware and data networks. The association is engaged in numerous related activities. Metalab. Metalab in Vienna, Austria.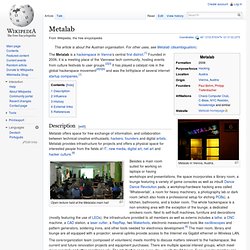 The Metalab is a hackerspace in Vienna's central first district. Founded in 2006, it is a meeting place of the Viennese tech community, hosting events from culture festivals to user groups.[2][3] It has played a catalyst role in the global hackerspace movement[4][5][6] and was the birthplace of several internet startup companies.[7] Noisebridge. Hackerspace. A hackerspace (also referred to as a hacklab, makerspace, hackspace or Men's Sheds) is a community-operated workspace where people with common interests, often in computers, machining, technology, science, digital art or electronic art, can meet, socialize and collaborate.[1] Activities[edit] Many hackerspaces participate in the use and development of free software, open hardware, and alternative media.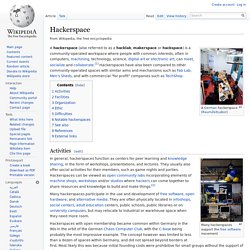 Hackspace Foundation.
---