Hacklabs
10 Things To Do When Starting a Fab Lab. Alpha One Labs Hackerspace Brooklyn. Charlotte Video Project. Open Source Hardware Survey. Open Hack at Six Dutch Hackerspaces This Saturday.
Présentation. Dorkbot. Neil Gershenfeld on Fab Labs. Faire émerger et connecter des FabLabs en France. L'innovation ouverte en France a besoin qu'émergent des "Fab Labs".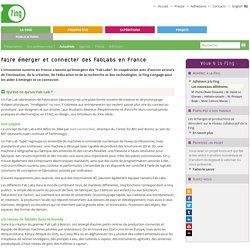 En coopération avec d'autres acteurs de l'innovation, de la création, de l'éducation et de la recherche et des technologies, la Fing s'engage pour les aider à émerger et se connecter. Qu'est-ce qu'un Fab Lab ? Rede Papel Solidário. Nome: Hacklab Papel na Rede: Viabilizador Área de Política Pública: Desenvolvimento Econômico, Trabalho e Renda Email: lhfagundes@hacklab.com.br Site: Telefone: 11 - 2892-0122 Quem Somos: O Hacklab é um núcleo de desenvolvimento de tecnologia.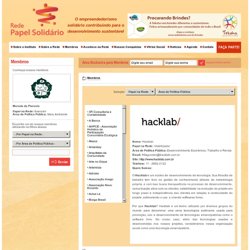 Sua filosofia de trabalho tem foco na gestão de conhecimento através de metodologia própria, e com isso busca transparência no processo de desenvolvimento, comunicação ativa com os clientes, estabilidade na evolução do projeto em longo prazo e independência dos clientes em relação à continuidade do projeto, estimulando o uso e criando softwares livres. Por que Hacklab ? Mitch Altman Talks About The Hackerspace Movement. Noisebridge founder and TV-B-Gone inventor Mitch Altman was interviewed at CCC Camp.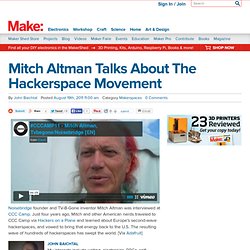 Just four years ago, Mitch and other American nerds traveled to CCC Camp via Hackers on a Plane and learned about Europe's second-wave hackerspaces, and vowed to bring that energy back to the U.S. The resulting wave of hundreds of hackerspaces has swept the world. Noisebridge. Les Cités Débrouillardes débarquent à Avignon - Les petits débrouillards, PACA. Cet été pour la première fois, les Petits Débrouillards du Vaucluse vont animer une Cité Débrouillarde à Avignon.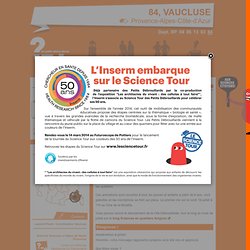 Mais qu'est ce qu'une Cité Débrouillarde ? Une Cité débrouillarde est une action d'animation scientifique qui se déroule dans les rues des quartiers de la Rocade et de la Barbière. Localhost. Un article de Wikipédia, l'encyclopédie libre.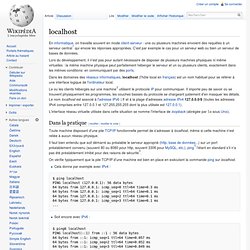 En informatique, on travaille souvent en mode client-serveur : une ou plusieurs machines envoient des requêtes à un serveur central[1] qui envoie les réponses appropriées. C'est par exemple le cas pour un serveur web ou bien un serveur de bases de données. /tmp/lab | Creative use of technology. [:: print.squat.net ::] Centre Art Sensitif -Mains d'Œuvres. France. FabLabSquared. Billet publié le 11 avril par Fabien Eychenne | 5 commentaires Tag : Lexique Les hackerspaces sont des lieux protéiformes regroupant des personnes d'horizons différents dans l'objectif de produire des projets, de nouvelles idées et de les partager.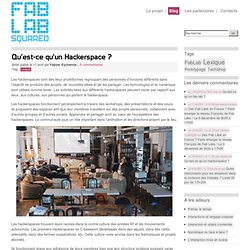 Les technologies et le numérique sont utilisés comme levier. DIY - Objets Digitaux - Fab Lab. Mitch Altman Talks About The Hackerspace Movement.
---