Idées d'ateliers
A Balloon Powered Helicopter by kwalus
This balloon helicopter is a neat toy, tool for teaching basic flight physics, and very nice case study in design and experimentation that could be useful in the undergraduate or high school teaching lab.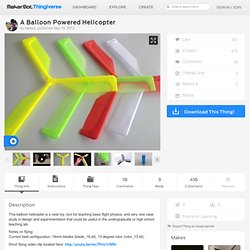 Building an entire pinball machine from just the playfield
Blog Archive » DIY – Un jeu pour l'été, le Mölkky
Sous ce nom barbare se cache un jeu sympathique qui nous vient du froid. En effet, certain le connaissent peut être sous le nom de quilles finlandaises.Il s'agit un peu d'une sorte de croisement entre le bowling et la pétanque. Son principal avantage est qu'il peut se jouer avec toute la famille, y compris de très jeunes enfants (mon fils de 3 ans est fan), et, accessoirement, est très simple à construire.