Artists
Legofesto
"SIDON, Lebanon, Jul 30 (IPS) - The Israeli attack on Qana has taken the biggest toll of the war, but it is only one of countless lethal attacks on civilians in Lebanon. Large numbers fled the south after Israelis dropped leaflets warning of attacks. Others have been unable to leave, often because they have not found the means. The Israelis have taken that to mean that they are therefore Hezbollah. Israeli justice minister Haim Ramon announced on Israeli army radio Thursday that "all those in south Lebanon are terrorists who are related in some way to Hezbollah."
ZEIGER on Vimeo
There is not just one Truth. There are not many Truths. Tertium datur: Truth is nonsense. - Luther Blissett -
A Fake is a Fake. Anyway
Blog >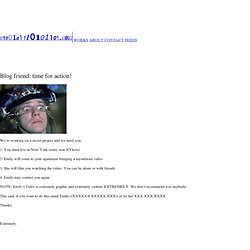 We're working on a secret project and we need you. 1: You must live in New York (sorry non-NYkers) 2: Emily will come to your apartment bringing a mysterious video 3: She will film you watching the video.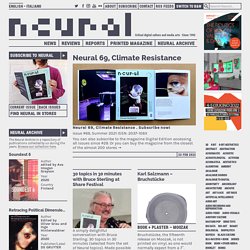 Soichiro Michara – [Blank] Project, An Experience Of The Unfelt A changing sculpture of bubbles and a weirdly constructed bell catch the visitor's eye when confronted with Soichiro Michara's [Blank] project. The environment seems quiet, subtle and cryptic. But on closer inspection one realises that the components of the work, → Neural 46 extra – the first 20 years poster (70cm x 100cm) Neural #46 extra is the "first 20 years" poster (70cm x 100cm), with all the covers, and a QR code pointing to a pdf file narrating the history of the magazine (only for subscribers).
Projects
environment
Selected exhibitions/festivals: 2004 e w n s Visual Arts Festival, "Invigilate - video" 2005 Rhizome, "Invigilate" 2005 Turbulence, "Invigilate" 2006 FILE Rio Symposium, "Invigilate" 2006 Turbulence, "Environment" 2006 FILE Sao Paulo, "Environment" 2006 Turbulence, "Looking out of the window" 2007 Centre for Contemporary Art – Ujazdowski Castle, Warsaw, CONCRETE LEGACY FROM CORBUSIER TO BLOKERS, "Invigilate", "Looking out of the window" (exhibition curated by Ewa Gorządek, Stach Szabłowski). 2007 Turbulence, " Interception" 2007 Rhizome, "Interception" 2007 neural.it, "Interception" 2008 SUDIO Gallery, "Interception" (exhibition curated by Krzysztof Żwirblis). 2008 Entropia Gallery, Athletic cinema 02, "Interception" (curated by Krzysztof Gufrański). 2008 Chain reaction (Upgrade!International), Skopje, "Interception". 2008 HAIP Festival, Ljubljana, Slovenia, "Interception", "InterceptionExtended". 2008 CologneOFF, "Interception". 2008 Komuna Otwock, "Interception",."
EpicStep › Home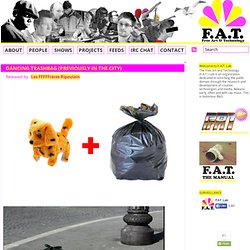 F.A.T. - page 2
Previously in the City: DANCING TRASH BAG, Mathieu Tremblin, 2012, Rome (IT) How do I know which bathroom stall is super gross???????? Does this water fountain taste like pennies?? Will I get splashed if I stand at this bus stop? Which park bench has the best view? Which tree is the best for naps???