GUIS Web 2.0
Highcharts - Interactive JavaScript charts for your webpage. Amoeba. Yahoo!
Amoeba, developed at Yahoo! Labs Bangalore, is a new application to discover trends in online conversations. Surpassing the usual paradigm of surfacing only the trending entities, Amoeba enables the users to explore why a particular entity is trending. Its user interface takes a dynamic, irregular shape around a nucleus, which is akin to the organism Amoeba. In this interface, a trending entity comprises the nucleus, whereas other related entities emerge in the form of its pseudopods (i.e., arms). The Web 2.0 Summit Map - The Data Frame. Nagios XI Screenshots. Zabbix :: Screenshots. Map of the Market. Pikko - Visualisation d'Information. VisionLink. Raphaël · Punch Chart. Gallery · mbostock/d3 Wiki. Wiki ▸ Gallery Welcome to the D3 gallery!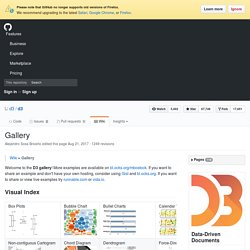 Feel free to add links to your work! More examples are available on bl.ocks.org/mbostock.
JavaScript InfoVis Toolkit. Social Map. Processing.js. Incremental Delaunay Triangulationby Jeonggyu Lee An interactive implementation of incremental Delaunay Triangulation algorithm.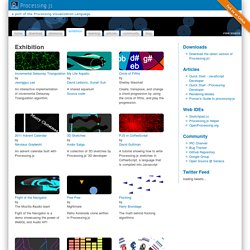 My Life Aquaticby David Leibovic, Sunah Suh A shared aquarium Source code.
---