Guide di viaggio
MONDE Voyageurs - Convertisseurs, traducteur, hôtels et avions. World Travel Guides, Articles, and Information. Guides des Pays - Guide Mondial De Voyage. Wikivoyage. Wikitravel. Uniterre.com.
Travels Encyclopedia. Around the Worlds | Le Guide de voyage pour rêver les mondes. Let's Go Travel Guides - The Leader in Budget Travel. Le Routard. Lonely Planet Travel Guides and Travel Information. Rough Guides | World travel guide and reference book publisher. Fodor's Travel Guides - Plan Your Trip Online. Travel Photography Tips. Expert Advice on Taking Better Travel Photos The photos above won grand prize honors in a recent Fodor's photo contest, in which we asked our members to show us their very best snapshots of Alaska.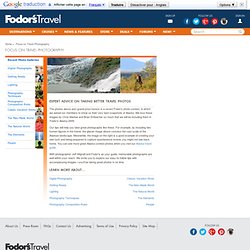 We love these images by Chris Marlow and Brian Embacher so much that we will be including them in Fodor's Alaska 2009. Our tips will help you take great photographs like these. Frommer's Travel Guides: The Best Trips Start Here! Fodor's City Guide Apps Now Available for Free on iPhone and iPad. Some say that you get what you pay for.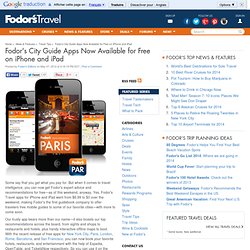 But when it comes to travel intelligence, you can now get Fodor's expert advice and recommendations for free—as of this weekend, anyway. Yes, Fodor's Travel apps for iPhone and iPad went from $6.99 to $0 over the weekend, making Fodor's the first guidebook company to offer travelers free mobile guides to some of our favorite cities—with more to come soon. Our trusty app bears more than our name—it also boasts our top recommendations across the board, from sights and shops to restaurants and hotels, plus handy interactive offline maps to boot. With the recent release of free apps for New York City, Paris, London, Rome, Barcelona, and San Francisco, you can now book your favorite hotels, restaurants, and entertainment with the help of Expedia, OpenTable, and TicketsNow respectively.
So you can use it on the road or in the city you call home for easy, streamlined reservations and more. Time Out Worldwide - Your Guide to the World's Greatest Cities. Jaunted - The Pop Culture Travel Guide. TrekWorld | Travel & trekking magazine. BUG Europe - the Backpackers' Ultimate guide to budget travel in Europe. Footprint Travel Guides. Moon Travel Guides | Travel Books: Guidebooks to International and U.S. Destinations.
---