Guide di viaggio
MONDE Voyageurs - Convertisseurs, traducteur, hôtels et avions
Guides des Pays - Guide Mondial De Voyage
Wikivoyage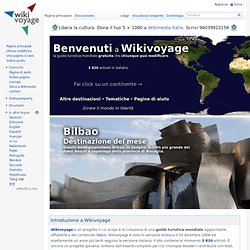 Wikivoyage è un progetto il cui scopo è la creazione di una guida turistica mondiale aggiornabile, affidabile e dal contenuto libero. Wikivoyage è nato in versione tedesca il 10 dicembre 2006 ed esattamente un anno più tardi seguiva la versione italiana. Il sito contiene al momento 3 747 articoli. È ancora un progetto giovane, lontano dall'essere completo per cui chiunque desideri contribuire con testi, immagini e correzioni, non potrà essere che il benvenuto. La guida è rivolta sia ai lettori, sia ai redattori degli articoli. Altre informazioni per i nuovi utenti sono reperibili nelle nostre pagine di aiuto e linee guida che spiegano come iniziare a collaborare al progetto.
Travels Encyclopedia
Around the Worlds | Le Guide de voyage pour rêver les mondes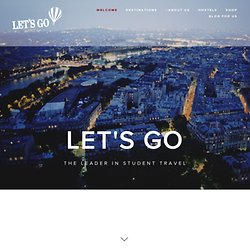 For over 50 years, Let's Go has created the world's favorite student travel content series, written entirely for students by students. With pen and notebook in hand and a few changes of underwear stuffed in our backpacks, we spend months roaming the globe in search of travel bargains for savvy travelers just like you. This year, we're introducing a new blogging platform that will allow student travelers to write about their experiences abroad—sharing unique insights, indispensable travel tips, and beautiful photos along the way. Whether you're studying abroad, planning a trip, or simply filled with wanderlust, we welcome you to join a travel community the likes of which we've never seen before.
Expert Advice on Taking Better Travel Photos The photos above won grand prize honors in a recent Fodor's photo contest, in which we asked our members to show us their very best snapshots of Alaska. We love these images by Chris Marlow and Brian Embacher so much that we will be including them in Fodor's Alaska 2009. Our tips will help you take great photographs like these.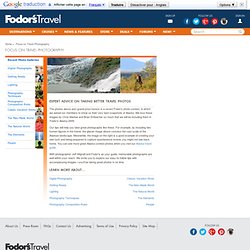 Fodor's City Guide Apps Now Available for Free on iPhone and iPad
Some say that you get what you pay for. But when it comes to travel intelligence, you can now get Fodor's expert advice and recommendations for free—as of this weekend, anyway. Yes, Fodor's Travel apps for iPhone and iPad went from $6.99 to $0 over the weekend, making Fodor's the first guidebook company to offer travelers free mobile guides to some of our favorite cities—with more to come soon. Our trusty app bears more than our name—it also boasts our top recommendations across the board, from sights and shops to restaurants and hotels, plus handy interactive offline maps to boot. With the recent release of free apps for New York City, Paris, London, Rome, Barcelona, and San Francisco, you can now book your favorite hotels, restaurants, and entertainment with the help of Expedia, OpenTable, and TicketsNow respectively. So you can use it on the road or in the city you call home for easy, streamlined reservations and more.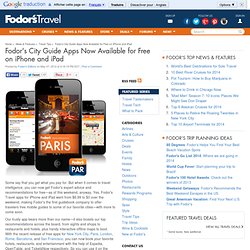 TrekWorld | Travel & trekking magazine
Footprint Travel Guides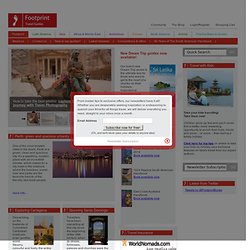 Why get travel insurance? To cover yourself for the obvious ... and the not so obvious ..... "I was out wandering with a friend on Haad Rin Beach, Koh Phangan Island, when we ran into a local walking his pet monkey ......
Moon Travel Guides | Travel Books: Guidebooks to International and U.S. Destinations