Leadership
African Leadership Academy was founded in 2004 with the belief that ethical leadership is the key to transforming the African continent. Founders Fred Swaniker, Chris Bradford, Peter Mombaur, and Acha Leke sought to create an institution that would develop, connect, and support those individuals who will lead the continent toward a peaceful and prosperous future. In the two years that followed, the founding team built a powerful network of advisors and developed a robust, sustainable operating model for the Academy, a world-class, pan-African secondary institution on the outskirts of Johannesburg, South Africa. In 2006, these efforts were rewarded when Founders Fred Swaniker and Chris Bradford were recognized as "two of the 15 best emerging social entrepreneurs in the world" by Echoing Green. Five key beliefs drove the establishment of African Leadership Academy and determined the focus and design of the institution: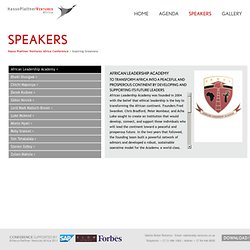 African Leadership Academy | Hasso Plattner Ventures Africa Conference 2012
The Making of an Innovation Master - Scott Anthony
by Scott Anthony | 12:01 PM March 23, 2012 A workshop attendee asked me this seemingly simple question: "So, what else should I read to learn more about innovation?"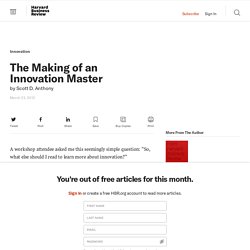 victoria and alfred museum
Inside P&G's digital revolution - McKinsey Quarterly - Retail & Consumer Goods - Strategy & Analysis
An interview with Google's CEO Eric Schmidt - McKinsey Quarterly - Strategy - Innovation
Few would dispute that Google sits at the center of the Internet. As the leader in search, Google is now the Internet's premier brand and the planet's most potent free service. Managing that commanding position falls largely to seasoned technology executive Eric Schmidt, who in 2001 was tapped for the CEO post by Google founders Sergey Brin and Larry Page.
Letter to shareholders from Mark Zuckerberg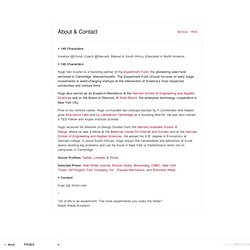 < 140 Characters
About | START
2 January 2012 Last updated at 07:57 ET Fred Swaniker is convinced that his academy will help change the continent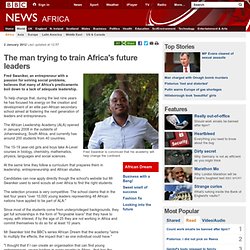 The man trying to train Africa's future leaders
African Leadership Academy | Developing the next generation of African leaders