Leadership
African Leadership Academy | Hasso Plattner Ventures Africa Conference 2012. African Leadership Academy was founded in 2004 with the belief that ethical leadership is the key to transforming the African continent.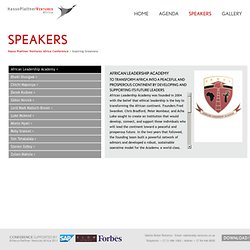 Founders Fred Swaniker, Chris Bradford, Peter Mombaur, and Acha Leke sought to create an institution that would develop, connect, and support those individuals who will lead the continent toward a peaceful and prosperous future. In the two years that followed, the founding team built a powerful network of advisors and developed a robust, sustainable operating model for the Academy, a world-class, pan-African secondary institution on the outskirts of Johannesburg, South Africa. In 2006, these efforts were rewarded when Founders Fred Swaniker and Chris Bradford were recognized as "two of the 15 best emerging social entrepreneurs in the world" by Echoing Green.
Five key beliefs drove the establishment of African Leadership Academy and determined the focus and design of the institution: The Making of an Innovation Master - Scott Anthony. By Scott Anthony | 12:01 PM March 23, 2012 A workshop attendee asked me this seemingly simple question: "So, what else should I read to learn more about innovation?"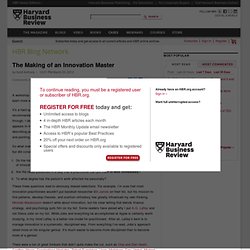 It's a hard question to answer because there is so much high-quality material out there. And specific recommendations depend on the specific topic about which you are most curious. Victoria and alfred museum. The Standard for Influence. Inside P&G's digital revolution - McKinsey Quarterly - Retail & Consumer Goods - Strategy & Analysis.
Robert McDonald is a CEO on a mission: to make Procter & Gamble the most technologically enabled business in the world.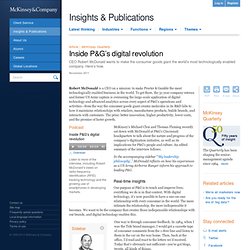 To get there, the 31-year company veteran and former US Army captain is overseeing the large-scale application of digital technology and advanced analytics across every aspect of P&G's operations and activities—from the way the consumer goods giant creates molecules in its R&D labs to how it maintains relationships with retailers, manufactures products, builds brands, and interacts with customers. The prize: better innovation, higher productivity, lower costs, and the promise of faster growth. Podcast. An interview with Google's CEO Eric Schmidt - McKinsey Quarterly - Strategy - Innovation. Letter to shareholders from Mark Zuckerberg. Facebook was not originally created to be a company.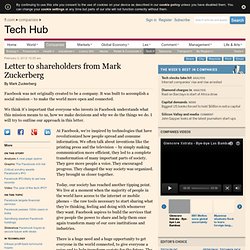 It was built to accomplish a social mission – to make the world more open and connected. We think it's important that everyone who invests in Facebook understands what this mission means to us, how we make decisions and why we do the things we do. I will try to outline our approach in this letter. At Facebook, we're inspired by technologies that have revolutionized how people spread and consume information.
We often talk about inventions like the printing press and the television – by simply making communication more efficient, they led to a complete transformation of many important parts of society. About | START. < 140 Characters Investor @Xfund, Coach @Harvard.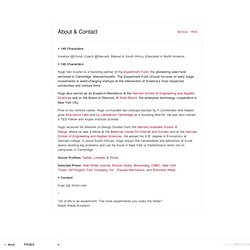 Raised in South Africa, Educated in North America. > 140 Characters Hugo Van Vuuren is a founding partner of the Experiment Fund, the pioneering seed fund anchored in Cambridge, Massachusetts. The man trying to train Africa's future leaders. 2 January 2012Last updated at 12:57 Fred Swaniker is convinced that his academy will help change the continent Fred Swaniker, an entrepreneur with a passion for solving social problems, believes that many of Africa's predicaments boil down to a lack of adequate leadership.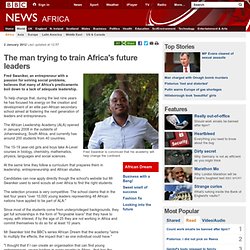 To help change that, during the last nine years he has focused his energy on the creation and development of an elite pan-African secondary school aimed at fostering the next generation of leaders and entrepreneurs. The African Leadership Academy (ALA) opened in January 2008 in the outskirts of Johannesburg, South Africa, and currently has around 200 students from 40 countries. The 15-19 year-old girls and boys take A-Level courses in biology, chemistry, mathematics, physics, languages and social sciences. MIT Entrepreneurship Review. The Shuttleworth Foundation is an innovative non-profit organisation. African Leadership Academy | Developing the next generation of African leaders.
---