Education
EdX - Home. United Nations Educational, Scientific and Cultural Organization. iBooks Author. Apple launches e-textbook tools with new iBooks. 19 January 2012Last updated at 14:12 ET The iBook Author program allows educators and authors to create their own e-textbooks Apple aims to drive the use of electronic textbooks in the classroom by making it easier for publishers to create interactive titles.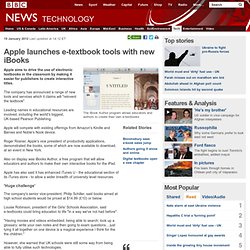 The company has announced a range of new tools and services which it claims will "reinvent the textbook". Leading names in educational resources are involved, including the world's biggest, UK-based Pearson Publishing. Literacy Bridge. The Funza Lushaka Bursary.
Barefoot College. iPad for Teaching & Learning.
---