Education
19 January 2012Last updated at 14:12 ET The iBook Author program allows educators and authors to create their own e-textbooks Apple aims to drive the use of electronic textbooks in the classroom by making it easier for publishers to create interactive titles. The company has announced a range of new tools and services which it claims will "reinvent the textbook". Leading names in educational resources are involved, including the world's biggest, UK-based Pearson Publishing.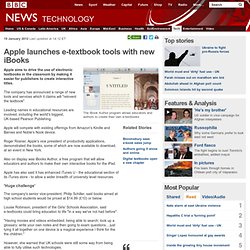 Apple launches e-textbook tools with new iBooks
It takes a village to raise a child but it takes your donation to provide the village with the know-how. No Electricity, No Literacy Try to imagine life without searching online, watching TV, talking on the phone, or even having a local library to visit. How would you get by?
Literacy Bridge
The Funza Lushaka Bursary Programme is a multi-year programme that promotes teaching in public schools. Full-cost bursaries are available to enable eligible students to complete a full teaching qualification in an area of national priority. Recipients of these bursaries will be required to teach at a public school for the same number of years that they receive the bursary. Qualified recipients of the bursary must request placement in a province of their choice.
The Funza Lushaka Bursary
iPad for Teaching & Learning