Business
Donated Huddle Packages Donated Huddle Packages are available to selected nonprofit organizations, based on the eligibility criteria below. This offers the following: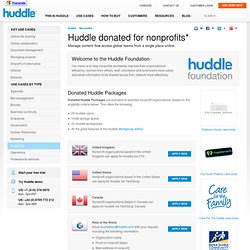 Charity Document Management & Charity Collaboration Tools - Huddle.com
Chazz Hacking—the project lead—chose Basecamp to help organize the store design, develop fixtures, and manage craftspeople. There were 40 people from 10 different companies involved in this 8 month project! The first thing Chazz did was make a new project in Basecamp called KEEN Retail: GARAGE PDX Glisan St. Then he invited a few core people to the project.