Business
Charity Document Management & Charity Collaboration Tools - Huddle.com. Donated Huddle Packages Donated Huddle Packages are available to selected nonprofit organizations, based on the eligibility criteria below.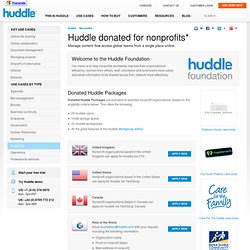 This offers the following: S exclusive single-page projects keep everything organized. Chazz Hacking—the project lead—chose Basecamp to help organize the store design, develop fixtures, and manage craftspeople.
There were 40 people from 10 different companies involved in this 8 month project! The first thing Chazz did was make a new project in Basecamp called KEEN Retail: GARAGE PDX Glisan St. Then he invited a few core people to the project. Business Model ToolBox. Home. iMeet. Your own personal meeting room online. Kickstarter. Scheduling Made Easy.
Information for the World's Business Leaders - Forbes.com.
---