Business
Donated Huddle Packages Donated Huddle Packages are available to selected nonprofit organizations, based on the eligibility criteria below. This offers the following: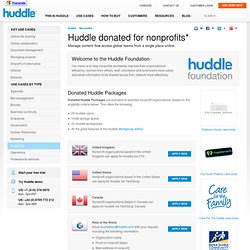 Charity Document Management & Charity Collaboration Tools - Huddle.com
OpenIDEO is an open innovation platform.Join our global community to solve big challengesfor social good. Sign up, Login or Learn more How might we inspire young people to cultivate their creative confidence?