Solar Energy
Sustainable design, zero energy passive solar green home HTM high thermal mass holistic housing consultation packages for the earthhome do-it-yourselfer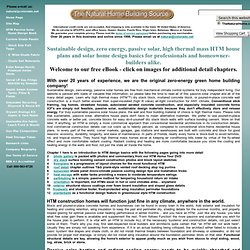 Click any picture in our sustainable design, passive solar free eBook for a detail pageHTM images is packed with smaller photos, easier to load on slower dialup connections
Dry stack block surface bonded concrete block walls for HTMs
Dry stack concrete block (cinder block) technique uses surface bonding cement (SBC) instead of mortar for high thermal mass walls that are, in fact, stronger than conventionally laid block walls.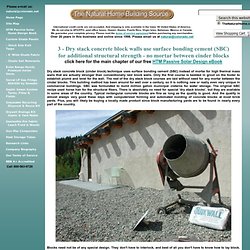 Builders Booksource: Green Building
Living Off the Grid: Free Yourself
Backwoods Solar Electric Systems
PVWATTS v. 1
Solar energy projects for Do It Yourselfers to save money and reduce pollution
Passive Solar Home Design FAQ :: MontanaGreenPower.com
Q: What is passive solar design? Passive solar design uses sunshine to heat and light homes and other buildings without mechanical or electrical devices. It is usually part of the design of the building itself, using certain materials and placement of windows or skylights.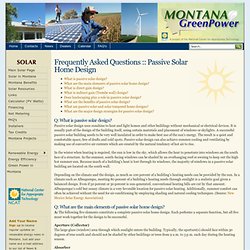 These plans were taken from the book "Passive Solar Homes – 91 new award-winning, energy-conserving single-family homes", The U.S.
Passive Solar Home Plans -- Western Section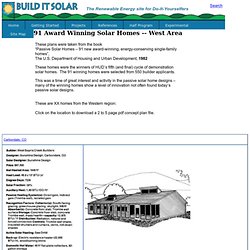 Search The Renewable Energy site for Do-It-Yourselfers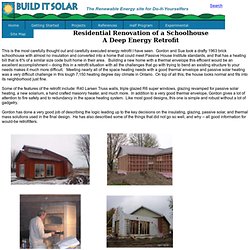 Residential Renovation of a Schoolhouse -- A Deep Energy Retrofit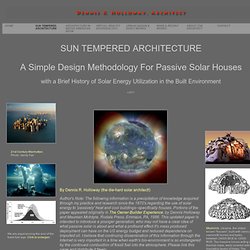 A Simple Design Methodology For Passive Solar Houses
Designing a Passive Solar House
Cristian's Earth Sheltered Passive Solar Home in Romania
Search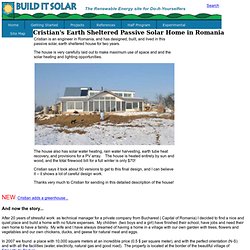 What is Solar Water Heating? Solar water heating collectors capture and retain heat from the sun and transfer this heat to a liquid. Solar thermal heat is trapped using the "greenhouse effect," in this case is the ability of a reflective surface to transmit short wave radiation and reflect long wave radiation. Heat and infrared radiation (IR) are produced when short wave radiation light hits a collector's absorber, which is then trapped inside the collector. Fluid, usually water, in contact with the absorber collects the trapped heat to transfer it to storage.
Solar Hot Water Basics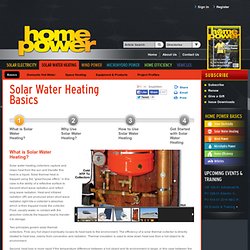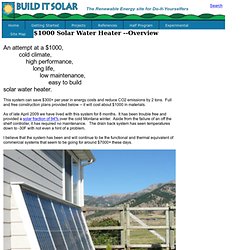 The $1000 Solar Water Heating System
Search
(Rob Harlan is a general and solar contractor with 25 years of experience with solar water heating systems in Mendocino County, California.
7 Solar Water Heating System Designs by Michael Hackleman Issue #65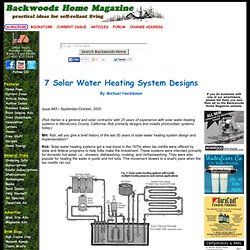 A Simple DIY Thermosyphon Solar Water Heating System
Search
Solar Water Heating Systems Buyer's Guide
Pump and Pipe Sizing for a Solar Water or Space Heating System
Search The Renewable Energy site for Do-It-Yourselfers Overview of Sizing the Plumbing and Pump for Solar Collectors
Solar Panels | Solar Power | Solar Kits |
80 Watt Do-it-Yourself Solar Energy Kit
The Efficient Windows Collaborative: Guidance
Efficient windows basics Designing new homes can be a complex issue, but some straightforward principles and guidelines may help you set a solid foundation for window energy efficiency upon which you can further improve with careful design. Two of the most straightforward principles of selecting efficient windows are these:
Window and Glazing Analysis Tools