QR Codes
QR Generator - Créez de jolis QR Codes gratuitement - Découvrez nos offres Premium - Unitag - Rendre le monde cliquable. Code QR - Trucs et Astuces pour design personnalisés. Un code QR peut être numérisé (« scanné ») par les téléphones mobiles intelligents sert à faire la transition d'une publicité hors-ligne (par exemple, dans un magazine ou sur une carte d'affaires) vers un site web ou autres fonctionnalités telles que SMS, V-Cards, etc.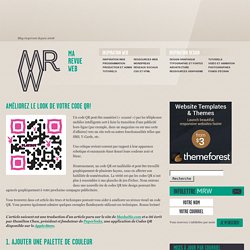 Une critique revient souvent par rapport à leur apparence robotique et ennuyante étant donné leurs couleurs noir et blanc. Heureusement, un code QR est malléable et peut être travaillé graphiquement de plusieurs façons, sans en affecter son habilitée de numérisation. La vérité est que les codes QR n'ont plus à ressembler à une planche de jeu d'échec. Nous entrons dans une nouvelle ère de codes QR très design pouvant être agencés graphiquement à votre prochaine campagne publicitaire. QRhacker.com - Pimp your code! QR Code Generator. Create and manage QR codes with easy. A QR code generator is a software or online application that allows you to create QR codes.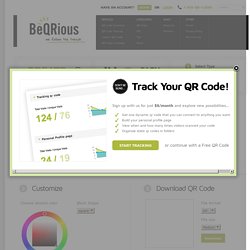 QR codes are probably the most popular and flexible two-dimensional barcode that is used by most businesses and individuals for anything from their marketing campaigns, education and even in ordinary lives and lets not forget just for fun! They're widely used by any web design agency. QR Code Generator? The Best QR Code Generators. There are quite a few QR Code generators online.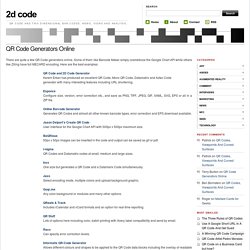 Some of them like Barcode Maker simply cosmeticize the Google Chart API while others like ZXing have full MECARD encoding. Here are the best examples: QR Code and 2D Code Generator | Kerem Erkan. This page is an online two dimensional code generator which is written in PHP.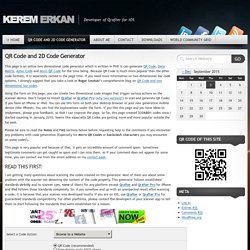 It can generate QR Code, Data Matrix, Aztec Code and Micro QR Code for the time being. Because QR Code is much more popular than the other code formats, it is separately named in the page title. If you need more information on two dimensional bar code systems, I strongly suggest that you take a look at Roger Smolski's comprehensive blog on QR Code and two dimensional bar codes. Also you should check out John Hopkins's extensive iPhone QR Code reader roundup.
---