Web-Mac
3 outils de capture d'écran vidéo pour Mac OSX 10.7 Lion. Le nouveau OSX 10.7 Lion d'Apple rend inutilisable la plupart des logiciels de capture d'écran en vidéo sur Mac.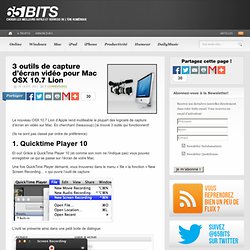 En cherchant (beaucoup) j'ai trouvé 3 outils qui fonctionnent! (Ils ne sont pas classé par ordre de préférence) Et oui! Grâce à QuickTime Player 10 (et comme son nom ne l'indique pas) vous pouvez enregistrer ce qui se passe sur l'écran de votre Mac. Navigateur Web Firefox et logiciel courrier Thunderbird | Mozill. Issuu-Pro, online digital publishing. Publication System : Catalogue interactif, brochure en ligne, magazine digital. FLUIDBOOK ® - Catalogue interactif, brochure en ligne - Online catalogue, interactive brochure. Cyberduck. Web Acappella.
Softpress: Powerful, easy to use web design software for Mac OS X. Flux. If you'd rather type your code, you can do that too.
The objects you create in the Code Editor will appear on the page as soon as you stop typing, they can then be edited using the WYSIWYG display. Flux doesn't make a distinction between typed code, or objects created by Flux, you can create anyway you like, and Flux will understand. The Flux Code Editor has syntax highlighting for HTML and CSS, auto-completion and line numbering. FreeCode allows you to type any code you want, yet Flux still understands and allows you to use WYSIWYG controls or handcoding. Macworld. MacBidouille. MacGeneration.
---