Web-Mac
3 outils de capture d'écran vidéo pour Mac OSX 10.7 Lion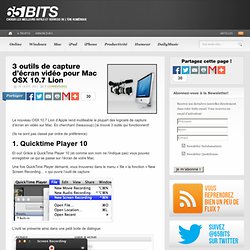 Le nouveau OSX 10.7 Lion d'Apple rend inutilisable la plupart des logiciels de capture d'écran en vidéo sur Mac. En cherchant (beaucoup) j'ai trouvé 3 outils qui fonctionnent! (Ils ne sont pas classé par ordre de préférence) Et oui! Grâce à QuickTime Player 10 (et comme son nom ne l'indique pas) vous pouvez enregistrer ce qui se passe sur l'écran de votre Mac.
Publication System : Catalogue interactif, brochure en ligne, magazine digital
Le site officiel de la publication interactive 100% compatible PC, Mac, Linux Internet Explorer, Firefox, Safari... Tout le monde peut lire vos documents ! Zéro soucis Tous les outils de création sont en ligne Leurs mises à jour sont GRATUITES Vous n'avez rien à installer ! ActualitésPartagez vos publications sur Facebook et Twitter Dossiers de presse, catalogue commercial, rapport financier, magazine, lettre d'information, brochure, journal, présentation...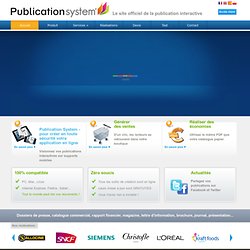 Connecting to every server. With an easy to use interface, connect to FTP (File Transfer Protocol), SFTP (SSH Secure File Transfer), WebDAV (Web-based Distributed Authoring and Versioning), Amazon S3, Google Cloud Storage and Rackspace Cloud Files. Emerging open cloud software standards.Works with thirdparty providers using either the S3 or Openstack Swift APIs. Fast FTP CoreA widely tested FTP (File Transfer Protocol) implementation for the best interoperability with support for FTP over secured SSL/TLS connections. Edit any file with your preferred editor.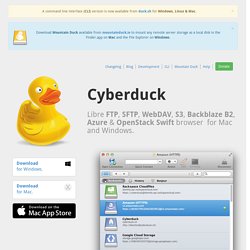 WebAcappella est la solution leader du marché en France avec plus de 400 000 utilisateurs dans le monde et 8 ans d'existence WebAcappella est le logiciel
Web Acappella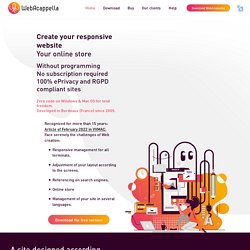 If you'd rather type your code, you can do that too. The objects you create in the Code Editor will appear on the page as soon as you stop typing, they can then be edited using the WYSIWYG display. Flux doesn't make a distinction between typed code, or objects created by Flux, you can create anyway you like, and Flux will understand. The Flux Code Editor has syntax highlighting for HTML and CSS, auto-completion and line numbering. FreeCode allows you to type any code you want, yet Flux still understands and allows you to use WYSIWYG controls or handcoding.
Flux