Web-Mac
3 outils de capture d'écran vidéo pour Mac OSX 10.7 Lion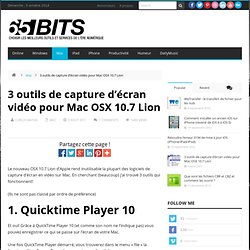 Le nouveau OSX 10.7 Lion d'Apple rend inutilisable la plupart des logiciels de capture d'écran en vidéo sur Mac. En cherchant (beaucoup) j'ai trouvé 3 outils qui fonctionnent! (Ils ne sont pas classé par ordre de préférence) Et oui!
Publication System : Catalogue interactif, brochure en ligne, magazine digital
Web Acappella
Conception de sites web sans programmation, logiciel spécialement recommandé pour réaliser une boutique en ligne. Utilise Flash, mais peut réaliser un site seulement en html. La nouvelle version de l'été 2011 devrait lui donner des possibilités intéressantes. Il est pour l'instant limité au niveau des fonds de site redimentionnables, etc... J'aime bien ce logiciel, simple et rapide à utiliser. by alexfisch Mar 25
Softpress: Powerful, easy to use web design software for Mac OS X
If you'd rather type your code, you can do that too.
Flux