Designers
Portfolio - Silly Beast Illustration
welcome : michallisowski.com
Zach Johnsen: Fine Art & Exhibition Work
Le roi sans tête | Design, ilustration, 3D
NICO Di MATTIA . com - Digital Artworks & Speed Paintings
Adam Spizak's Portfolio
Colors and Universes.
Celtra Graphics
Mateusz Sypien on Behance
28162 The Online Portfolio of David DELIN
Mike | Creative Mints : Freelance Web Design
tuomaskorpi.com
Speed-painting
ArseniXC: 3d, 2d, concept artist
Graphic travelling, online showcase of François Leroy, Illustration/Graphic Design/ Art Direction
Chase Stone's Sketchbook!
JORDAN DEBNEY - The repulsive artwork
ScotDrake.com
Adam Spizak's Portfolio
nekro.es
Victorior
Hysterical Minds Collective 3.0
Aeiko - Online portfolio of UK designer Pete Harrison *v8*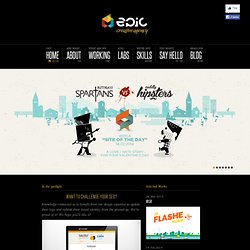 In the spotlight Wanna fight for humanity? We recently had the opportunity to redesign the NATO's informative mini website.
Shotgun Front - Web Design, Digital Marketing & Strategy
Brand Nu - Art direction, Illustration, Typography & Graphic Design | Available for Hire | London
Exhibition 18 - 'Fairy Tales'
March 10th, 2012 In an attempt to recreate the nostalgic memories of childhood, the Slashthree Collective selected 'Fairy Tales' as the theme of its eighteenth exhibition. The project invited our artistic core to recreate the magic they felt as children when they were whisked off to a land far, far away.