Graph Software
Get flash to fully experience Pearltrees
From Wikipedia, the free encyclopedia Social network analysis software is used to identify, represent, analyze, visualize, or simulate nodes (e.g. agents, organizations, or knowledge) and edges (relationships) from various types of input data (relational and non-relational), including mathematical models of social networks . The output data can be saved in external files. Various input and output file formats exist. Network analysis tools allow researchers to investigate representations of networks of different size - from small (e.g. families, project teams) to very large (e.g. the Internet, disease transmission).
The Graph Exploration System Version 1.0.1 (beta) Eytan Adar
In January 2008 this page was replaced by Pajek Wiki . Pajek runs on Windows and is free for noncommercial use. DOWNLOAD Pajek Data: test networks , GPH s, GED s, PDB files .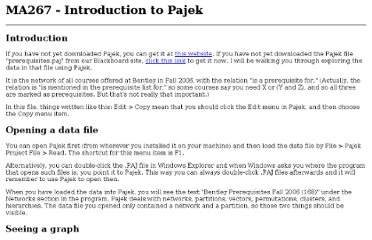 Introduction If you have not yet downloaded Pajek, you can get it at this website . If you have not yet downloaded the Pajek file "prerequisites.paj" from our Blackboard site, click this link to get it now. I will be walking you through exploring the data in that file using Pajek. It is the network of all courses offered at Bentley in Fall 2006, with the relation "is a prerequisite for."