German Pedagogy Video Game
Powered by Google Docs
Resumen: Este artículo presenta el potencial que tienen algunos videojuegos para ser utilizados como herramientas de apoyo en la enseñanza de inglés. Menciona cómo los juegos de interpretación de roles ("role playing") exponen al estudiante al lenguaje y los hace escucharlo, leerlo y hablarlo. También discute algunos postulados de varias teorías de la enseñanza que dan paso al uso de esta clase de videojuegos en el salón de clases.
Cuaderno de Investigación en la Educación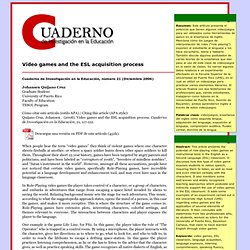 Powered by Google Docs
Powered by Google Docs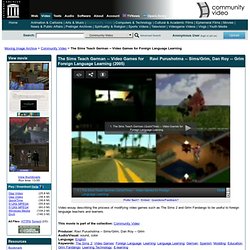 <div style="padding:5px; font-size:80%; width:300px; background-color:white; margin-left:auto; margin-right:auto; border:1px dashed gray;"> Internet Archive's<!--'--> in-browser video player requires JavaScript to be enabled. It appears your browser does not have it turned on. Please see your browser settings for this feature. </div> The Sims Teach German (QuickTime) -- Video Games for Foreign Language Learning
The Sims Teach German -- Video Games for Foreign Language Learning : Ravi Purushotma -- Sims/Grim, Dan Roy -- Grim
David Neville: The DigiBahn Project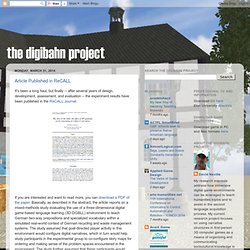 I have a few projects on the plate this summer: (1) getting my tenure portfolio together, which needs to be submitted on 15 September; (2) creating more grammar videos for the Elon German Studies YouTube channel, which now how 304 subscribers and has been viewed over 15,000 times in about 5 months; (3) work with my Lumen Scholar and get her ready for site visits in Germany this fall; and (4) get back into 3D game development. I just finished the tenure portfolio this last week, or at least I got all the materials assembled and the narrative written. I will write the letter of consideration and print out the latest CV as the submission date draws nearer. And since I met with my Lumen Scholar twice a week on campus, when I will also start producing and uploading videos to YouTube, that leaves me only with my 3D game development and finding a time to do it. I decided I could work on it a few hours every evening before going to bed.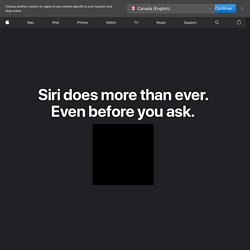 Know the score. Ask Siri for baseball, basketball, football, hockey, and soccer scores as well as schedules, rosters, and stats. Choose a movie. Ask Siri to get showtimes, buy tickets from Fandango, look up movie facts, play trailers, show you reviews, and more. Find a restaurant. Ask Siri to search by different criteria or a combination.
See the Stanford Libraries' Island in Second Life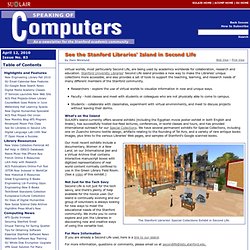 Virtual worlds, most particularly Second Life, are being used by academics worldwide for collaboration, research and education. Stanford University Libraries' Second Life island provides a new way to make the Libraries' unique collections more accessible, and also provides a set of tools to support the teaching, learning, and research needs of many different members of the Stanford community. Researchers - explore the use of virtual worlds to visualize information in new and unique ways. Faculty - hold classes and meet with students or colleagues who are not physically able to come to campus.
melissakagen
Why learn German? - Why study German? - 12 Reasons to learn German - Warum Deutsch lernen?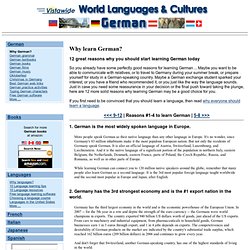 12 great reasons why you should start learning German today So you already have some perfectly good reasons for learning German ... Maybe you want to be able to communicate with relatives, or to travel to Germany during your summer break, or prepare yourself for study in a German-speaking country. Maybe a German exchange student sparked your interest, or you have a friend who recommended it, or you just like the way the language sounds. Just in case you need some reassurance in your decision or the final push toward taking the plunge, here are 12 more solid reasons why learning German may be a good choice for you.