Geocaching Blogs
Zen Bassmasters Adventures - Sunday , November 25 , 2007
Latitude 47
Enjoy a nice concert after you earn your smiley. Photo courtesy of Geoheimnisträger Geocache Name: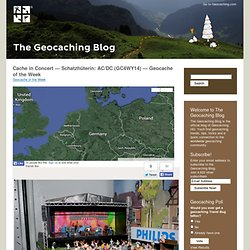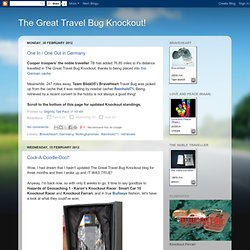 Just as it looked like nothing would be happening this month, all of the top 3 entries in The Great Travel Bug Knockout make moves; Current leader Team Blid435's BraveHeart TB has been dropped into this Australian TB Motel, near to Cairns in Queensland, adding a respectable 2331.61 miles to it's distance travelled. Hopefully the shiny little trackable will be safe there, as a couple of recent finders have reported syringes and drug parafernalia in the immediate area. Not to be left behind, Hediya's Love and Peace (Maan) Travel Bug has taken up residence in this recently-placed TB Motel east of Montreal in the Canadian province of Quebec, adding 2309.72 miles to it's total milage. Meanwhile, cacher Jacaru has passed ownership of his 3rd-placed entry, Knockout Ferrari, on to newbie cacher j33pster, who has marked KF as missing.
The Great Travel Bug Knockout!
Jacaru's Caching News
Flashing The weather wasn't perfect for rowing invisible boats in Nottingham city centre last Saturday. However we duly arrived at the market square looking around to see if we could spot any potential flashers.
Today marks the 10th anniversary of my very first cache find. It seems like it was just yesterday when I loaded that cache's coordinates into my Garmin GPS 12 and headed out with my daughters on our bikes in search of our first cache. But at the same time, it's amazing how much has changed in the geocaching world since then. The biggest change, of course, being the smartphone revolution with their built-in GPS's, and the development of various geocaching iOS and Android apps that can show you which caches are near you anytime, anywhere.
Geocaching Journal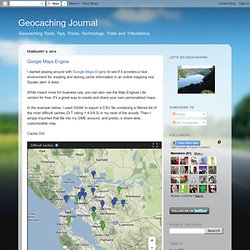 The Mad Cacher's GeoCaching Blog
The Final Act of Finneus Fishbottom was my second library cache. Here's how it worked: The posted coordinates were for the library. Once inside, the cache description directed the seeker to a locked box in plain site of the help desk.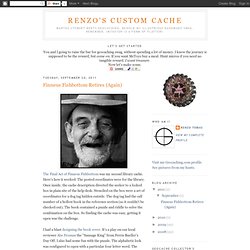 Renzo's Custom Cache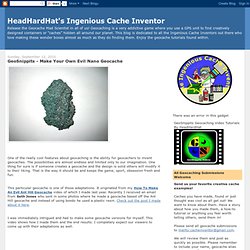 HeadHardHat's Ingenious Cache Inventor
I want to thank Seth Jones who sent in a photograph a few weeks ago of a modified version of my bondo Evil Ant Hill geocache. You can see it here: ClickMe where you will note that instead of bondo, a resin was used to create the geocache. Over the weekend I wanted to see if I could make a geocache that was thinner than my ant hill geocache and use something really small like a nano.
Electronic Breadcrumbs
Several times in the past, I've written about the 365 project. I wasn't sure I was going to be able to attack something like this. Although I do tend to take a lot of pictures, I don't necessarily take them every single day. When I looked into this project, it was in the middle of December. I posted a picture on the 18th following a geocaching trip up in the desert on a day where it rained up there for most of the day.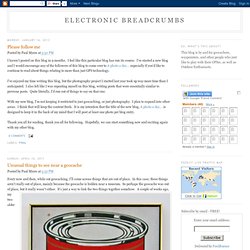 Well, it wasn't like this. And it certainly wasn't like this. But we did some island geocaching yesterday. The difference, this time we walked to the island. I admit, that concept might confuse our faithful California readers. But around here, walking on water isn't an exercise reserved only for the Faithful.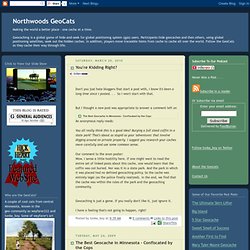 Northwoods GeoCats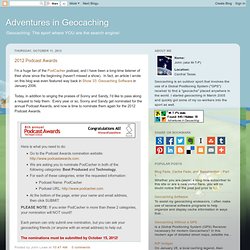 Adventures in Geocaching
This month, I had the opportunity to go on an Alaskan cruise that left out of Seattle, WA. Needless to say, when a geocacher is in Seattle, there is at least one place that you simply MUST go - Groundspeak Headquarters. I made an appointment several months in advance with Lackey Sara via email and was given the not-terribly-secret coordinates (and the street address just in case). Upon arriving at the third-floor office, the first thing you notice is the gigantic treasure chest staring at your from across the room. I've found some very large caches before, but this was by far the largest one yet.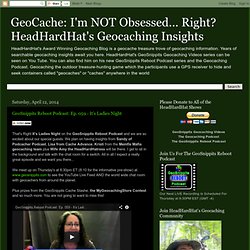 This past Friday, wife Amy aka the Headhardhatress and I headed out for West Virginia from Raleigh, North Carolina. It was very pleasant to not be rushed with a trip for once. We could take our time and just enjoy being with each other on a long road trip. Something we so far have had very little time to do.
GeoCache: I'm NOT Obsessed... Right?