Genetics
Links to gentic related sites and pages . Mostly current and cutting edge , some history. mirlen101 Nov 2
Get flash to fully experience Pearltrees
(A museum reconstruction of a Neanderthal/credit: iStockPhoto)
People tend to be happier if they possess a more efficient version of a gene which regulates the transport of serotonin in the brain, a new study has shown. The findings, published today in the Journal of Human Genetics, are the first to show a direct link between a specific genetic condition and a person's happiness, as measured by their satisfaction with life. This research led by behavioural economist Jan-Emmanuel De Neve, of the London School of Economics and Political Science (LSE), examined genetic data from more than 2,500 participants in the National Longitudinal Study of Adolescent Health (a representative population sample in the US).
WERE asteroids the factories that created life's building blocks? For the first time, rocks from an asteroid have been shown to power the synthesis of life's essential chemicals.
Water molecules surround the genetic material DNA in a very specific way.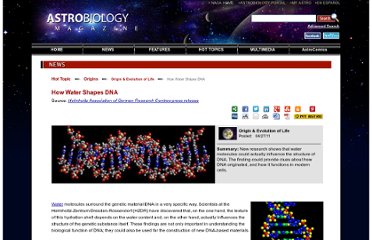 Mutant mouse reveals new wrinkle in genetic code
Public release date: 21-Apr-2011 [ Print | E-mail |
I know at least two people who had breast cancer . Both are survivors . One had it many years ago and is still fine . Good survival rate these days on Colon cancer and breast cancer if treated early . Lung cancer is a whole different story though . My brother in law has lung cancer and it isn't going well . That's what my dad died of and an aunt . by mirlen101 Feb 20
Just recently they announced a fast new blood test to detect the spread of cancer . I'll pearl it here . Be good to start a pearl just on cancer research . My dad died of cancer years ago . Other cancer in the family , the others have survived ( multiple types of cancer ) by mirlen101 Feb 20
I concur... Havin never met my dad or grandpa because they both died before I was born due to a genetic cancer (which I also have) thered be no greater gift or piece of mind in knowing that my childern would never have to go through all the procedures that I did. If you take into consideration that our cancer accelerates at an exponetial rate every generation... it is BEYOND necessary! by redd_loki Feb 19