Organizations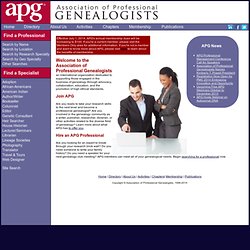 Association of Professional Genealogists
Welcome to the Association of Professional Genealogists an international organization dedicated to supporting those engaged in the business of genealogy through advocacy, collaboration, education, and the promotion of high ethical standards. Join APG Are you ready to take your research skills to the next level and become a professional genealogist? Are you involved in the genealogy community as a writer, publisher, researcher, librarian, or other activities related to the diverse field of genealogy?
Society of Genealogists 1911-2011, Family History, Genealogy, Family Names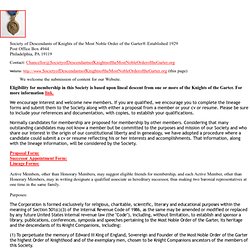 Society of Descendants of Knights of the Most Noble Order of the Garter® Established 1929 Post Office Box 4944 Philadelphia, PA 19119 Contact: Chancellor@SocietyofDescendantsofKnightsoftheMostNobleOrderoftheGarter.org Website: http://www.SocietyofDescendantsofKnightsoftheMostNobleOrderoftheGarter.org (this page) Eligibility for membership in this Society is based upon lineal descent from one or more of the Knights of the Garter. For more information link.
Society of Descendants of Knights of the Most Noble Order of the Garter® Established
NSSAR | National Society, Sons of the American Revolution
DAR | Daughters of the American Revolution