Programmation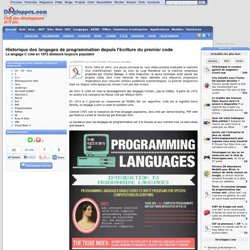 Entre 1842 et 1843, une jeune comtesse du nom d'Ada Lovelace traduisait le mémoire d'un mathématicien italien du nom de Luigi Menabrea sur la machine analytique proposée par Charles Babage. À cette traduction, la jeune comtesse avait ajouté ses propres notes dont l'une décrivait de façon détaillée une séquence progressive d'opérations pour résoudre certains problèmes mathématiques.
Historique des langages de programmation depuis l'écriture du premier code, le langage C créé en 1972 demeure toujours populaire
GNU Radio is a free software development toolkit that provides the signal processing runtime and processing blocks to implement software radios using readily-available, low-cost external RF hardware and commodity processors.
GNU Radio - Aperçu - gnuradio.org
Les collections d'objets
Les threads
CocoaHeads
RegEx: online regular expression testing