Growing
Guide to Growing Vegetables | Vegetable Growing. Some general considerations for growing vegetables: Sowing Tips When sowing seeds, a good general rule of thumb is to sow to a depth of approximately twice the thickness of the seed.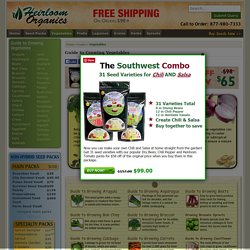 Some smaller seeds require light to germinate and should not be sown too deep; otherwise they may never germinate or break through the surface of the soil. Weatherbase. Garden Layout Ideas". Small Footprint, Big Yield: Create an Easy Micro Organic Urban Garden Today! | Urban Gardens | Unlimited Thinking For Limited Spaces. April 28, 2009 by Robin Plaskoff Horton There are two things urban gardeners are short on: space and time.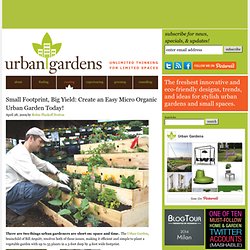 The Urban Garden, brainchild of Bill Arquitt, resolves both of these issues, making it efficient and simple to plant a vegetable garden with up to 55 plants in a 3-foot deep by 4-foot wide footprint. The contained six level tiered system is nearly maintenance-free, eliminating heavy weeding, and its northwestern cedar construction renders it naturally bug repellent.
Small veggie plots, big rewards. Moss in the City. These tips will help keep your container plants in the pink.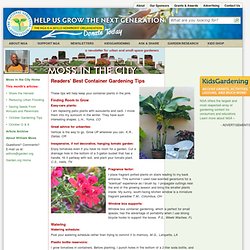 Finding Room to Grow Easy-care plants: I am replacing patio plants with succulents and cacti. I move them into my sunroom in the winter. Seed Calendar | What to Plant Now | When to Plant Vegetables. January It's time for garden catalogs to arrive in the mail.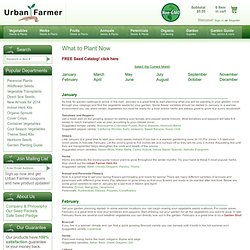 January is a great time to start planning what you will be planting in your garden. Look through your catalogs and find the vegetable seeds for your garden. Some flower varieties should be started in January. Kitchen Garden Planner | Preplanned Vegetable Gardens by Gardener's Supply. Want more fruit from less space? Espalier your trees! by Rev. J.D. Hooker Issue #79. After originating in the semi-arid regions of the middle east, espaliering (is-'pal-yer-ing) became a commonly employed fruit tree growing method of the Greco-Roman world.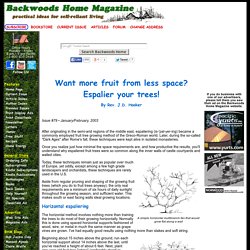 Later, during the so-called "Dark Ages" after Rome's fall, these techniques were kept alive in isolated monasteries. Once you realize just how minimal the space requirements are, and how productive the results, you'll understand why espaliered fruit trees were so common along the inner walls of castle courtyards and walled cities. Today, these techniques remain just as popular over much of Europe, yet oddly, except among a few high grade landscapers and orchardists, these techniques are rarely used in the U.S.
Oregon Olive Trees - Planting. Super High Density, or not?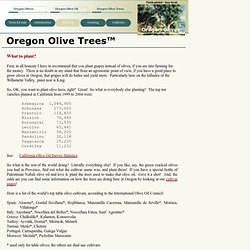 The Super High Density (SHD) system is solely about making the farmer more money. Period. And that's not a bad thing! Top 35 Ways to Succeed at Organic Gardening - Planet Green. Growing an Apple Tree in a Container. I recently planted a Fuji apple tree, and in the process, had to research a bunch of things about apples.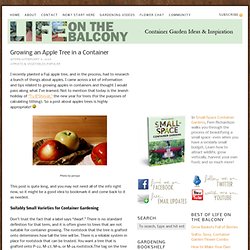 I came across a lot of information and tips related to growing apples in containers and thought I would pass along what I've learned. Not to mention that today is the Jewish holiday of "Tu B'Shevat," the new year for trees (for the purposes of calculating tithing). So a post about apples trees is highly appropriate! Learn and Grow | Organic Gardening.
---