Skyrim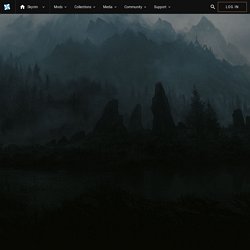 Team: snakster, Mardoxx, T3TContributors: ianpatt, behippo, Kratos, psychosteve, MisterPete, GreatClone, gibbed, PurpleLunchBox, Verteiron, Gopher, Indie Current Version: 4.1LAST UPDATE ON JUNE 24th 2013For a list of recent changes, click the version number on top of this page. The Skyrim Script Extender (SKSE), Version 1.6.16 (or newer) is REQUIRED to run SkyUI. In case you have any problems or questions, please take a look at the Troubleshooting and FAQ sections at the bottom of this description page first. SkyUI is a mod that aims to improve Skyrim's User Interface by making it easier to use with mouse and keyboard, less wasteful of available screen space, and nicer to look at. We do all that while keeping true to the style of the original UI, so new and old components are integrated seamlessly.
SkyUI at Skyrim Nexus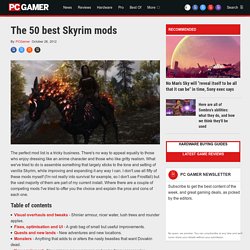 Skyrim mods are amazing.
The 10 best Skyrim mods so far
======================================================================Description======================================================================Bloodier combat experience with higher resolution and detailed textures with included features such as decapitated spasms, low health blood drops blood pools, green blood for spiders and oil for machines. I use and have modified pauderek's bleeding scripts from "A simple bleeding mod" since version 1.2. Thanks to Brodual for the Mod Spotlight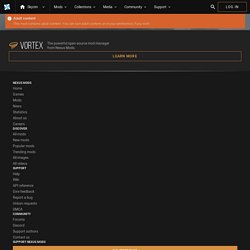 Enhanced Blood Textures at Skyrim Nexus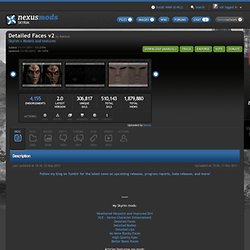 Detailed Faces- by Xenius >> Description This little mod increases the face detail of the human and elven races, male and female.I made this for personal use, thought some of you might like it as well so decided to upload it here. On the comparison pictures you see the old skin on the left, the new skin on the right.On some of them it's a bit hard to notice due to the low light.
Detailed Faces v2 at Skyrim Nexus
XCE - Xenius Character Enhancement at Skyrim Nexus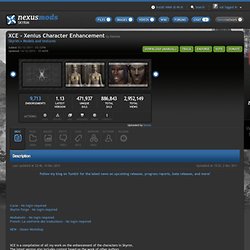 Curse - No login requiredSkyrim Forge - No login required Modsaholic - No login requiredFrench: La confrerie des traducteurs - No login required NEW - Steam Workshop XCE is a compilation of all my work on the enhancement of the characters in Skyrim.The latest version also includes content based on the work of other authors. What it does: