The Business of Games
Ah, the Great App Store Pricing Debate. For years people have been arguing over the cost of mobile games. What constitutes "too much?"
Pricing Games on the App Store - Premium isn't Dead, Freemium is Here to Stay, and it's Everybody's Fault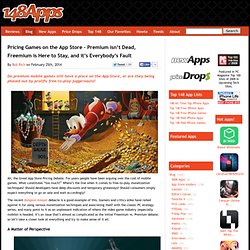 By Rich Stanton on December 13th, 2013 at 9:00 pm. I have sniped a Terrorist across the full length of A-Long. I've hidden behind the squeaky door on Nuke, unmoving, for almost two minutes before scoring an ace with a P90. I've won and lost last-minute nailbiters. But until the most recent Dreamhack tournament I'd never staked an AK-47 on a match before – and I'd never really got under the surface of Counter-Strike: Global Offensive. Hit the jump to commit to a competitive game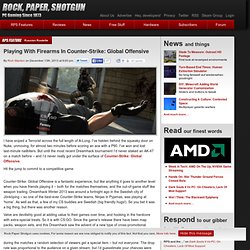 Playing With Firearms In Counter-Strike: Global Offensive
YouTube Blocks Game Videos, Industry Offers Help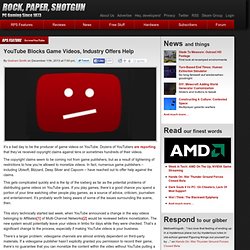 By Graham Smith on December 11th, 2013 at 7:00 pm. It's a bad day to be the producer of game videos on YouTube. Dozens of YouTubers are reporting that they've received copyright claims against tens or sometimes hundreds of their videos. The copyright claims seem to be coming not from game publishers, but as a result of tightening of restrictions to how you're allowed to monetize videos. In fact, numerous game publishers – including Ubisoft, Blizzard, Deep Silver and Capcom – have reached out to offer help against the claims.
Personally I think that Plants vs. Zombies 2 (PvZ2) is a great game. The game has kept all the good from the first episode and spiced it up with new content as well as features like map and gesture operated powerups. The biggest change of the sequel though is that it wen from paid to free. And as you know, this blog is all about game mechanic.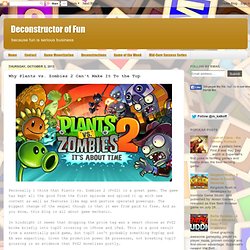 Deconstructor of Fun: Why Plants vs. Zombies 2 Can't Make It To the Top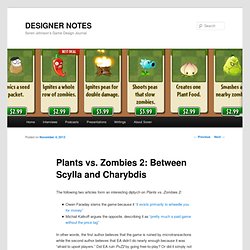 Plants vs. Zombies 2: Between Scylla and Charybdis | DESIGNER NOTES
The following two articles form an interesting diptych on Plants vs. Zombies 2: In other words, the first author believes that the game is ruined by microtransactions while the second author believes that EA didn't do nearly enough because it was "afraid to upset players."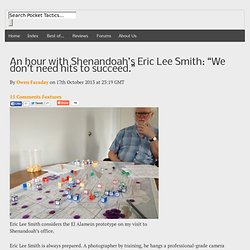 Shenandoah's Eric Lee Smith: "We don't need hits to succeed."
Eric Lee Smith considers the El Alamein prototype on my visit to Shenandoah's office. Eric Lee Smith is always prepared. A photographer by training, he hangs a professional-grade camera around his neck whenever he goes outdoors, just in case a suitable subject presents itself. With his white beard and penchant for straw hats, Smith has the air of Richard Attenborough from Jurassic Park. His demeanour isn't far off from that either — he emits the same genial enthusiasm about the mission of his company, combined with an iron-clad determination that he's going about it the right way. I don't think the dinosaurs are going to get loose in Shenandoah Studio anytime soon, though.
They were the good guys once. The EA title card from the credits of Starflight for Amiga. A couple of weeks ago, ex-Firaxis designer Soren Johnson did a post-mortem on Plants vs Zombies 2, the freemium mousewheel-masquerading-as-a-game that EA forced PopCap to squeeze out earlier this year. Though EA hasn't made any statements about the game's success, comparing its App Annie numbers to bona fide free-to-play hits suggests that the game has bombed.
Sunday Almanac, 17 November 2013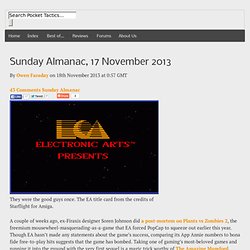 Giving Away Your Game is Hard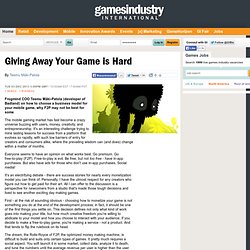 The mobile gaming market has fast become a crazy universe buzzing with users, money, creativity, and entrepreneurship. It's an interesting challenge trying to mine lasting lessons for success from a platform that evolves so rapidly, with such low barriers of entry for creators and consumers alike, where the prevailing wisdom can (and does) change within a matter of months. Everyone seems to have an opinion on what works best.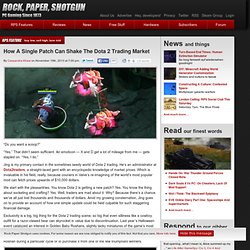 By Cassandra Khaw on November 19th, 2013 at 7:00 pm. "Do you want a scoop?" "Yes."
How A Single Patch Can Shake The Dota 2 Trading Market
By Graham Smith on November 14th, 2013 at 6:00 pm. We always approach piracy figures with a healthy skepticism, but this is interesting. Sports Interactive says that Football Manager 2013, the previous iteration of the game, was pirated 10.1 million times. The report they've just sent out goes on to break down those figures by country, and estimates the likely lost revenue as a result of illegal downloads.
Football Manager 2013 Pirated 10 Million Times, Says Devs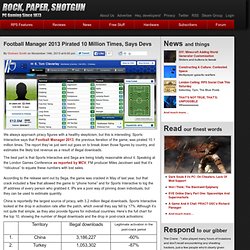 By Nathan Grayson on October 17th, 2013 at 3:00 pm. I came, I saw, someone else conquered. Last weekend, I attended League of Legends' Championship Series finals, which – in an undeniably historic moment for eSports – were held in Los Angeles' Staples Center, a venue that's played host to thousands upon thousands of fans through countless professional basketball games, boxing matches, and hockey games.
An Outsider's Critique Of LoL Esports' Biggest Stage
Shenandoah's Eric Lee Smith: "We don't need hits to succeed."
Gamasutra's sister publication Game Developer magazine, the leading game industry publication, has released the results of its 11th annual Game Developer Salary Survey, finding that the average U.S. 'mainstream' industry salary was virtually flat in 2011, compared to 2010. The Game Developer Salary Survey, available in full in the April 2012 issue of the magazine, is the only major publicly-released analysis of salaries in the worldwide video game industry. It provides an exhaustive breakdown of salaries and benefits at major game studios by discipline, job function, experience level, region and gender. The survey has also charted the growing worldwide independent game industry in the last three years.
Game Developer reveals 2011 Game Industry Salary Survey results
David Galindo's Blog - How much do indie PC devs make, anyways?
The following blog post, unless otherwise noted, was written by a member of Gamasutra's community. The thoughts and opinions expressed are those of the writer and not Gamasutra or its parent company. So how hard is it for a relatively unknown indie dev to break into the PC gaming industry?
The Future of PC Gaming, According To The Lead Creator Of League of Legends
Why Minecraft Is So Damn Popular
How One Developer Cheated His Way To The Perfect Smurf Village and Why
SExpand Jenova Chen is the designer of genre-bending, artfully crafted games Cloud, FlOw and Flower. He's the co-founder of ThatGameCompany and the recipient of a master's degree from the University of Southern California's Interactive Media Division.
We take a look at this phenomenon and ask what it means for our business, as well as that of other indie developers... Like most indie devs, I'm a bit tired of hearing about Minecraft at the moment! I thought I would collate my thoughts on it in order to put the issue to bed.
What Indie Developers Can Learn from Minecraft news - Frozen Synapse Game
s Blog » Indie games as a business
GDC 2010: Ngmoco's Neil Young on how freemium will change the Ap