Project Funding
Alternative ways to get funding for certin projects
The Community for Open Source Microfinance | Microfinance: Why Open Source Means Bigger Impact. The World at Work is powered by GE.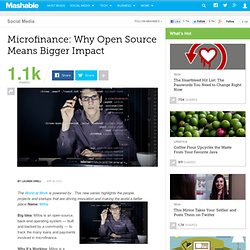 This new series highlights the people, projects and startups that are driving innovation and making the world a better place. Name: Mifos Big Idea: Mifos is an open-source, back-end operating system — built and backed by a community — to track the many loans and payments involved in microfinance. The Network For Social Change - Funding principles. We fund a variety of charitable and non-charitable projects, each sponsored by a member.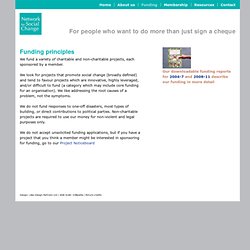 We look for projects that promote social change (broadly defined) and tend to favour projects which are innovative, highly leveraged, and/or difficult to fund (a category which may include core funding for an organisation). We like addressing the root causes of a problem, not the symptoms. Funders & Supporters | The kindling Trust. Citizens Co-op: Local Food + Community by Citizens Co-op.
Two young entrepreneurs residing in Gainesville, Fl aimed to retrofit a neglected building space on small town Main Street into a thriving local food marketplace, revitalizing community through both visual and edible art.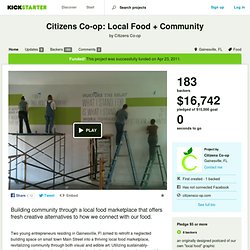 Utilizing sustainably-produced and salvaged materials - we designed a fresh, clean, and modern appeal for an otherwise low-income sector of town. Three years into the project, and Citizens Co-op currently has over 700 members & co-owners. All of our funds to date have been raised locally through small investments and membership shares - over $200,000 from within our community. At our deepest roots, we are cultivating community through the establishment of a storefront that will bring people closer to their food and to each other. National Lottery Fund - National Lottery. The National Lottery's mission is to operate a world class lottery raising funds for good causes on behalf of the Government and we are proud to have delivered on this again in 2012, raising €225.3 million.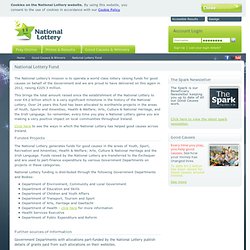 This brings the total amount raised since the establishment of the National Lottery to over €4.2 billion which is a very significant milestone in the history of the National Lottery. Over 24 years this fund has been allocated to worthwhile projects in the areas of Youth, Sports and Amenities; Health & Welfare; Arts, Culture & National Heritage, and the Irish Language. LEADER Funding « National Rural Network.
Contents Making an Application for LEADER funding Any entrepreneurs or community groups interested in establishing a business or a service in a rural area should approach their local LEADER group (LAG).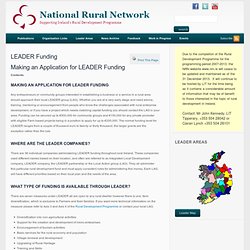 Giving More Than Money. Live notes from the "Giving More Than Money" session at the Awesome Summit, by Rahul Bhargava, Ethan Zuckerman and Willow Brugh.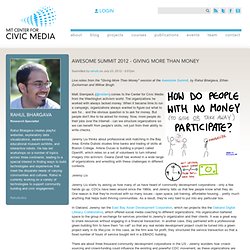 Matt Stempeck (@mstem) comes to the Center for Civic Media from the Washington activism world. The organizations he worked with always lacked money. When it became time to run a campaign, organizations always wanted to figure out what to ask for... and the obvious question is to ask for money. But people don't like to be asked for money. Rootstock. Raise Money on your donation website! Fundit.ie :: Crowd Fund Creativity. Kickstarter. Hacking Kickstarter: How to Raise $100,000 in 10 Days (Includes Successful Templates, E-mails, etc.) Mike Del Ponte co-founded Soma, which raised more than $100,000 on Kickstarter using virtual assistants and free apps.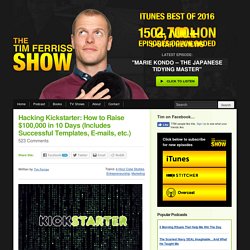 I first met Mike Del Ponte two years ago when he was running marketing at BranchOut, a startup I advise. Before joining BranchOut, Mike had explored a variety of career paths, including preparing for the priesthood at Yale Divinity School and serving as a peacemaker in the West Bank. Earlier this year, Mike came to me with a new product idea called Soma.
Soma is, in its simplest form, a high-end competitor to Brita water filters. It combines Apple-inspired design (e.g. sleek glass carafe) with a subscription service that delivers the world's first compostable water filter to your door. Indiegogo. KIVA - Loans that change lives. Spacehive. How to crowd-fund community projects | Voluntary Sector Network | Guardian Professional. A radical new solution to funding community regeneration projects is being piloted in the ex-mining town of Glyncoch, South Wales.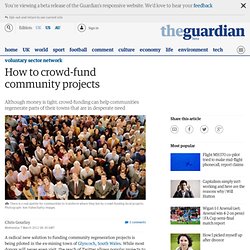 While most donors will never even visit, the reach of Twitter allows popular projects to tap into new funding sources. Can Twitter build a community centre? 15 ways to crowdfund your startup or project. Have you considered asking the community to support your new enterprise?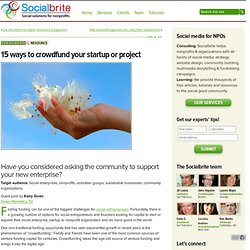 Target audience: Social enterprises, nonprofits, volunteer groups, sustainable businesses, community organizations. Guest post by Kerry GivenGreen Marketing TV Finding funding can be one of the biggest challenges for social entrepreneurs. 1st not-for-profit bank open for bussiness. The UK's first not-for-profit bank was officially launched today, in an attempt to boost the developing market of social finance.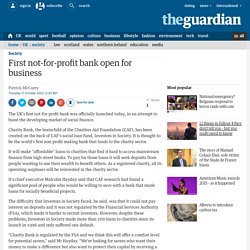 Charity Bank, the brainchild of the Charities Aid Foundation (CAF), has been created on the back of CAF's social loan fund, Investors in Society. It is thought to be the world's first non-profit making bank that lends to the charity sector. It will make "affordable" loans to charities that find it hard to access mainstream finance from high street banks. To pay for those loans it will seek deposits from people wanting to use their wealth to benefit others. First Step.
---