G+ How to tips
Getting started on google+ social network also called G+ . Also tips on more advanced G+ skills and tricks . mirlen101 Dec 16
40+ Tricks, Apps, and Extensions for Google Plus You Don't Know About
Google Plus is still the new kid on the social media block. With 500 million users registered as of January 2013, most users still treat + as the red headed step child. This may be due to slow adoption and a tricky interface. Here are some useful tips, tricks, hacks, extensions, and apps for novices and experts alike to enhance your Google Plus experience and maximize the most out of your account. If you are a Plus Pro, skip ahead to the next section while we get some basics out of the way.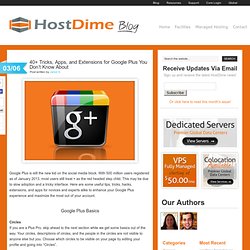 Google unveiled its top secret social network on June 28th and it already has 10 million plus users. If you have received an invite and don't know where to start or just want to know more about it, these 34 quick guides, tips, and tricks should help you learn everything you need to know. Google+ Guides 1. Google+: The complete Guide. via Mashable.com 2.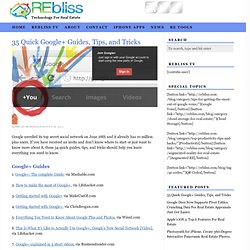 35 Quick Google+ Guides, Tips, and Tricks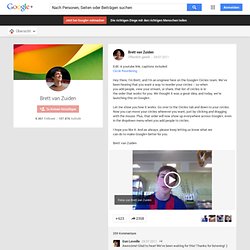 This is great, but can we get nested circles? I can't imagine it being all that difficult to implement. I assume you all are working in GWT to make Google+, I don't know how the code looks, but as far as the code area your Circle class would simply need a Set So instead of having 1 circle for all friends, and then 5 circles for each specific group and having to mirror the users in the circles they all belong to, you could create a Super Circle, which could contain any other circle. Now I could have my All Friends Circle. and put each of my Friend circles in it (say, Local Friends, Google+Friends, and Friends From Rome). Then if I wanted a Development circle for all my game development, I could put my Local Friends in it if they wanted to know, and my Family circle in it as well, and also my Followers Circle.
Circle Reordering …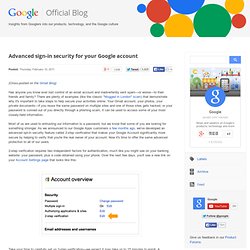 Has anyone you know ever lost control of an email account and inadvertently sent spam—or worse—to their friends and family? There are plenty of examples (like the classic "Mugged in London" scam ) that demonstrate why it's important to take steps to help secure your activities online. Your Gmail account, your photos, your private documents—if you reuse the same password on multiple sites and one of those sites gets hacked, or your password is conned out of you directly through a phishing scam, it can be used to access some of your most closely-held information.
Google
Computerworld - Google+ is different things to different people. For some, it's a gallery for displaying artwork or photography. For others, it's a powerful way to promote my -- I mean their -- columns, books and blog posts. For most, it's a wordy Twitter replacement where posts are often followed by the highest quality conversations anywhere. The worst use for Google+ right now is as a social network -- at least the Facebook variety.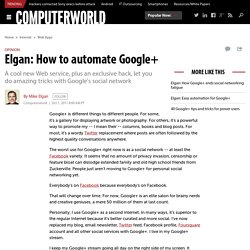 Elgan: How to automate Google+
» Google+ Cheat Sheet – Simon Laustsen » AllGooglePlus
Google+: 92, 93, 94, 95, 96, 97, 98, 99... 100.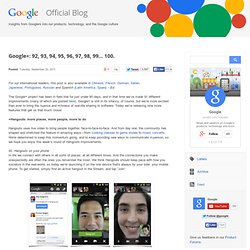 For our international readers, this post is also available in Chinese , French , German , Italian , Japanese , Portuguese , Russian and Spanish ( Latin America , Spain ). - Ed. The Google+ project has been in field trial for just under 90 days, and in that time we've made 91 different improvements (many of which are posted here ). Google+ is still in its infancy, of course, but we're more excited than ever to bring the nuance and richness of real-life sharing to software.
Using Google+? Add Mashable to your circles. You'll get the latest about new Google+ features and tips and tricks for using the platform as well as top social media and technology news. Although it's only been in existence for a month , we've seen a number of Google+-related websites and services spring up across the web. From directories where you can find new Plussers, to sites that will show you the hottest posts and even resources that will help you get more out of the service, we've rounded up 15 fab online destinations. As you might expect from such a fledgling service, some of the sites are a work-in-progress, but we're bookmarking them in the hope they will develop into useful resources.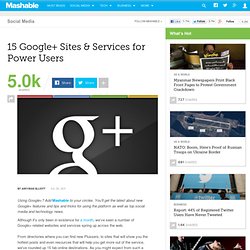 How To Tag Photos in Google+
Google
as - New To Google Plus - Let Us Help - Curated by Ardith Goodwin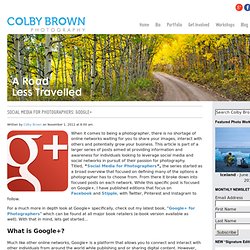 When it comes to being a photographer, there is no shortage of online networks waiting for you to share your images, interact with others and potentially grow your business. This article is part of a larger series of posts aimed at providing information and awareness for individuals looking to leverage social media and social networks in pursuit of their passion for photography. Titled, " Social Media for Photographers ", the series started as a broad overview that focused on defining many of the options a photographer has to choose from.
The Google+ Project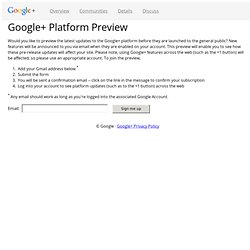 Would you like to preview the latest updates to the Google+ platform before they are launched to the general public? New features will be announced to you via email when they are enabled on your account. This preview will enable you to see how these pre-release updates will affect your site. Please note, using Google+ features across the web (such as the +1 button) will be affected, so please use an appropriate account. To join the preview,
Guide updated January 18, 2012 Google+ : It's the hot social network on the block. In just a few months, Google's competitor to Facebook and Twitter has amassed more than 40 million users , and its growth hasn't stopped . It's become a hotbed for early adopters, tech luminaries, marketers and businesses around the world. Google+, however, isn't the easiest thing to understand.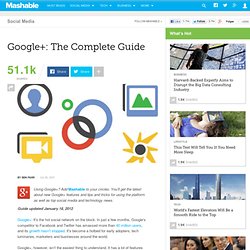 Using Google+? Add Mashable to your circles. You'll get the latest about new Google+ features and tips and tricks for using the platform as well as top social media and technology news. Organizing your circles in Google+ can be the most confusing part of the new social network. Yet people are learning to embrace and even optimize their circles for better productivity, filtering and privacy. We spoke with some Google+ mavericks about how they've corralled their circles to be more effective.
Using Google+? Add Mashable to your circles. You'll get the latest about new Google+ features and tips and tricks for using the platform as well as top social media and technology news. Do you still consider yourself a noob when it comes to Google's social platform?
Google+ Tips & Tricks: 10 Hints for New Users