FUNDING IDEAS PLATFORMS
Sponzu - Watch Ads To Fund Ideas. Peerbackers | crowdfunding big ideas. Google Ventures. Lots of needs. Invest in the solutions. - 33needs. Social Innovation Camp.
Vittana | Invest in education, one loan at a time. Decentralize the web with Diaspora. We're fully funded!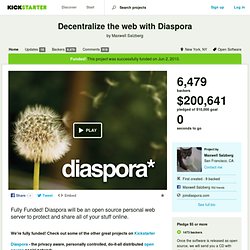 Check out some of the other great projects on Kickstarter Diaspora - the privacy aware, personally controlled, do-it-all distributed open source social network We are four talented young programmers from NYU's Courant Institute trying to raise money so we can spend the summer building Diaspora; an open source personal web server that will put individuals in control of their data. Spigit, idea management, innovation management, enterprise softw. Fosik Lending - Lend or borrow money at great rates. Y Combinator. Startup Weekend. Funders and Founders. Fynanz : Private Student Lending Platform | FACS – Powerful Unde.
Learn how to raise money online with GoFundMe! IndieGoGo. Social Entrepreneur Funding Series: Crowdfunding Your Startup | Green Marketing TV. This series is sponsored by Entrepreneurs for a Change, a blog the best entrepreneur interviews and awesome business ideas.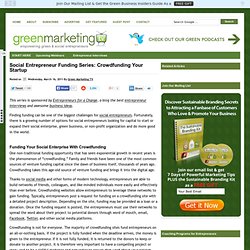 Finding funding can be one of the biggest challenges for social entrepreneurs. Fortunately, there is a growing number of options for social entrepreneurs looking for capital to start or expand their social enterprise, green business, or non-profit organization and do more good in the world.
Besides Your Job, Find a Life-Transforming Passion. "The supreme accomplishment is to blur the line between work and play."
—Arnold Toynbee Following your passion can be a tough thing. Giving of Life. Lots of needs. Invest in the solutions. - 33needs. Peerbackers | crowdfunding big ideas. Sponzu - Watch Ads To Fund Ideas. Kickstarter.
Accelerators. Kapipal - Raise Money for Your Dreams! Funding, Small Business Funding, UK Business Funding at cmypitch. Grow Venture Community > Seed Funding Startups in The Virtual Silicon Valley.
---