Geek / Nerd / Freak / Troll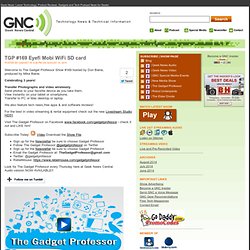 In the last few months, Motorola has returned to the smartphone spotlight with the Moto X and the Moto G. While the X currently isn't available in the UK (though there's a hotly-tipped press event in London this week), the Moto G follows the underrated Razr, Razr Maxx and variants that have been released since 2011, eschewing the Droid slider in favour of the candybar handset while stepping away from the carbon-fibre of the Razrs. In short, there's a new design style in town. Not content with a new look, Motorola are pricing the Moto G very aggressively, coming in at around GB£135 on the street, unlocked and off-contract. The Nexus line has always been competitively priced and it might be Motorola is following suit at the entry-level. I hesitate to say budget, because you'll see that the Moto G is anything but.
Sascha Lobo - Jüngste Erkenntnisse der Trollforschung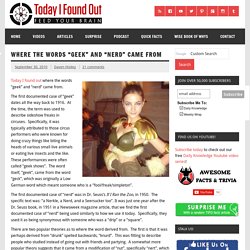 Where the Words "Geek" and "Nerd" Came From
Today I Found Out where the words "geek" and "nerd" came from. The first documented case of "geek" dates all the way back to 1916. At the time, the term was used to describe sideshow freaks in circuses. Specifically, it was typically attributed to those circus performers who were known for doing crazy things like biting the heads of various small live animals or eating live insects and the like. These performances were often called "geek shows". The word itself, "geek", came from the word "geck", which was originally a Low German word which meant someone who is a "fool/freak/simpleton".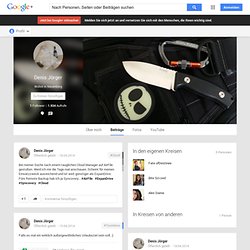 Wie ich vor ein paar Tagen erfahren mußte, wurde mein Lieblingswebhoster nun an die HostEurope Group verkauft. Als kleinem Kunden ohne große Ansprüche könnte mir das eigentlich egal sein, aber irgendwie wurmt es mich doch sehr, da ich mit domainFactory immer auch etwas persönliches verbunden habe. Ein eigenständiges, mittelständisches, bayerisches Unternehmen deren Geschäftsleitung sich immer sehr um die Kundenzufriedenheit und das Wohlergehen der Mitarbeiter gesorgt hat. Bei dem man immer spürte das hier Menschen agieren denen das was sie tun am Herzen liegt und die immer mit gutem Augenmaß handelten.
Nerdhaven
Lindsey, Mike and Matt Two months ago, I got to hear Tony Hsieh of Zappos talk about his new project – the takeover of Vegas City Center and the revitalization of the 500+ blocks of Freemont street for startups. Since I am here for CES, I had some time to visit the park and learn a little more about his idea.
Geekazine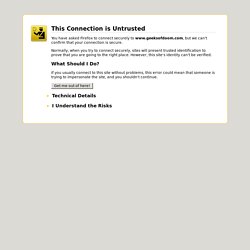 Witch Craft WorksDirected by Tsutomo Mizushima Produced by J.C. Staff, Lantis, Kodansha Voice cast: Yusuke Kobayashi, Asami Seto, Ai Kayano, Shiori Izawa, Ai Matayoshi, Yuka Kuroda, Kana Asumi, You Taichi, Sayaka Oohara, Natsumi Hioka, Momo Asakura, Shiori Izawa, Yuuko Iida, Rie Kugimiya, Shiina Natsukawa Air Dates: Wednesdays at 1:15 CST Currently simulcasting on Crunchyroll Put yourself in this situation: Let's say you're a below-average male high school student.
SExpand I have written How-Tos for many of them, but I concentrate on the "why" answers, not the "how". There are lots of places on the internet with step-by-step guides. That isn't my best skill, I know this. When I do attempt to explain how-to, I don't deal with GUIs unless absolutely necessary. Why not?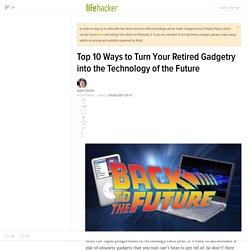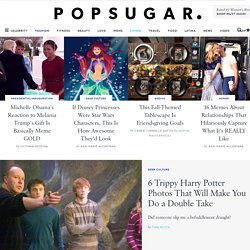 Latest Tech Tech Tips The Bitcoin Breakdown Even a 5th Grader Would Understand
Make a MacGyver-Style Flashlight in Minutes [DIY Project] Do you enjoy working on DIY projects and would love to get your kids interested in them as well? Then today's tutorial video is a great place to begin. This "starter" DIY project is perfect for the kids to work on over the weekend as they make their very own MacGyver-style flashlight! Spotify has Removed the Streaming Time Limit on All Free Accounts Depending on your location, you may have found yourself strictly limited on the amount of time you could listen to Spotify each month after the first six months had passed with your free account.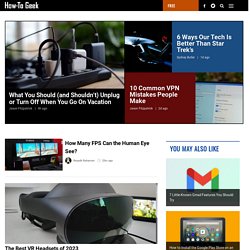 Makes Total Scents: Disney Villains As Perfume Bottles This is a series of Disney villain inspired perfume bottles imagined by Pixiv artist mmmint8. If the Scar one were a real scent I would buy it because I bet that dude smells wicked evil.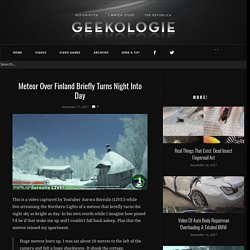 Chatroulette is a place where you can interact with new people over text-chat, webcam and mic. In order to use it, you need to have latest Flash Player installed. If you are having any problems with Flash Player installation, please post about it on Adobe Flash Player forum. Preview of Chatroulette: Features: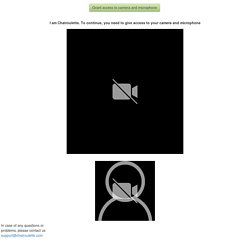 Happy Thanksgiving for those who are into that sort of thing out there. I've fallen off the wagon again, and haven't been posting links. That pesky life just doesn't seem to straighten itself out enough to let me do my job. I do bring you a BBeliever email today, however, so hopefully that will make it up to the faithful few who still check out the site. From: (Dead Or Alive Films) Date: Mon, Nov 21, 2011 at 5:45 AM Subject: Re: Enquiry from the UK To: briggsb@bbspot.com
BBspot - Tech. Geek. Humor.
Lebensstil, Lebensart oder Lebensweise bezeichnet umgangssprachlich die Art und Weise der Lebensführung. In der Soziologie sind verschiedene Lebensstilbegriffe entwickelt worden, in der Medizin geht es um die gesundheitlichen Aspekte des jeweiligen Lebensstils. Begriff[Bearbeiten] Ausprägungen[Bearbeiten] Lebensstil erscheint hier als eine Bezeichnung für spezifisch wiedererkennbare Kombinationen von Freizeitpräferenzen (z. B. welche Musik man hört), aber auch beruflich oder familiär für einen Stil, der die soziale Distanz zwischen den jeweiligen diesen Stil Pflegenden verringert (bzw. das Vertrauen auf die Reaktionen der anderen erhöht) oder gegenüber anderen vergrößert (die sogenannten "unsichtbaren Schranken" errichtet).
Lebensstil
Kategorie: Lebensstil
Geek
Der Umgang mit mathematischen und naturwissenschaftlichen Themen gilt als typisch für den Geek: Autoaufkleber mit den ersten Ziffern der Zahl Pi Geek [giːk] (engl. umgangssprachlich für Streber, Stubengelehrter) bezeichnet heute allgemein eine Person, die sich durch großes Interesse an wissenschaftlichen oder fiktionalen Themen auszeichnet, die üblicherweise elektronischer (vgl. Computerfreak) oder phantastischer Natur sind.
Nerd [nɜːd] (engl. für Fachidiot, Computerfreak, Sonderling, Streber / Geek, Außenseiter) ist ein gesellschaftliches Stereotyp, das besonders für in Computer, Science-Fiction oder andere Bereiche aus Wissenschaft und Technik vertiefte Menschen steht. Manchmal wird auch ein überdurchschnittlicher Intelligenzquotient (IQ) als begleitende Eigenschaft genannt. Am häufigsten sind Computerenthusiasten gemeint. Während der Begriff ursprünglich negativ, insbesondere im Sinne von sozialer Isolation, besetzt war, hat er sich in Internetcommunitys und unter Computerspielern und -freaks zu einer selbstironischen Eigenbezeichnung gewandelt.[1]
Nerd
Mario Sixtus
Computerfreak
Troll (Netzkultur)
Geschenkideen / gift ideas / Geek stuff