Fun Photos
Get flash to fully experience Pearltrees
Images You Won't Believe Aren't Photosphopped
A few years ago, French photographer Sacha Goldberger found his 91-year-old Hungarian grandmother Frederika feeling lonely and depressed. To cheer her up, he suggested that they shoot a series of outrageous photographs in unusual costumes, poses, and locations. Grandma reluctantly agreed, but once they got rolling, she couldn't stop smiling. Frederika was born in Budapest 20 years before World War II. During the war, at the peril of her own life, she courageously saved the lives of ten people.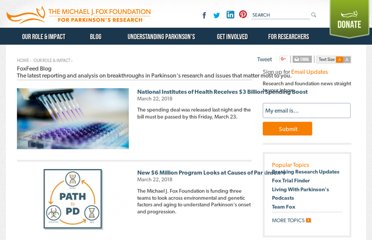 HOME › Our Role & Impact › The latest reporting and analysis on breakthroughs in Parkinson's research and issues that matter most to you.
One thing we've discovered over and over again is that nature is always weirder than what we give it credit for. That's why, for instance, some of the most staggering naturally occurring landscapes on Earth don't look like they belong on Earth at all. They look like they were created in a lab, or beamed down to our world from a distant fold in the universe.
It's easy to look badass with careful planning: Whether it's entering a prize fight, acting in intense action scenes with the benefit of careful choreography or just waiting for the crowd to gather before you jump your dirt bike over 16 flaming tigers, the common thread is always planning and forethought. It's a lot harder to come off as a total badass in the heat of the moment, with no warning, no setup and no pretense. Hard, but not impossible: Mildly Amused Riot Guy
It's hard to overstate the excitement back in 1990 when the Hubble Space Telescope left Earth. Scientists had worked the public into a frenzy with this thing since the 1970s , promising that without the stupid atmosphere to hold it back, its vision would be so clear, you could peer right into the butthole of God.
5/8/2011 under Misc - by Grace Murano - TAGS: awkward photos, funny stock photos Most people only see stock images that have actually been purchased to illustrate some kind of idea or feeling, but the people who make stock images work to ensure there is an image out there for just about any conceivable notion. As a result, there are a lot of seriously strange stock photos with no apparent use other than humoring people, check out some of the funniest images collected at this hilarious blog called Awkward Stock Photos ( Via Neatorama ).