Fukushima Nuke News
Trying to aggregate broad coverage of the responses and not individual situation updates. Cultural differences in risk perception are also important drbazuk Mar 18
A damaged reactor building at the Fukushima power plant where an electricity failure has left spent nuclear fuel rods without fresh cooling water. Photograph: Tepco/EPA Four fuel storage pools at Japan 's Fukushima nuclear plant have been without fresh cooling water for more than 15 hours due to a power outage.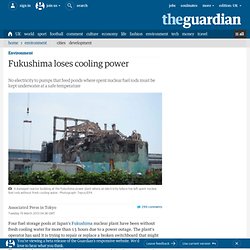 Fukushima loses cooling power | Environment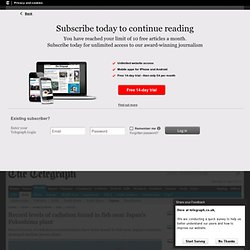 One fish, a greenling measuring 38 cm in length, was contaminated with 740,000 becquerels per kg - more than 7,400 times the recommended government limit regarded as safe for human consumption.
Record levels of radiation found in fish near Japan's Fukushima plant
Seafood from the seas around the destroyed Fukushima nuclear power plant is still not considered safe to eat.
Ocean still suffering from Fukushima fallout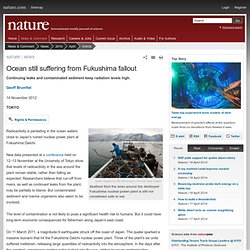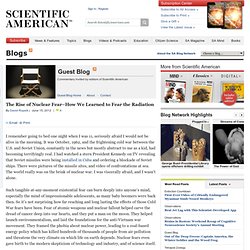 I remember going to bed one night when I was 11, seriously afraid I would not be alive in the morning.
The Rise of Nuclear Fear–How We Learned to Fear the Radiation | Guest Blog
TOKYO (AP) — One of Japan's crippled nuclear reactors still has fatally high radiation levels and much less water to cool it than officials had estimated, according to an internal examination that renews doubts about the plant's stability. A tool equipped with a tiny video camera, a thermometer, a dosimeter and a water gauge was used to assess damage inside the No. 2 reactor's containment chamber for the second time since the tsunami swept into the Fukushima Dai-ichi plant a year ago.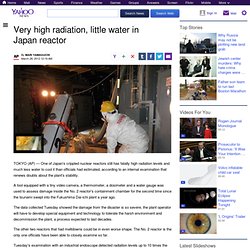 Very high radiation, little water in Japan reactor
Very high radiation in Japan reactor
One Year Later: A Fukushima Nuclear Disaster Timeline
1 Year Later, What Does Fukushima Mean for Nuclear Research? | Guest Blog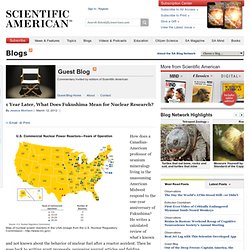 Map of nuclear power reactors in the USA (image from the U.S. Nuclear Regulatory Commission - http://www.nrc.gov) How does a Canadian-American professor of uranium mineralogy living in the unassuming American Midwest respond to the one-year anniversary of Fukushima?
The crisis that unfolded at the Fukushima Daiichi nuclear plant after Japan's megaquake and tsunami is rewriting the nuclear safety guide.
Fukushima's fate inspires nuclear safety rethink - tech - 09 March 2012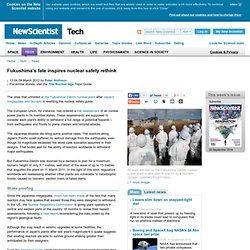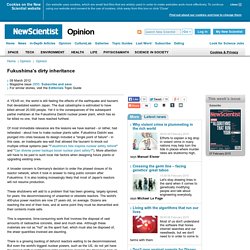 Fukushima's dirty inheritance - opinion - 09 March 2012
A YEAR on, the world is still feeling the effects of the earthquake and tsunami that devastated eastern Japan. The dual catastrophe is estimated to have killed almost 20,000 people.
Japan's Post-Fukushima Earthquake Health Woes Go Beyond Radiation Effects
Health :: News :: March 2, 2012 :: :: Email :: Print Heart disease and depression are likely to claim more lives than radiation after the earthquake, tsunami and nuclear accident, experts say By Katherine Harmon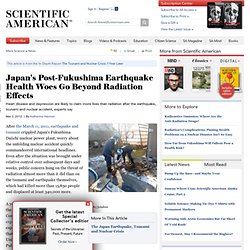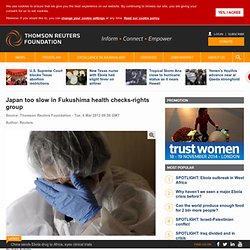 Japan too slow in Fukushima health checks-rights group
Source: reuters // Reuters
Associated Press Monitoring radiation at the crippled Fukushima Daiichi nuclear plant this week.
Sizing Up Health Impacts a Year After Fukushima
Patterns of tsunami damage in areas such as Kesennuma, northeast of Fukushima, reveal wave behaviour that could be used to improve defences.
Scientists report back from Fukushima exclusion zone
Radioactive caesium found in milk powder
Updated Wed Dec 7, 2011 6:42am AEDT
Important Notices | About Us | Meiji Corporation
The fallout from the radiation leak at the Fukushima Daiichi nuclear reactor in Japan may be less severe than predicted. Radiology researcher Ikuo Kashiwakura of Hirosaki University, Japan, and colleagues responded immediately to the disaster, travelling south to Fukushima prefecture to measure radiation levels in more than 5000 people there between 15 March and 20 June.
Radiation levels in Fukushima are lower than predicted - health - 16 November 2011
Directly comparing Fukushima to Chernobyl
Fukushima investigation reveals failings | World news
A disturbing picture has emerged of bumbling workers and government officials scrambling to respond to the disaster.
World Nuclear News
Battle to stabilise earthquake reactors
Insight to Fukushima engineering challenges
15/3 Japan's nuclear crisis
Where are the world's nuclear reactors?
WNA Advanced Nuclear Database
Short Sharp Science: Fukushima leak is plugged, TEPCO in more hot water
AlertNet SPECIAL COVERAGE
AlertNet JPN IN GRAPHICS
Beware the fear of nuclear....FEAR!
Station BLACKOUT caused nuclear accident
Failure of imagination can be deadly...
Compare - Three Mile Island
Chernobyl response
Fukushima Daiichi won't be Chernobyl
Fukushima Will Be Wasteland
What Happens During a Nuclear Meltdown?
Q&A-Dangers posed by possible meltdown
Fukushima Health Risks Scrutinized
Partial Meltdowns - Explosions
The Meltdown That Wasn't: Quick Decisions Prevented a Bigger Nuclear Catastrophe
Is Seawater a Last Resort to Cooling?
Cracked fuel rods threaten meltdown
Radioactive fuel dumps pose new threat
Radiation from Fukushima
How Much Spent Nuclear Fuel Is At Fukushima?
A Time for Discussion... (Energy Collective)
Future Nukes in Europe
The unpalatable truth is that the anti-nuclear lobby has misled us all | George Monbiot | Comment is free
Panic 'Worse Than Nuclear Radiation Leak'
The fear of nuclear
Nuclear Boy - English Subtitles - うんち・おならで例える原発解説
A Personal Journey for Japan
Managing water is Fukushima priority