Techcrunch France is back!!!!!!
The announcement. Techcrunch France relaunching. As you probably are aware TechCrunch France has been dormant for some time and we apologise for that.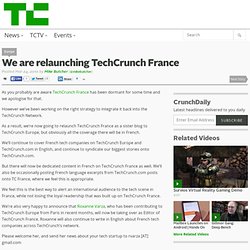 However we've been working on the right strategy to integrate it back into the TechCrunch Network. As a result, we're now going to relaunch TechCrunch France as a sister blog to TechCrunch Europe, but obviously all the coverage there will be in French. We'll continue to cover French tech companies on TechCrunch Europe and TechCrunch.com in English, and continue to syndicate our biggest stories onto TechCrunch.com. L'auteur. Welcome! Son blog.
Qq félicitations. Siegfried Thouvenot: RT @mrboo: Cool :o) @TCEur... JacopoGio: welcome ! = RT @roxannevar... Cyril benhamou: Congrats to @roxannevarza... Sam: RT @jeremyuzan: Excellente... Quel avenir pour Techbaguette ? TechCrunch France.
---