Drinks
33 Super-Cool Popsicles To Make This Summer. Magical Coffee recipe from Food52. Author Notes: This recipe was inspired by a drink I love at a local cafe.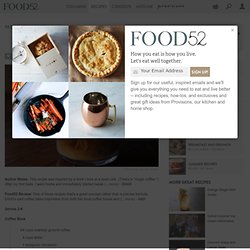 (Theirs is "magic coffee. ") After my first taste, I went home and immediately started tweaking a recipe. Boozy Watermelon Rosemary Lemonade recipe from Food52. Author Notes: I came up with the recipe for the lemonade first and then discovered that it went amazingly with gin, making it a favorite summer drink in our house!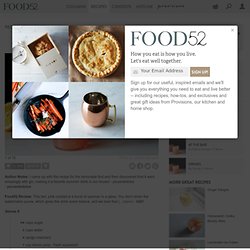 - piccantedolce - piccantedolce Food52 Review: This tart, pink cocktail is a burst of summer in a glass. 6 Unexpected Ways to Show Off Watermelon - Cooking Tips. As if to advertise summer itself, supermarkets all over America flaunt pool-size cardboard watermelon bins out front.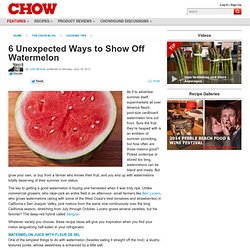 Sure the fruit they're heaped with is an emblem of summer picnicking, but how often are those melons good? Picked underripe or stored too long, watermelons can be bland and mealy. But grow your own, or buy from a farmer who knows their fruit, and you end up with watermelons totally deserving of their summer icon status.
Fashionably Bombed. We've always loved Thai iced tea, so recently while dining at our favorite Thai restaurant, we asked how to make it.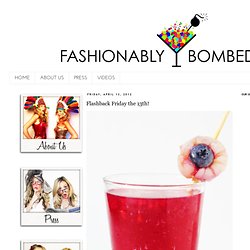 We got the basic recipe down and then added our own Fashionably Bombed touch, of course! Spiked Thai Iced Tea 4 ounces Baileys (or unsweetened condensed milk for the non-alcoholic version) 1 cup water 4 tablespoons Thai tea mix (we used Pantai Norasingh) 3-4 teaspoons sugar (or to taste) Bring water and tea to a boil. Fashionably Bombed. Fashionably Bombed: Margarita Monday: Peach & Black Pepper. Peach & Black Pepper Margarita Makes 2 2-3 cups frozen peaches (cut fresh peaches into large chunks and freeze the night before) 1/2 cup freshly squeezed lime juice 1/4 cup Black Pepper Infused Tequila 1/4 cup triple sec 1 tablespoon sugar Kosher salt Pepper.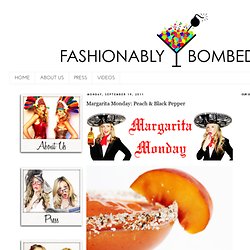 Behind the bar: annette joseph's blood orange basil gimlet. February's Behind the Bar is a mix of summer and winter.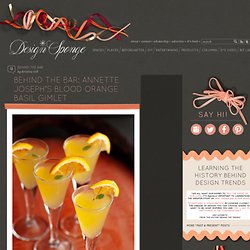 Blood oranges are available only in the coldest winter months, and basil, of course, is summery. If like me you freeze large bunches of basil during the summer months, you can dig into the freezer for this Blood Orange Basil Gimlet, provided by Atlanta-based stylist Annette Joseph. Later this month, Annette will launch a "Celebrity Cocktail of the Week" feature on her blog that promises a spectacular lineup that I can't wait to see. Blood Orange Cocktail. Serves: 5oz. cocktail 2 oz. vodka 1/4 oz. triple sec 1/4 oz. simple syrup 2 1/2 oz. blood orange juice Ice Juice 2-3 blood oranges.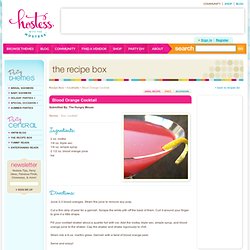 Behind the bar: chelsea + tec petaja's "magic juice" While we are hard at work on some major projects and enhancements at HORNE, Alissa and I are loving this creative couple kick our column seems to be on.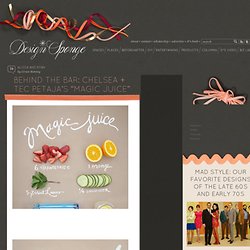 This week's creative couple hails from Tennessee, had their wedding featured on the cover of the premiere Issue of Southern Weddings Magazine and while one is an amazingly talented professional photographer, the other is an equally talented artist & educator. Can't figure it out? We are honored to be featuring the preferred beverage of Tec and Chelsea Petaja. Tec Petaja is not only a widely published wedding photographer but also has a keen eye and passion for commercial photography. Special Guest Post by Not Martha: The Jasmine. We love our guest posters, but every once in a while one comes up that makes a thrill of excitement ripple through the office.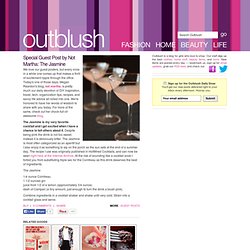 Today's one of those days. Megan Reardon's blog, not martha, is pretty much our daily devotion of DIY inspiration, travel, tech, organization tips, recipes, and savvy life advice all rolled into one. We're honored to have her words of wisdom to share with you today. Pink Grapefruit Cocktail Recipe : Alexandra Guarnaschelli. Ginger Sangria recipe from food52. Author Notes: This recipe I recently adapted from Country Living (probably the closest I have ever come to country living).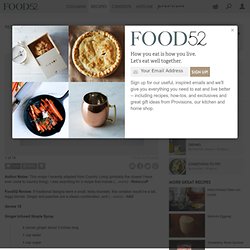 I was searching for a recipe that included simple syrup so that I could infuse the syrup with ginger. In addition to boiling the ginger in the simple syrup, I added slices of ginger to the syrup to sit overnight to intensify the flavor. Rose Berry Bliss Cocktail Recipe - Wine Punch Recipe for a Rose Berry Bliss. Wine punches are excellent ways to elegantly and conveniently serve a crowd and this Rosé Berry Bliss is one of my new favorites. I received it from Clos du Bois for their Toast to Women campaign to promote healthy hearts for women. Great cause, great punch and very easy to make. Pull this one out for weddings, showers, brunch, Mother's Day or any time you want a fabulous drink. I have also tried this with half apricot juice and nectar instead of lemonade and that is equally tasty. Makes 6-8 servings.
---